REVIEW: Don Juan Calavera Sumatra Toro (6x52)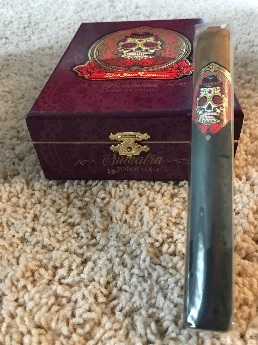 Danli Honduras Tobacos –Don Juan Calavera Sumatra Toro (6x52)
First Impressions – I was very impressed by the overall presentation of the Don Juan Calavera line. The bright colors of its boxes, along with the beautiful calavera logo made me stop and take notice. The great marketing continued with the cigars themselves. Each cigar is dressed with a large beautiful multi-colored label and black tissue paper made to look like the calavera is wearing a suit. Pretty clever!
Prior to completing this review, I had the opportunity to enjoy three samples of the Sumatra Toro.
Prelight – The pinch test gave me the impression that these were going to draw perfectly, which ended up playing out just as I suspected. The prelight draw was exceptional on each sample. With each pull, I was able to pick up subtle hints of grass and hay and heavy notes of barnyard on the nose. The wrapper on the Sumatra Toro was a bit on the veiny side and light brown in color. Each cap was beautifully placed.
First – Typically the first third of a cigar is my favorite; however, on these it seems as though the first third was the warm up to the second. The Sumatra toro starts out delicately earthy with a pleasantly sweet aftertaste. There was also a bit of spice on the retrohale.