REVIEW: Fat Bottom Betty (5" x 54) by Deadwood Tobacco Co./Drew Estate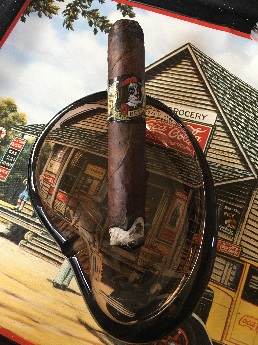 This is a review of the Fat Bottom Betty from Deadwood Tobacco. The cigar is manufactured by Drew Estate at their Esteli, Nicaragua factory. It's one of five vitolas in this Deadwood line. Other offerings include Sweet Alice (corona), Sweet Jane (figurado), Baby Jane (cigarillo) and Sweet Jane "A" (A-size). There is also a Deadwood Special Edition line. From the names of the cigars and the fact that Deadwood Tobacco is located in Deadwood, South Dakota—a Biker's mecca—I must assume that's the demographic for which marketing was searching.

The Fat Bottom Betty is a big-ass robusto (5" x 54g). Sorry for the pun. I couldn't help myself. She's a thick robusto with an oily, reddish-hued, dark brown Connecticut broad leaf wrapper. The binder and filler are Nicaraguan. The foot is closed. There are a few bumps, but no obvious flaws. The sample squeezes just right and has a cold smell of fruit and barnyard. I used a punch cut and a butane lighter to start the session.