Now Showing in The Man Cave #5: Taking Lives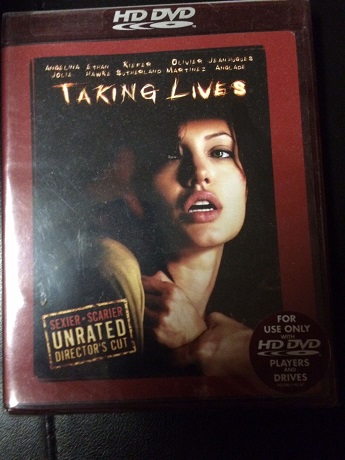 October 3rd, 2016
It is in my Man Cave, which includes my home theater, that I store my movie collection. I now have over 1,000 movies and TV series. The vast majority are kept in a closet that houses the water meter. Above the water meter are storage shelves, providing the perfect depth for the DVDs, HD DVDs and Blu-Rays that make up my collection. Unfortunately, the shelves aren't quite big enough to house my entire collection, which is always growing.
To help make things easier for storage, organization and retrieval, I have two media cabinets that are adjacent to the closet. One of these cabinets holds all of the titles that I have not yet watched. I may have seen a particular movie in the theater, on cable TV or elsewhere. But unless I have watched the DVD, HD DVD or Blu-Ray version at home, the disc will remain in this cabinet. This makes it easier for me to see which titles I have not yet watched. Currently, there are over 100 individual titles in this cabinet.
The other cabinet holds all of my TV and movie sets. So, for example, my Cheers DVD set is in this cabinet, as are the Star Wars and Indian Jones compilations. As with the cabinet that holds my unseen media, this cabinet helps me to keep my collection more organized.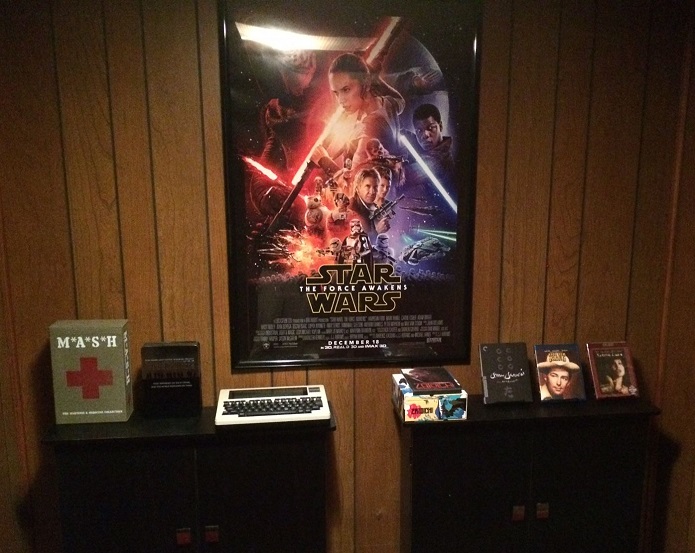 On top of the cabinets, I keep some memorabilia or movie/TV discs. On the cabinet to the right (the series cabinet), I've set my copies of the 'best of' movies. There are the Zatoichi Criterion (Best Movie Franchise), Seven Samurai (Best Movie) and Shane (My Favorite Movie) sets. At the far right of that display is the HD DVD release of Taking Lives.
You may be asking yourself why a film like Taking Lives (2004), staring Angelina Jolie, Ethan Hawke and Keifer Sutherland, should take such a prominent place in my collection. Taking Lives has received relatively poor reviews, scoring only 22% on Rotten Tomatoes. Why on earth would a movie collector put this disc on display?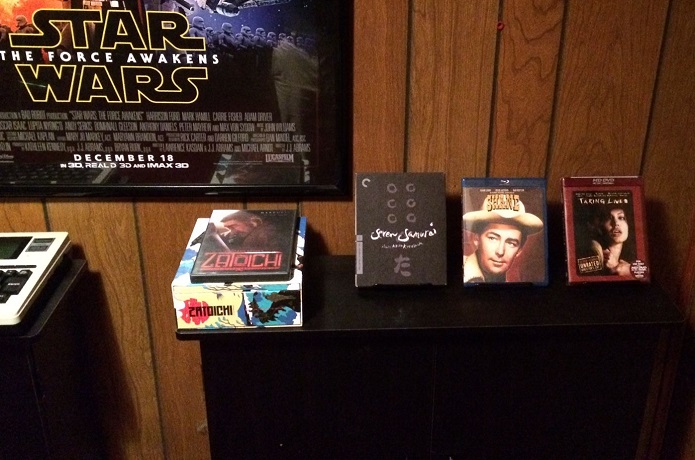 Before getting to the why, let's discuss the film itself. The movie is an action/suspense/thriller in which FBI profiler Illeana Scott (Jolie) investigates an elusive serial killer. The beginning of the movie introduces us to a (then) teen killer who essentially trades lives with his victims. After murdering a victim, he lives their life until he gets bored, and then moves onto the next victim.
Scott and her team believe that Costa (Hawke) will be the next victim, and that Hart (Sutherland) is the serial killer. Of course, it wouldn't be a thriller if they were able to figure it all out now, would it?
Although not fully predictable, the film never really works as a thriller. It's simply not believable. While the viewer is provided with plenty of eye candy by Angelia Jolie, this is certainly not a film that I highly recommend – and I've only watched it two times myself.
So, again, why does it sit in a place of honor in my collection? To explain that, we need to go back to the end of 2007 and the beginning of 2008, when the HD format war was coming to a head. One of the formats, HD DVD or Blu-Ray (at least it was thought), had to fail in order for HD media to take off. The theory never proved true, but that's a whole other discussion.
The format war officially ended in February 2008, when Warner Brothers (WB) decided to no longer support HD DVD. The company would only release its massive collection of movies on Blu-Ray and/or DVD. Toshiba knew that HD DVD could not survive, and therefore pulled the plug.
At the time that HD DVD died, there were several titles that had been planned to be released, and it was now unclear whether they ever would be.
Some film makers followed through and produced all the films announced for an HD DVD release. Others did not. Taking Lives was one of the films that reportedly would never see the light of day, despite the fact that it had been announced prior to the demise of HD DVD. But then, an amazing thing happened. A few copies of Taking Lives on HD DVD started showing up on eBay. And because it was believed by many that there were only a handful of these discs out there, the movie became a collectable and the price went through the roof. Some copies were being sold for $500 or more.
At the time, I warned my friends in an HD group (that I am a part of) that people buying the HD DVD at such a high price were crazy. I theorized that WB would not have printed less than a dozen discs, including cases and graphics. I predicted that eventually the floodgates were going to open and there would be thousands of these discs available, making them worth next to nothing. What did my fellow movie fanatics think? They thought I was crazy, and thought my theory was ridiculous.
Most movie collectors believed that there were two reasons why there were only a handful of Taking Lives HD DVDs. They believed that the discs were either promotional only releases or that WB had destroyed the HD DVDs, with only a few escaping destruction. Either theory would explain why there were so few copies of this HD DVD on the market. But I wasn't buying it, and I stuck to my guns.
Months went by, with the price of the Taking Lives HD DVD going higher and higher. But then, one day, the bottom fell out. Sellers on eBay began offering boxes of the Taking Lives HD DVD, which contained 20 original discs in cases sealed in cellophane, for $99.00. This HD DVD that had been selling for more than $500 was now worth no more than $5.00.
My friends in the HD group obviously had to eat crow, but most of us wanted to buy a copy of this film. Members of the group purchased multiple boxes of 20, and then sold then for $5.00 each to other group members. For $5.00, I would certainly give the movie a go.
But when I went to place my order, I decided to order an extra one. I knew the disc wasn't worth anything, and certainly was not a collectible. So why would I buy two copies? I did so to remind me of the lessons learned. First, just because everyone thinks you are wrong doesn't mean that you are. But secondly, and more importantly, one needs to be cautious and not just follow the crowd. To this day, I still feel bad for the people who paid hundreds of dollars for this disc (despite my warnings), only to have it become essentially worthless.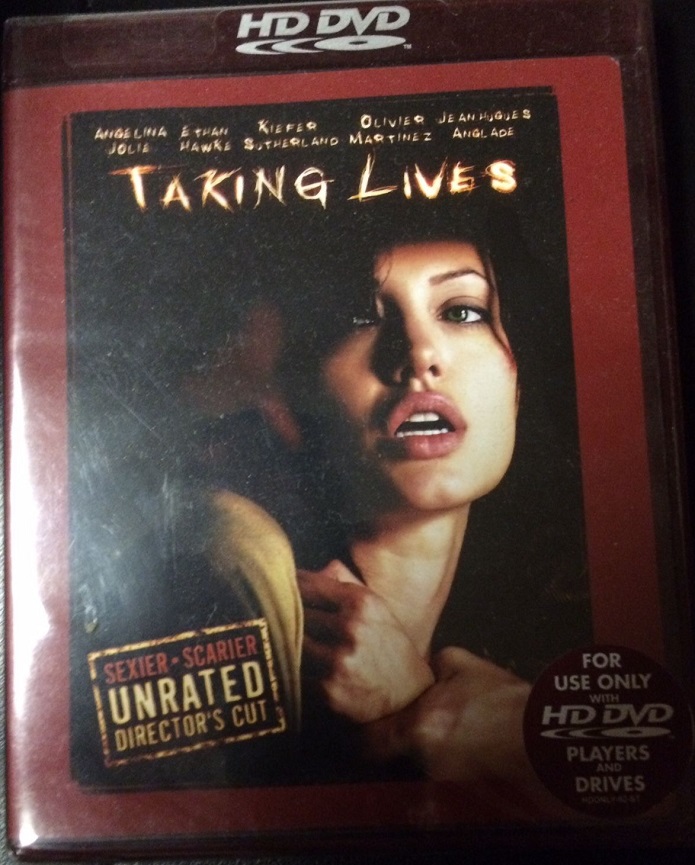 It's for these reasons that I keep a sealed copy of the Taking Lives HD DVD so prominently displayed in my Man Cave. It's not only to remind me of the words of wisdom I don't always follow, but also serves as a conversation piece for when people ask why Taking Lives is on display.
Should you see Taking Lives? It's not a horrible film. And I still think Taking Lives is worth viewing at least once – if for nothing else then to see the beautiful and sexy Angelina Jolie in her prime. But I wouldn't blame you if you chose not to. I give the film 2 stars out of 5.
__________________________________________________
Rob Geyer (Rob G) hails from Syracuse, NY. His man-cave is the envy of all of us.