A Rich Pour 24: Rioja – Celebrating the Past and Embracing the Future
Follow Cigar Weekly Managing Editor Doug Kuebler (jazznut) on a 'bottle by bottle' journey through Spain's Rioja wine region.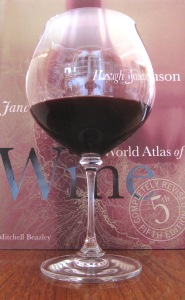 Monday September 1, 2014
Spain, which boasts the greatest total area planted to grapevines of any nation on earth (though not the largest production of wine), is truly a happening place for any wine aficionado. Bierzo, Calatayud, Jumilla, Priorat, Rías Baixas, Ribero del Duero, Somontano, Toro, Yecla (to name but a few) – the list of officially demarcated Spanish winegrowing regions seems to lengthen almost day by day. Yet, when it comes to quality table wine, a single historic province continues to capture the attention of consumers, both in Spain and abroad – Rioja.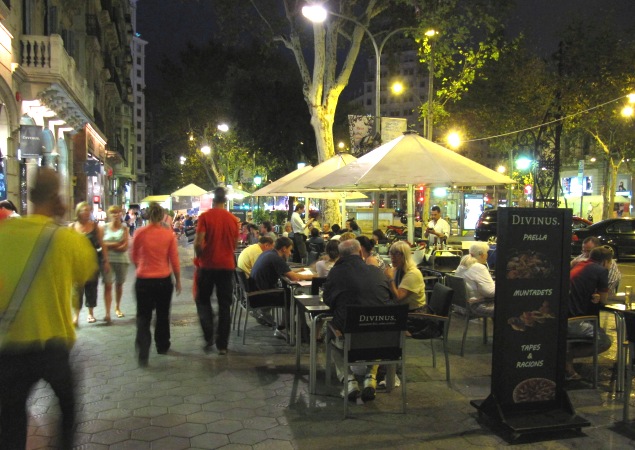 TAPAS HUNTING ALONG BARCELONA'S LIVELY PASSEIG DE GRACIA
I well remember being seated with the love of my life at a tapas bar in Barcelona, and wondering what wines might be on tap – perhaps something from the nearby Denominaciones de Origen of Costers del Segre, Montsant or Penedès? "Dos copas de vino, por favor," I requested. "Tinto o blanco?" the waiter inquired. "Tinto," I replied. Then, a surprise… "Rrro-ha?" he asked in his Catalan accent. Rioja it was, then!
As we sipped our wine and savoured a delectable variety of tapas, I could only think to myself, "Me lo estoy pasando muy bien."
What makes Rioja, which straddles the Ebro River in north-central Spain, so special? Yes, most of its acreage lies on a plateau ideally sheltered from menacing Atlantic winds by the Sierra de Cantabria. Yes, it encompasses a rather diverse trio of sub-regions (Rioja Alta, Rioja Alavesa and Rioja Baja). Yes, its grapevines benefit from a continental climate and relatively low annual rainfall. And yes, Rioja is home to a number of fine grape varieties as well as hundreds upon hundreds of wineries. But these facts in no way provide a pathway toward understanding the region's allure. In this case, the true magic revolves around an ongoing, oftentimes complex interplay between the ancient and the contemporary.
A short history
When it comes to wine production, Rioja's roots stretch far back into antiquity. Phoenicians sailed up the Ebro, to what is now the eastern portion of the Rioja Baja, in order to partake of the pleasures of the area's wine. Romans, who valued the local liquid commodity even more, expanded winegrowing and established sophisticated wine cellars, or bodegas. And although the Moorish occupation put a damper on vinous pursuits for a time, Christian monasteries subsequently led a regional resurgence in viticulture. Most of the wine made during this latter period was, strangely enough, white. Indeed, red wine production in Rioja would not regain prominence until the 18th-Century and the ascendancy of the Spanish Bourbons.
Rioja really emerged into the limelight during the second half of the 19th-Century, as back-to-back scourges of oidium and phylloxera began to devastate the vineyards of Bordeaux in France. Vintners in the northern Spanish region responded by introducing faster fermentations and extended ageing in American oak casks, both techniques of which resulted in red wines that mimicked many of the characteristics of mature claret. Wine drinkers outside of Spain couldn't get enough of Rioja's bounty, and many new bodegas sprang up (most notably in and around Haro in the Rioja Alta) to meet the increased demand.
But what goes around comes around. These days, the overall trend in Rioja is to lengthen fermentation times and shorten exposure to oak, which is now often new rather than old and potentially 'tired'. This transitional aspect of winemaking reflects similar changes taking place in other classic winegrowing regions of Europe.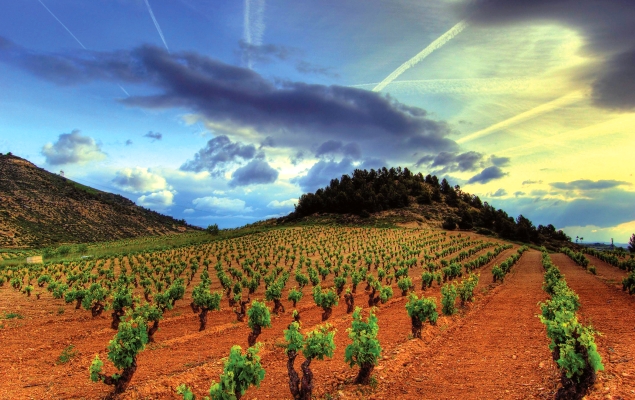 A TYPICAL VINEYARD IN RIOJA
(original image courtesy of uk.riojawine.com)
Grapes
Good grapes are essential to the success of any renowned winegrowing region. And Rioja possesses an assortment of wine-worthy ones. Three varieties usually play supporting roles in red wine production here. Graciano contributes aromatic qualities and freshness. Mazuelo (known elsewhere as Cariñena or Carignan) may display a slightly coarse demeanour, but it also brings additional seasoning flavours and tannins to the 'table'. And Garnacha (known in many other countries as Grenache), though somewhat low in the tannin department, can certainly up the alcohol level and body of a wine.
Then, there is Tempranillo. Not overly sweet, and exhibiting fruit flavours ranging from berry to plum-like, Tempranillo can significantly increase the complexity and ageing potential of a wine if harvested and handled appropriately. Recent research has confirmed the noble ancestry of this native grape, tracing its lineage back upwards of a millennium within an area that presently comprises the regions of La Rioja and Aragón. In Rioja, Tempranillo reigns supreme.
Red wine vintages in Rioja
The reputation of Rioja rests largely on the ability of its winemakers to offer consistently good products, year in and year out. In this regard (as is the case anywhere in the world of wine), the name on the label almost always outweighs the importance of the vintage. Nevertheless, some years have exceeded others in terms of the quality of the harvested grapes. Over the last decade or so, the region of Rioja has been blessed with a series of successful vintages:
Excellent: 2001, 2004, 2005 and 2010
Very good: 2006, 2007, 2008 and 2009
Red wines of Rioja and their prices
Whether you're hunting for a modestly priced yet palatable wine or an expensive treat for a very special occasion, Rioja has you covered. The cost of a bottle may be as little as ten to fifteen dollars, or it might rise stratospherically to hundreds of dollars should you opt for something along the lines of Artadi's Viña El Pison. Having purchased Rioja wines for over three decades now, I can only say that prices have indeed gone up during that time. Nevertheless, good buys do still exist. With these two factors in mind, let's have a peek at eleven red wines from Rioja that I've thoroughly enjoyed, and that haven't broken the bank either. These wines are profiled in ascending order of cost, and range in price from around twenty dollars to a little less than fifty dollars (Canadian currency) per 750 millilitre bottle.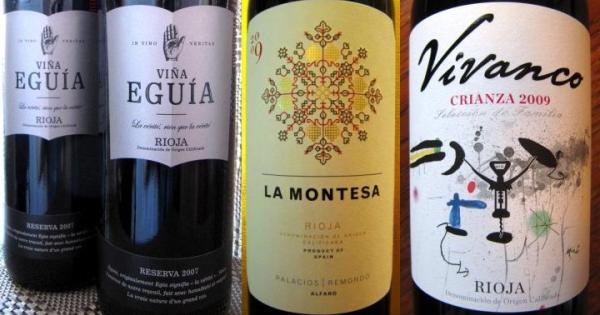 Viña Eguía Reserva 2007
Bodega Eguía, Elciego, Rioja Alavesa / Established 1973
This quite inexpensive Reserva is sourced from thirty year old vines, and spends two years in oak. There is a high proportion of Tempranillo in the mix. Look for red fruits as well as spicy and herbal notes, along with a pleasantly warming finish.
La Montesa 2009
Bodega Palacios Remondo, Alfaro, Rioja Baja / Revitalized since 1999 under the guidance of Alvaro Palacios
This is a modern-style Rioja with an emphasis on Garnacha. Supple, round and rich, the wine displays predominant flavours of dried strawberries and black pepper. Bring on the barbecue!
Vivanco Crianza 2009
Dinastia Vivanco, Briones, Rioja Alta / Dating from 1915
Very savvy winemaking is evident here. The average age of the vines is between fifteen and twenty years. And although the wine rests in French and American oak for sixteen months, the casks are previously used ones. The resulting wine boasts bright flavours, and comes across in an elegant vein. A personal pick.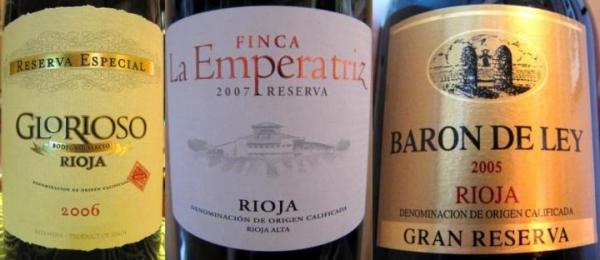 Glorioso Reserva Especial 2006
Bodega Palacio, Rioja Alavesa / Founded 1894
Sensations of strawberries, black pepper and mint lead to a long, satisfying finish. What more could one ask for at this price level?
Finca La Emperatriz Reserva 2007
Bodega La Emperatriz, region of Haro, Rioja Alta / Dates to 1878, though purchased in 1996 by the Hernáiz family and revitalized
From a mixture of old and newer grapevines, this wine offers up tastes of dark, dried fruits and vanilla enrobed within a silky texture.
Baron de Ley Gran Reserva 2005
Bodega Baron de Ley, Mendavia, Rioja Baja / Founded 1985 on the site of the old Ima estate
This Gran Reserva, comprised mostly of Tempranillo, spends two years in oak followed by five years in bottle prior to release. It combines features of both traditional and modern winemaking, resulting in an integrated progression of chocolate, vanilla and cherry fruit flavours on the palate.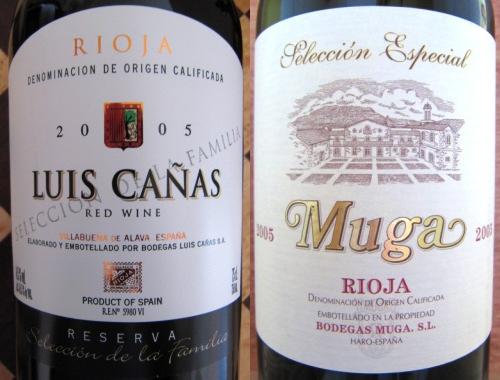 Luis Cañas Reserva Selección de la Famila 2005
Bodega Luis Cañas, Villabuena, Rioja Alavesa / In production for over two hundred years, though only estate bottling since 1970
The grapes for this wine are harvested from low-yielding vines of at least forty-five years of age. It shows. Concentrated and firm, this sensational wine cascades across the palate with flavours of ripe fruits and myriad spices. Tuck it away for a few years, and reap the rewards.
Muga Selección Especial 2005
Bodega Muga, Haro, Rioja Alta / Founded 1932
Fermented in oak vessels prior to spending a further two to two and a half years in casks, this wine brilliantly bridges the chasm between old and new winemaking styles. Dark fruits, exotic spices and toasted accents showcase an effortless balance of dense richness and refined delicacy. Well worth the 'price of admission'.
Imperial Gran Reserva 1989
Compañia Vinicola del Norte de España, Haro, Rioja Alta / Founded 1879
Here is another wine that ably combines the best features of traditional and modern cellar techniques. Though it may initially be firm and a tad austere, the Imperial Gran Reserva definitely has time on its side. And when you're finally ready to enjoy its pleasures, expect plum, tobacco, licorice and mineral notes as well as a surprising freshness on the palate.
Viña Tondonia Reserva 2001
R. Lopez de Heredia, Haro, Rioja Alta / Dates from the 1870s, though the Tondonia vineyards were established in 1913-1914
There are no contemporary winemaking shortcuts to be unearthed here, where tradition still rules. Lovers of modern-day, purple-black, thickly constituted wines need not apply. For Tondonia Reserva red slumbers in oak casks for six full years, and then spends further time in bottle, before being released. The bodega wouldn't have it any other way. So don't even contemplate rushing to drink this wine up. No, take your time, and let the subtle, acid-tinged flavours of vanilla, dried figs, sweet spices and balsamic gradually unfold in your glass. Sometimes, older is better.
Castillo Ygay Gran Reserva Especial 2001
Marqués de Murrieta, southern portion of Rioja Alta / Founded 1870
Ygay Gran Reserva Especial stands as a benchmark in Rioja. Thirty months in oak and three further years in bottle yield an exceptionally stylish and refined wine. Extended oak ageing has added a gentle roasted aspect to the multifaceted and harmonious fruit and spice flavours. You can broach this wine upon release. But don't worry if any other bottles get 'lost' in your cellar. They'll keep just fine.
Rioja reds with food
A red wine from the Rioja can provide one of the very best of accompaniments to many cuisines, particularly those where food is grilled or roasted. This is especially true when the wine has been aged in American oak casks. François Chartier (who was honoured with the prestigious Grand Prix Sopexa International in 1994 as the world's best sommelier in French wines and spirits) cites three food enhancers as prime matches for such an oak-matured Rioja red:
Maple syrup - When used as a flavouring, maple syrup marries extremely well with the oak-tinged aromatic qualities of the wine. For this reason, I often incorporate maple syrup in meat or poultry marinades and sauces.
Cloves - With their slightly hot, sweet and woody fragrance, cloves also match capably with oak-aged Rioja reds. No wonder I enjoy a clove-studded, honey-glazed, pineapple and cranberry braised ham so much alongside a bottle of Rioja!
Hot peppers - This one represents a bit of a revelation for me. And that's not because I haven't tried it before, but rather because I've never quite understood why the combination of hot pepper and red Rioja works so well. Once again, oak-ageing provides the key, as the softening effect of the vanilla compounds picked up by the wine during maturation helps to counterbalance any intense acidic bitterness within the pepper(s).
More than 'simply red'
Guess what. Rioja isn't all about red wine. With that in mind, here are descriptions of a couple of superlative whites from the region.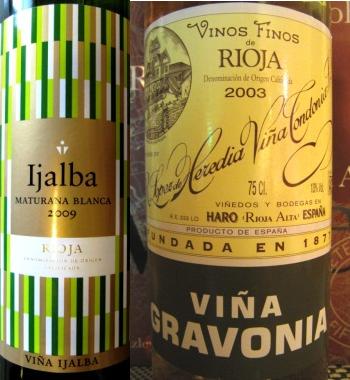 Ijalba Maturana Blanca 2009 (approximate retail cost CDN$22)
Viña Ijalba, Logroño, Rioja Alta / The vineyards were planted beginning in 1975, while the winery dates from 1991
The Maturana Blanca (also known as Ribadavia Blanca) is an old, all but forgotten grape variety that was documented as early as 1622. Dionisio Ruiz Ijalba became interested in preserving and propagating Maturana Blanca, with an eye to producing a truly distinctive white table wine. His aromatic 2009 melds a rich textural quality and lively acidity with a highly original flavour spectrum encompassing notes of apple compote, ripe lemon and almonds. It's delicious.
Viña Gravonia 2003 (approximate retail cost CDN$30)
R. Lopez de Heredia, Haro, Rioja Alta
This fabled bodega firmly believes in the merits of extended oak ageing, even when it comes to white wine. Viña Gravonia is produced from Viura grapes grown in Lopez de Heredia's Zaconia vineyard. Following fermentation, the wine rests in oak casks for 'only' four years. Gravonia represents the antithesis of a modern white wine, its oxidative scents of caramel and fallen apples carrying over onto the palate. This is a complex, unique and somewhat challenging wine that displays great depth and seems to change character with each successive sip. I'd recommend you serve it moderately (not overly) chilled alongside grilled scallops, seafood in a cream sauce or herb-roasted poultry.
Salud!
Referenced articles and books
Chartier, François, Taste Buds and Molecules: The Art and Science of Food with Wine, translated by Levi Reiss, McClelland & Stewart, Toronto, Ontario, Canada, 2010, pp. 84, 111-112, 182-183
Evans, Sarah Jane, Vintage Guide to Rioja, Decanter Magazine, July 2013, Vol. 39 No. 10, IPC Media Ltd., pp. 50-56
Fournier, Nadia, Phaneuf: Le Guide du Vin, 32ème edition, 2013, Les Editions de l'Homme, Montréal, Québec, Canada, 2012, pp. 246-248
Johnson, Hugh & Robinson, Jancis, The World Atlas of Wine: Fifth Edition, Mitchell Beazley, London, U.K., 2001, pp. 186-198
Read, Jan, The Wines of Spain, Faber and Faber, London, U.K., 1982, pp. 78-131
World Wine Awards 2012, Decanter Magazine, October 2012, Vol. 38 No. 1, IPC Media Ltd., pp. 300-321
www.winesfromspain.com,

July 20, 2012
________________________________________
Doug Kuebler (jazznut) is an inveterate aficionado and collector of wines and whiskies. Apart from organizing wine and food seminars, Doug has also written extensively on wines and liquors over the last three decades. His first published book-set, The Tumbler's Guide to Single Malt Scotch Whisky
, has been well-received in North America, the British Isles and Asia.