Goose Island Brewery Rolls Out Bourbon County Barrel Offerings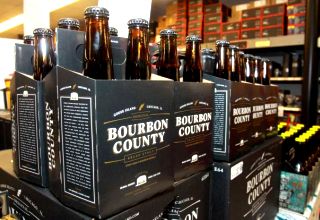 This time of year provides no shortage of celebrations and traditions. If you are the sort who savors quality craft beers as much as you cherish tobacco rolls, then there is another ritual you should plan to add to your next holiday lineup. Once a year, Goose Island Brewery releases very limited batches of coveted Bourbon cask aged stouts. These beers are the kind of bottled bliss you need to seek out as a holiday gift – to yourself.
Goose Island has done its part to keep the bond of industry-consumer relationships strong. The day following Thanksgiving is renowned for shopping excess. But now you have a more than valid reason to join your spouse or lover in leaving the home in the pre-dawn hours of Black Friday. For that is the day Goose Island releases its lineup of Bourbon County offerings.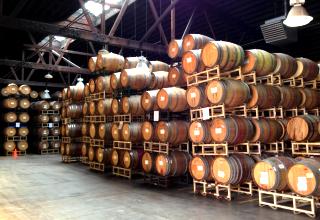 Those fortunate enough may come into possession of Goose Island's Stout, Barleywine, Coffee or Vanilla Rye. (A fifth label, Proprietors BCS, is available in the Chicago area.) These are well crafted, heady brews, which are aged for 100 days in Bourbon barrels sourced from Kentucky distillers.
You can sense these beers represent a significant departure from conventional beer drinking simply by reading the note on the label, which states, "Develops in the bottle over 5 years." Yes, I have heard of people who have sampled these beers from previous 'vintages'. As for my personally storing and aging bottles, there's no way that I could exhibit that kind of discipline.
This year, I managed to get my hands on the 2014 Bourbon County Stout and Bourbon County Coffee Stout expressions. How? Well, let's just say, "I know a guy," and leave it at that.
One thing I will try to do is spare you the high-minded, verbose descriptions many a beer connoisseur uses to torment an audience. This task, however, proves more difficult than first thought, as the Goose Island brews are undeniably complex and multi-layered.
One thing is very evident – you must put aside any 'normal' concept you have of beer. These are not suds to be consumed in a flash. They are examples of workmanship to be experienced, much like a fine cigar. You need to clear time, and then take your time as you savor. Another reason not to rush is that these are powerhouse bombs of flavor and strength. How strong? Good question. The brewery promotional material states the Stout contains 14.2% alcohol (though the label posts 13.8%). Likewise, the Coffee Stout is claimed to be 13.4% (while labeling announces 12.6%). Either which way, these are formidable percentages.
Also, choosing the manner of serving can be a bit of a challenge. I was told from differing sources that room temperature was fine for drinking or that chilled would work. Even though these fermented offerings are commonly served in snifters, which might indicate they should warm in the hand, I opted for lightly chilled. And this, in fact, proved the best way. The tastes actually changed over the course of drinking, lending further dimensions to the flavour profile. So let's get into this experience...
Bourbon County Stout
Upon opening the bottle, you are quickly introduced to an unmistakeable, but not overpowering, Bourbon-like aroma. Pouring out this fluid is also a surprise, as the very light carbonation forms a thin caramel-coloured head that dissipates quickly. Rich brown in hue, the stout displays a pronounced opaqueness. Holding the glass right up against a light merely reveals a bead of deep red at the base of the taper.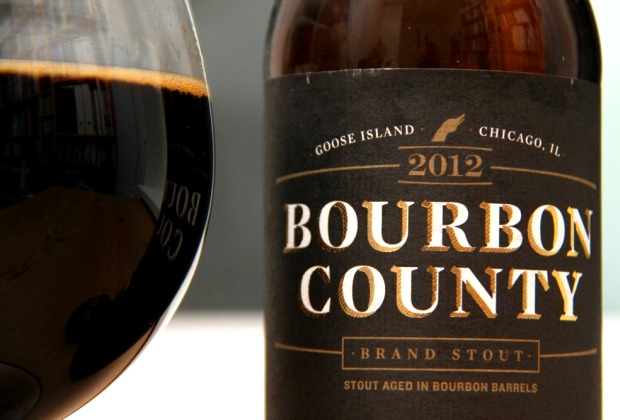 The craftsmanship of the beer becomes even more evident with its textural qualities – a lighter viscosity in the mouth despite the brew possessing the appearance of spent motor oil. The thickness of a porter is there, yet the stout glides across the mouth without any syrupy residue. It actually travels over the tongue, spreading evenly. Your mouth is not coated as can be experienced with most beers of this type.
As for the flavors, you really have to pay attention. Up front, faint charcoal mingles with the chocolate flavors of a good stout. As the beer spreads across the tongue, the high alcohol content kicks in with astringency. But this astringency soon gives way to dark fruit and raisin elements. Some grain-like notes follow, while the Bourbon aspect arrives more in the aftertaste.
The Bourbon County Stout continues to impress as the drink warms. That charcoal element softens to a smoky presence, and the chocolate takes on some vanilla overtones. The fruit component veers toward something closer to a burgundy wine. The malts seem to grow, and the Bourbon-like taste then becomes more constant.
Goose Island's Bourbon County Stout provides an oftentimes perplexing experience for those of us used to downing beer in volume (myself included). Nevertheless, in this case, the amazing complexity of the taste experience rewards the effort.
Bourbon County Coffee Stout
Chicago's Goose Island Brewery is located directly beside gourmet supplier Intelligentsia Coffee & Tea. Each portion of the Bourbon County Coffee Stout batches is made with a coffee bean selection from their next-door neighbor. The 2014 iteration uses a Rwandan bean called Zirikana.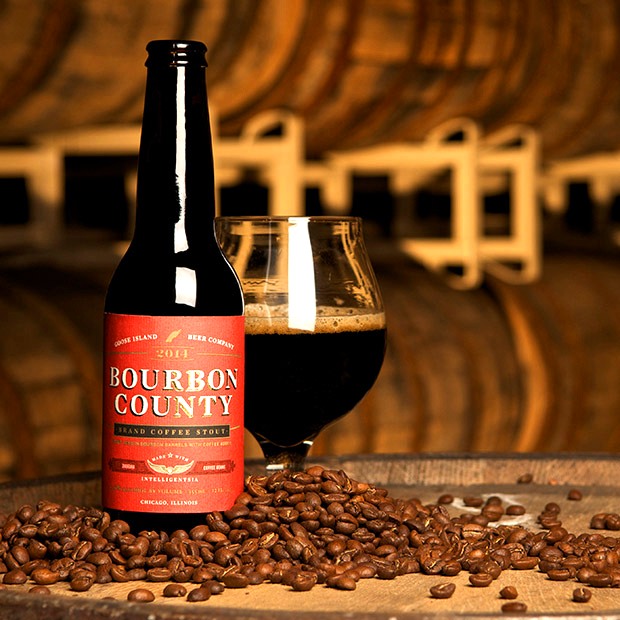 Cracking a bottle of the Bourbon County Coffee Stout and pouring delivers a more pronounced Bourbon aroma. Still, this one is mostly about the coffee, as that taste replaces the fruits and is understandably more prominent than the chocolate. This is not a brewed coffee flavor, but purely a roasted bean one.
Imagine if Starbucks became a more tolerable experience by having a liquor selection where you could get some quality single-batch added to your joe. With Goose Island's Bourbon County Coffee, the flavors constantly interchange, as the stout, coffee and smoky Bourbon aspects take turns getting noticed in the mouth. While less complex in its flavor makeup than the stout, it is no less enticing. All of the elements are present and become noticed independently from each other. This is an indication that Goose Island has not simply made a different beer; it has crafted something truly special. It is striking that a beer can be this good – something so complex and impressive.
While many of you may be inclined to try pairing the two Goose Island brews profiled here with appropriate cigars, my recommendation, perhaps slightly scandalous, is, "Don't!" These are drinks best enjoyed without imparting foreign flavor elements into the mix. The best thing I'd suggest is to first imbibe at a leisurely pace, and only later select a strong and flavor-packed roll. That way, your mouth will already be charged for an onslaught of tastes.
Rumors have circulated that Anheuser-Busch (distributor of the Goose Island labels) has helped the brewery to expand its warehousing capacity. The hope is that, sometime in the foreseeable future, Bourbon County releases will become more widely available – even possibly year round.
It's well worth the effort to seek out these brews. Just make sure you have plenty of time to clear for uninterrupted savoring.