Dungeon Cigar Haven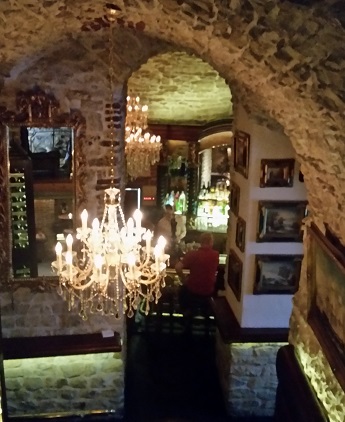 July 10th, 2017
Prague is as cool and full of Old World mystique as you have ever seen in movies. It's the capital of the Czech Republic, and is a popular tourist destination every summer. While women might gush with excitement over shoes and purses, I found myself gushing over an insanely cool cigar lounge, several levels below the street, in a dungeon. Yeah, a freakin' dungeon!
The Hotel U Prince lies 75 feet away from the major tourista magnet of the 600 year old Astronomical Clock (yawn). Down in the hotel's basement (as in down four flights of stairs, into the bowels and foundations, constructed centuries ago with big arches) is Black Angel's Bar.
The mood inside is like jumping into some kind of spy novel, where arch villains lurk in the dark recesses of exotic chambers. And you get to smoke here!!! How cool is that? Black Angel's Bar could well be the world's most interesting haunt for cocktails and cigars.
Descend the stairs and step back in time. Black Angel's Bar has the feel of an underground speakeasy. The walls are rough – old masonry reminiscent of a medieval dungeon... if a dungeon had great drinks, cigars, comfortable leather furniture and a killer piano player, that is!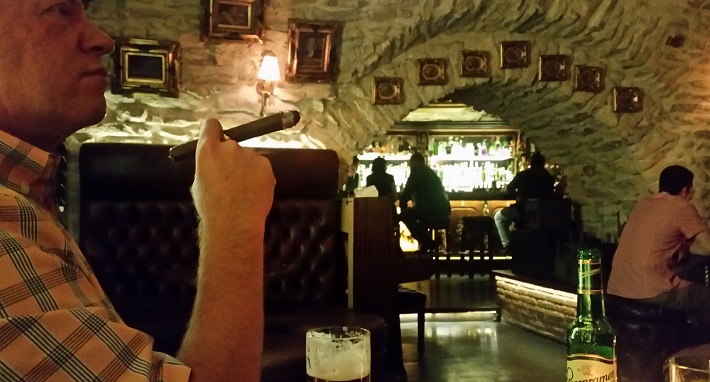 My wife is not a smoker. But she loved Black Angel's Bar, and easily settled into a cozy corner with a mojito. She couldn't resist sneaking a few photos despite the clearly posted 'no photos' signs. We sat beside a glass case with a number of signed liquor bottles. My wife pointed to one and asked, "Is that who I think it is?" Yep, Ron Jeremy – THAT Ron Jeremy. Snap. Another picture.
You can buy sticks from the humidor upstairs, or bring your own. Order up your favorite cocktail and enjoy the master piano player for a memorable evening of Old World elegance.
If you are in Prague for a few days, another cigar spot worth a visit is Tynska Bar and Books. This was the first overseas location of the New York Bar and Books chain. Down an alley beside the huge gothic church in Old Town Square, you will come to a wood and leather bar with the feel of a library.

Check the events page on the establishment's website. On many weekdays, the place offers great promotions. We were there on a Thursday night, which is when the staff give a free cigar to anyone with an ID from a country with another Bar and Books location. In our case, our US passports got us each a free cigar (because of the NYC branch). On other nights, there's live music, whiskey promos, or even movies. Order up a martini, light your cigar, and pretend to be James Bond – even if only for an hour or two.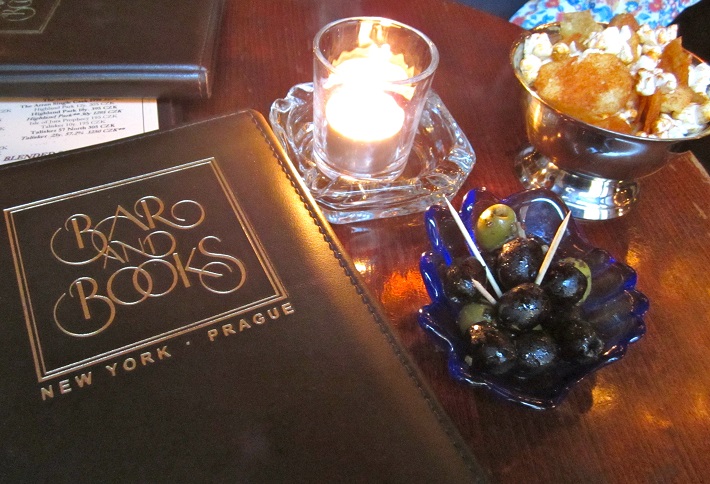 ______________________________________________