Our East-Coast Cigar Tour, 2017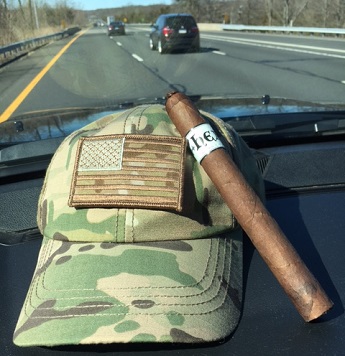 May 15th, 2017
10 days, 2900 driving miles, over 300 cigars acquired and 60-plus smoked along the way.
I always say that cigar people are nicest people you'll ever meet. And on this trip, we were fortunate enough to spend time with some really exceptional ones. We made new friends, met up with old ones and visited some very nice locations for buying and enjoying cigars.
My lovely wife, AKA 'Lady A', was my companion the whole way, and she helped me tweet photos of the cigars that I smoked as well as photos of some of the great places we visited. We also managed to play 25 games of pinochle with Aunt Virginia and Uncle Bob in Lakeland (when we got to Florida) – all around, a very productive exercise. However, the girls beat the boys in the tie breaking game 13-12.
We got on the road just a little past 7:00 AM on Saturday the 8th of April, and I started my day with my last Inkwell cigar by Sawtelle Cigars – sadly, a great smoke that is no longer made. It was one of my morning favorites.
The goal on day one was to get to Charlotte, NC, and have dinner with our best friend and my old navy buddy in South Park. We were rolling right along through Connecticut, New York and New Jersey when we remembered, "Hey, we're on a cigar tour." So we decided to locate a shop or lounge to stop at and stretch our legs.
We just happened to be in Pennsylvania, home to some of the largest online cigar distributors in the country, around lunch time. So Lady A did some Googlin' and came up with Cigars International in Hamburg, PA.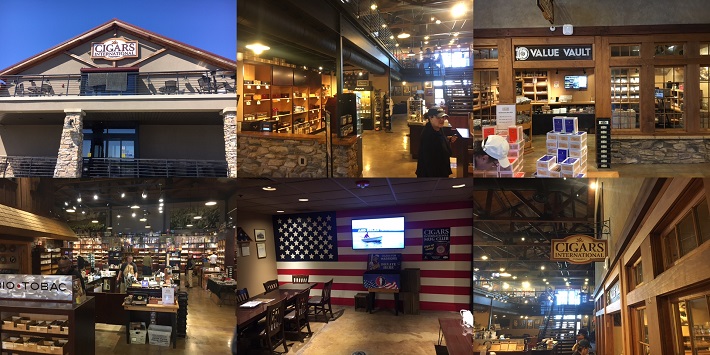 Let me tell you, this place is a cigar lover's dream. Thousands of square feet of cigars, gear, a full bar and plenty of places to sit, relax and enjoy. We must have spent an hour alone in the 'Broken Box' variety pack room, sorting through hundreds of bags of mixed cigars. My wife was digging through the bottom shelves and handing me bags to look at faster than I could decide which ones to keep! Her theory is that most of us guys avoid getting down on one knee at all costs, even to search for cigars. And based on some of the bags she found, she may be right.
What started out as 'maybe a box purchase' and a quick stop turned out to be an hour plus treasure hunt. 2 boxes, 1 single and 16 mixed bags of cigars later, we were heading to the truck with our loot!
We were now running behind schedule, and had to make up time on the road. So after the obligatory 'haul' photos (for those of you who've never seen them, they're how we show off our purchase like it's a six foot marlin that we caught on a fly rod), we were off!
We arrived in Charlotte about 14 hours after we had left home. We did after all, take the scenic inland route, and maybe spent a little more time than first guesstimated at CI.
In our hotel room, our friend had a bottle of wine waiting for my wife, and two Arturo Fuente Hemingways for me (well done, Leo). After a reunion dinner with our friend at Wolfgang Puck's Kitchen, it was time for a night-cap smoke, followed by bed. We needed rest after the nearly 1000 miles we had put behind us, and also because we had big plans for the following day.
As is my practice (anytime I can get away with it), I would rise with the midday sun, and we would then seek out coffee and a cigar lounge where we could laze about all afternoon until the dinner bell rang.
11:00 AM came early. After the previous 18 hour day (and as I often do), I laid in bed a few moments, sipping the coffee which my awesome wife had brought me, and said my morning prayer: "God, I'm glad I don't get up early to workout. Amen." With a quick shower and a second coffee under my belt, I bounded (well, walked at a respectable pace) out the door and lit up one of my gifted Fuentes.
Lady A had a plan for the day already worked out. We would go to Dean Deluca's for lunch, and then drive into the city to locate CCC (The Charlotte Cigar Club) for our afternoon activities of smoking and drinking beverages.

CCC quickly met my standards, as there were parking spots available (this is usually all I require). We made our way to the door, where we were greeted by a knight's suit of shining armor. I was already getting the feeling we'd like this place. We walked through the door to a very nicely appointed outer lounge, flanked by two full walls of cigars in humidified glass cases.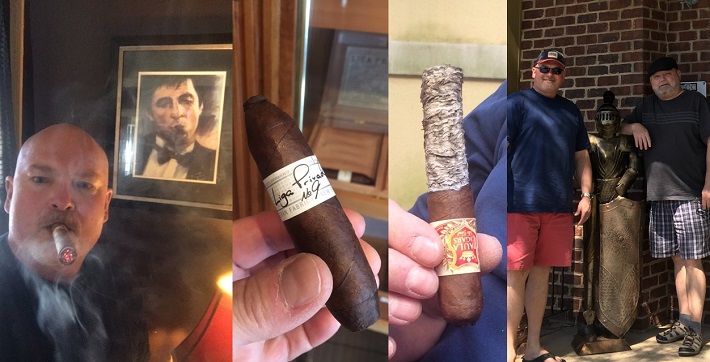 The manager on duty was very welcoming and friendly. He told us about the place and a sister club in Matthews, NC, then invited us to make ourselves comfortable anywhere. At that moment, we were the only ones in the place. We were shown through the member's lounge and out to the member's patio, which had a commanding view of the Charlotte City skyline, including the Bank of America Building.

My wife had a glass of wine and I a coffee, accompanied by an Eric Espinosa Crema. I hadn't had this cigar before, and it turned out to be too mild for my liking. Next up was a bottle of Coke and a Flying Feral Pig by Drew Estates – a cigar well known to me, and one I consider among the very best. The Pig fell short in only one area; it wasn't a foot long, like I would have preferred. Otherwise, it was a home run!
My recommendation is that if you get to Charlotte, NC, you should definitely check this place out. Over the course of the afternoon, members came in. Some introduced themselves, and the vibe vas very welcoming. As I've said before, cigar people are nice people. And the crowd at CCC was no exception to the rule.
After a great dinner at Firebirds, some Key Lime pie and a late evening smoke and coffee, we closed out the day.
Up at the crack of 10:00 AM, Cigar Gent and Lady A were Atlanta bound, and planned to meet a BOTL along the way. But first, we had a few hundred miles to drive. Sometime after we crossed into South Carolina, my wife spotted something that was too good to pass up. I think it was around Greenville where she saw a sign that read 'Largest Walk-In Humidor in South Carolina'. What? The largest one? Well, that sure sounded like a stop that two rapscallions on a cigar tour ought to make.

As we pulled off at the exit and scanned the horizon, sure enough, there it was – Tobacco Plus. After our visit to Cigars International, this place didn't look all that large. But when we got inside, it did have an extensive selection and a lot of stogies. One brand I was particularly surprised to see (among all the usual suspects) was MBombay, which not many shops where I'm from carry. I immediately helped myself to a few, and filled up a basket with cigars. All in all, it was a worthwhile stop. I picked up about 20 quality sticks, and then we were back 'in the wind', heading South! While Tobacco Plus may not have been fancy, I would imagine that it would represent a 'find' for cigar lovers anywhere within a hundred miles of it. I'm glad we checked it out.
Next stop Suwanee, GA, to meet a BOTL.
It was around 3:30 PM when we rolled up to Rick's house. And like a good ol' cigar lovin' Georgian, he was out on the front porch, next to his 'Merican flag, smokin' a cigar.
We spent some time at Rick's beautiful home, and then he took us to one of his regular haunts for a smoke. Cigar House, somewhere near Rick's place, was a modest joint with a jovial and welcoming shop owner named Sal. Sal was so happy to see Rick he almost popped a wheelie in his wheelchair. Lady A and I immediately felt at home, and I could see why Rick chose this place over a trendier cigar bar across town.

After a great smoke (The Judge by MF, compliments of Rick) and some war stories compliments of Sal, it was time to say goodbye and make our way into Atlanta and to our hotel.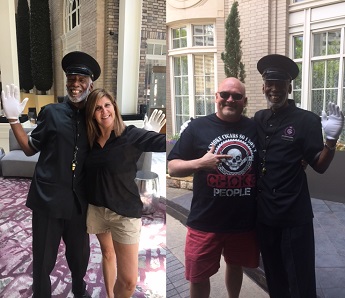 I've been to Atlanta a handful of times on business, and stayed at various hotels there. But none of them came close to The Georgian Terrace on Peach Tree. This place was absolutely gorgeous – a fully renovated, historic hotel with apartment-sized luxury suites.
There was a beautiful terrace outside of the Grand Ballroom, which (back in its day) hosted the after-party of the star studded debut of Gone with the Wind, shown directly across the street at the iconic Fox Theater. On the terrace, we enjoyed the warm breeze (72º was warm for us Yanks) and moonlit sky as I smoked the day's last cigar (a 2016 TAA Angel's Anvil) and sipped a couple of double espressos. My wife had a glass of wine.

Upon tweeting my smoke and disclosing my location, I immediately received a reply that said, "WTF! You're in Atlanta and didn't let me know you were coming!" This made me bust out laughing, as it came from none other than Big John, Publisher of Cigar Weekly. I do enjoy how John puts things. I hadn't paid attention to the fact that the online magazine was housed in Atlanta. My bad John. It won't happen again.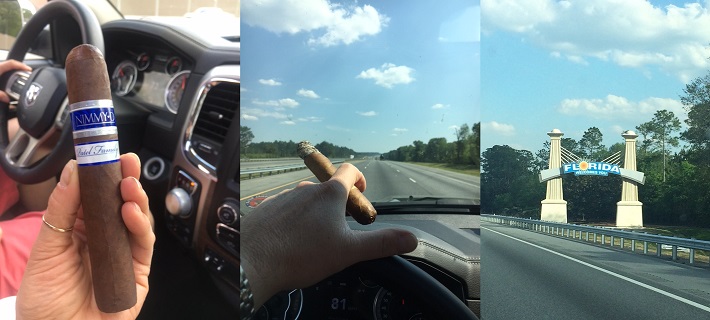 Unfortunately, we couldn't spend yet another night in Atlanta, and needed to get on the road (after a business meeting I had scheduled for the next morning) to get down to Lakeland, Florida, where Aunt Virginia would most certainly have dinner waiting for us, and Uncle Bob would be shuffling a deck of pinochle cards.

Lakeland, home to the Detroit Tigers baseball training camp, is about 35 minutes away from the epicenter of American cigar manufacturing in Ybor City. Ybor is known as Cigar City. And although it's been a while since the town's heydays, this is a super cool place for cigar lovers and history buffs to visit.
The JC Newman Factory is still open. It was a major production facility for machine made cigars through the 1900s and now, I believe, is used as a distribution point for the firm's hand-rolled brands (as well as some Arturo Fuente cigars). The factory may as yet be cranking out machine made cigars. I'm not entirely sure. I was told by an office worker there that back when the factory was at peak production, the staff were putting out 65,000 machine-made cigars a day.
7th avenue is the main thoroughfare in Lakeland. And it's lined by cigar shops with rollers in the front windows, bars, restaurants, tattoo parlors and gift shops. Cuban coffee and hand rolled cigars can be had on every corner. While not all shops roll their own, there are some that do. And their product is very good.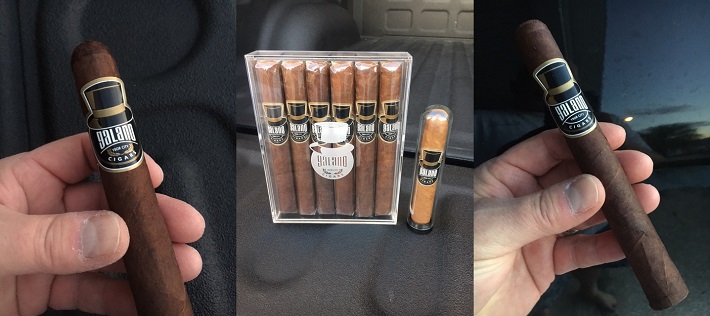 I was lucky enough to meet up with Josh Candamo, owner of Galano Cigars, one afternoon for coffee, and enjoy one of his fine cigars at the famous King Corona. Ybor is home to his premium-brand establishment, as well as to a couple of others that he took me into. (Ybor is also home to La Farona and Tabanero Cigars. along with Tampa Sweethearts, which is owned by the Fuente Family.) Walking around with Josh, I got a history lesson and private tour of the small city.


Cigar City also has a history of gambling and organized crime, with strong ties to the Italian and American Mafias and Cuba. Trafficante, now the name of a boutique cigar brand, is a big name there, and can be found on the member rolls of the Italian-American Club, which is still in operation today. The movie Live by Night, with Ben Affleck, tells this story of the evolution of gambling and the underworld figures who controlled the city for many years.
After a tour around town and a visit to the future site of Galano Cigars, I headed back to our ongoing card tournament in Lakeland. Cigars and cards is how we passed most of our time on our visit. Before leaving Florida, I was able to make one more trip into Ybor on the Saturday before we left to meet up with another BOTL, Rob.
One of the most enjoyable things about belonging to this cigar family of ours has been developing relationships with people all over the world on Twitter, and then being able to meet some of them in my travels. Rob is a transplant from up north who has by now spent many years in the Tampa area. Spending some time with him after all the tweeting we'd done about cigars was a real treat. We smoked, had some coffee and hit some cigar shops together with my wife. What a great way to spend a Saturday afternoon.
Easter Sunday was the next day, and Monday we hit the road to head back north – but not before one more stop in Fayetteville, NC, where we again met up with our friend Leo. This time it was me who presented him with some cigars and his first Travel Herfador. We arrived at the Hilton Gardens within 3 minutes of each other on Monday afternoon. And once again, Lady A had done her homework and found us an awesome cigar shop and lounge to spend a few hours at before dinner.
Fayetteville is home to Fort Bragg Army Base and the 82nd Airborne. It's an All-American town with a great sense of pride. The people there are as friendly as can be. Fayetteville also boasts one of the nicest cigar lounges, you'll ever go into. Anstead's Tobacco is housed in a huge refurbished barn with seating galore, a beautiful fireplace, TVs, leather couches and chairs, a bar and an extensive cigar selection in the chock-full walk-in humidor. Anstead's also carries all the gear a cigar aficionado needs to keep, transport, cut, punch, light and ash his or her cigars. There are also some really nice pipes, and shaving gear too.

We were welcomed by the staff, and were guided around the humidor and lounge by the owner, Wayne Anstead. Wayne was clearly proud of his establishment, as he should be. It's one hell of a nice place, and is frequented by real American military heroes. If you're ever anywhere near Fayetteville, do yourself a favor and stop in to meet Wayne and spend some time at Anstead's.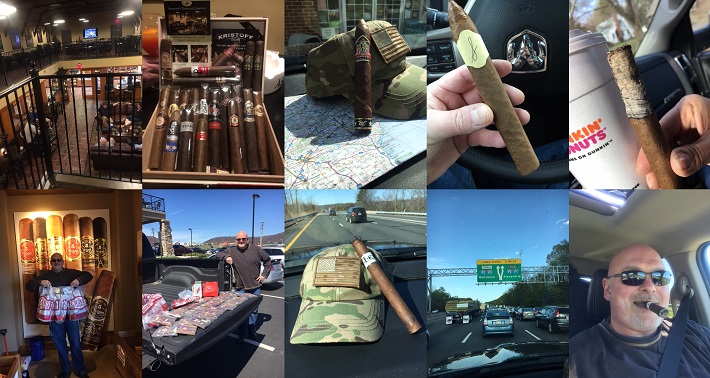 After another shopping spree in Wayne's humidor and my first Tabernacle, we had dinner at a nearby Texas Roadhouse, and then adjourned to the patio at the hotel for a nightcap smoke before turning in. My last smoke of the night was a Casa Fuente, and it hit the spot.
In the morning, we found a Starbuck's, and had a bite to eat, before saying so long to our friend and starting the long drive up 95.
My first Smoke of the day, as we said farewell to Fayetteville, was none other than The Gent 660. I lit up my namesake, and Lady A and I were on the road again. Aside from the usual traffic around D.C., the trip home was pretty uneventful. Several cigars were enjoyed, and we talked about our next trip and what we'll have to do differently (mainly, take a longer vacation). We also weighed the pros and cons of opening our own cigar lounge in retirement. This is something we talk about often. But as time goes on, we're beginning to lean towards just enjoying someone else's lounge and taking it easy.
About 1:00 AM, we pulled into our gravel drive, and only removed the necessities from the truck – our pillows and my cigars. The rest would wait until morning (or afternoon) the next day.
Our East-Coast cigar tour proved a memorable one. We definitely enjoyed ourselves, and made some new friends. Whenever we travel, we seek out new cigar shops and lounges, and ALWAYS make new memories.
I hope you've enjoyed reading about our cigar adventure. If there's a Cigar Tour 2018, I'll be sure to tell you all about it.
Be well my friends!
'Till next time,
Anthony Toland (AKA Cigar Gent)