Whisky Profile: Benromach 10 Year Old 100º Proof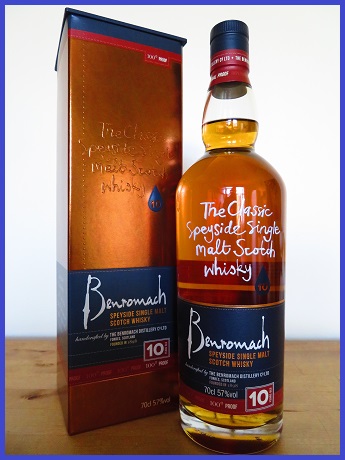 February 19th, 2018
The whisky
Benromach 10 Year Old 100º (Imperial) Proof Single Malt Scotch Whisky
57% alcohol by volume
Benromach is the Gaelic term for 'shaggy mountain'. The distillery is located in the central-western Highlands, just to the east of the River Findhorn.
Originally titled Forres, Benromach dates from 1898. It was the brainchild of Duncan McCallum, a Campbeltown distillery proprietor, and F.W. Brickman, a spirits merchant. Closed in 1983, it recommenced operating in 1998 under the auspices of Gordon & MacPhail.
Benromach aims to produce a heavier spirit more akin to Speyside whiskies of the past.
Tasting glass
Schott Zwiesel whisky glass.
Appearance of whisky
Amber gold.
Nose
Spring meadows. Baked apples. Honey drizzled cinnamon crunch cereal. Undercurrents of saddlery and lemon oil.
Palate
Dried apricots. Sultana biscuits. Toffee. Strands of honey and vanilla play off the gripping oak and Oloroso spiciness, which includes notes of cloves, nutmeg and cinnamon. A hint of peat smoke.
Finish
Warming, long and balanced.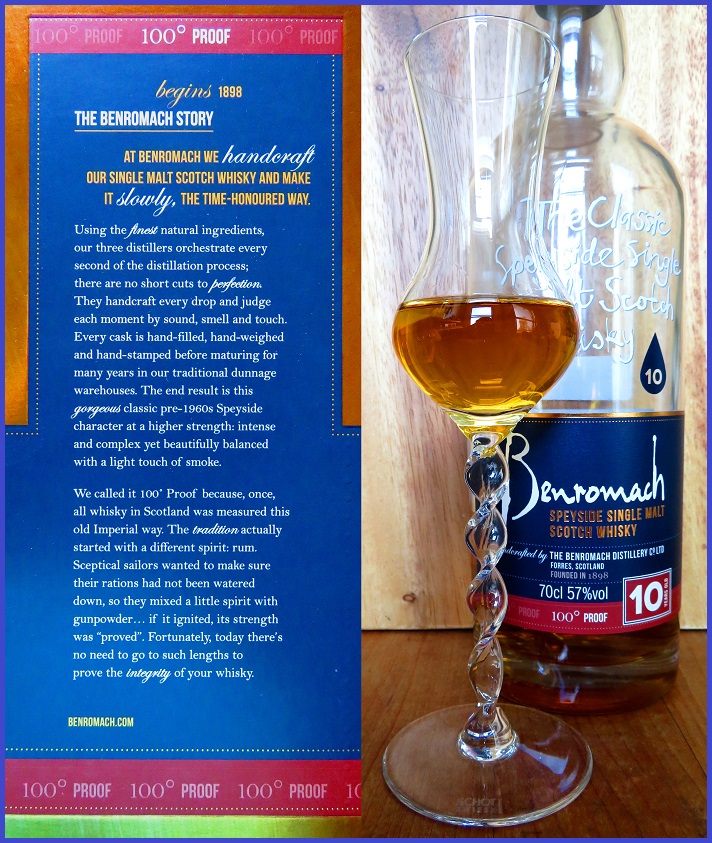 Final analysis
A rich mouthful of deliciousness. The integration of Bourbon and Sherry cask maturation, the effect of the latter reminiscent of Macallans of old, is simply brilliant. This is what great Highland malts used to taste like, and fewer nowadays do.
Recommendation
Although this spirit can be imbibed as it pours, three or four drops of water really help to expand the whisky in the glass.


__________________________________________________
Doug Kuebler is an inveterate aficionado and collector of wines and whiskies. Apart from organizing wine and food seminars, Doug has also written extensively on wines and liquors over the last three decades. His first published book-set, The Tumbler's Guide to Single Malt Scotch Whisky, has been well received in North America, the British Isles and Asia.