Bourbon Profile: Stagg Jr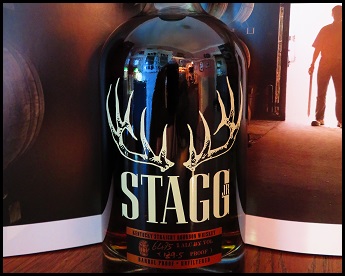 September 14th, 2017
The whiskey
Stagg Jr Barrel Proof Bourbon
Batch 8 (released in 2017)
64.75% alcohol by volume (129.5 Proof)
Stagg Jr represents Buffalo Trace's attempt to market a younger, less expensive and more readily available expression of the classic, limited edition George T. Stagg Bourbon. Stagg Jr has been released in relatively small batches since 2013, and has purportedly improved in quality since its introduction. Buffalo Trace utilizes a low-rye mash-bill for the production of Stagg Jr.
Tasting glass
The Glencairn Canadian whisky glass, which I find works well for many high-proof or cask-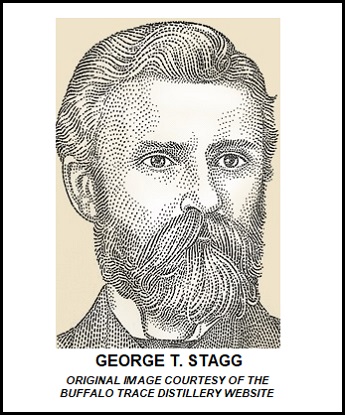 strength whiskies.
Appearance of whiskey
Deep amber gold with a reddish mahogany cast.
Nose
Lashings of Seville orange marmalade, vanilla, saddle leather, spruce sap (doubtless related to the enhanced alcoholic degree), honey and citrus zest. Cereal grains with a demure touch of creaminess. Surprisingly composed given the high Proof level.
Palate
Spicy, peppery heat with hints of baked cinnamon caramelized apples and golden raisins. Lithe and spirited for a moment, then richer. A sensation of lemon and honey cough drops takes center stage as the oak begins to blog. There's an admirable balance between sweetness and dryness. A drop or five of water smoothens the texture a tad without significantly altering the flavour spectrum.
Finish
Quite long, with echoes of those leathery overtones noted in the aroma emerging alongside the sweet citrus and oak characteristics.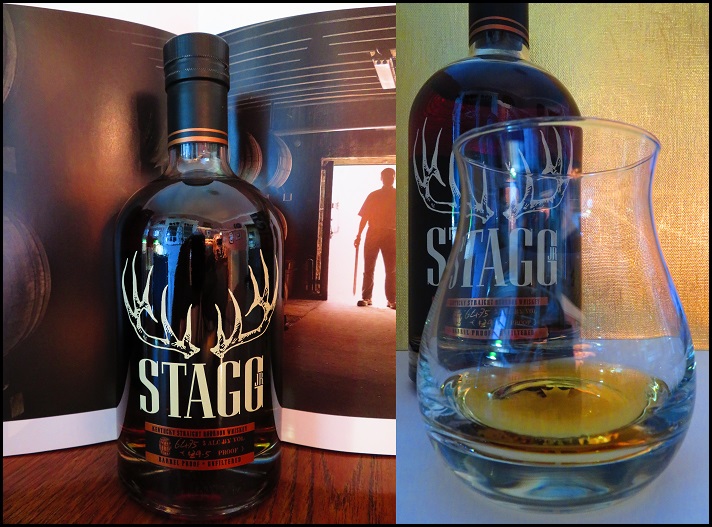 What it lacks
The dried cranberry and maraschino cherry traits (I'm sorry Buffalo Trace, but I simply don't sense any "hint of cherries" on the finish that you describe), incredibly voluptuous mouth-feel and palate-popping complexity of the limited edition George T. Stagg Bourbon – in short, many of the attributes that tighter barrel selection and greater age contribute.
What it has
A bold demeanour. Furthermore, like its elder (and more expensive) sibling, this one is actually drinkable as it pours, provided one takes very small sips to mitigate the onslaught of heat. Be a little brave!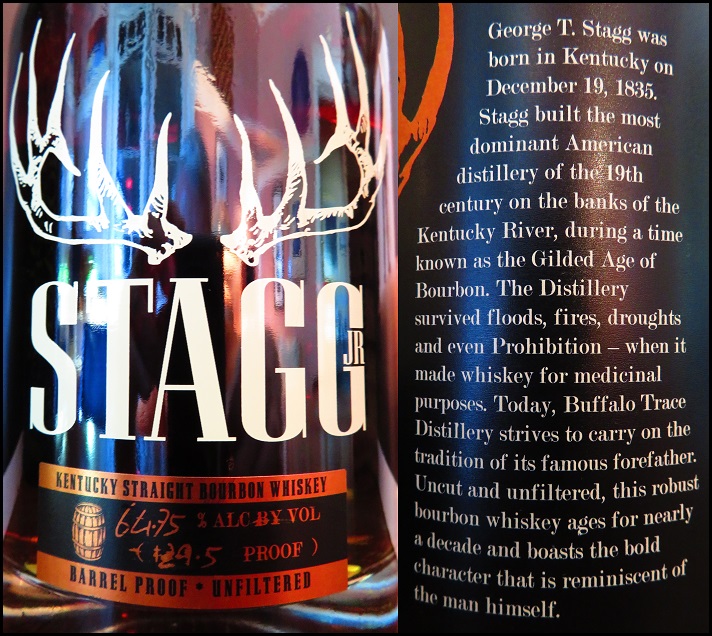 Final analysis
This more recent edition of Stagg Jr ably bridges the gap between Buffalo Trace's 'standard' Bourbons (including Eagle Rare Single Barrel 10 Year Old) and the much sought after George T. Stagg. It's well worth getting to know, and provides for an enjoyably warming pour.
Recommendations
Let Stagg Jr rest in the glass awhile before you imbibe. If you must add water, go easy with

the eau. And don't rush the taste experience. Why would you want to?
__________________________________________________
Doug Kuebler is an inveterate aficionado and collector of wines and whiskies. Apart from organizing wine and food seminars, Doug has also written extensively on wines and liquors over the last three decades. His first published book-set, The Tumbler's Guide to Single Malt Scotch Whisky, has been well received in North America, the British Isles and Asia.