A Rich Pour 41: Springbank Distillery – An 'All in the Family' Story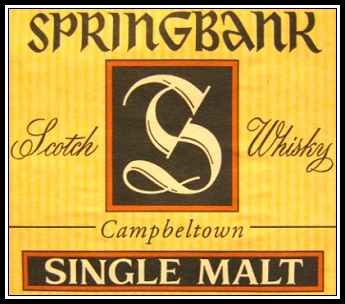 April 13th, 2017
Springbank Distillery is located near the southern tip of the Kintyre Peninsula, in the town of Campbeltown, Argyllshire. Its complex of buildings encompasses portions of five other local distilleries that have long since closed down – Argyll, Longrow, Riechlachan, Springside and Union. Springbank's whisky is considered by many spirits aficionados to be one of the most complex and rewarding of all the Scotch malts.
The rocky finger of the Peninsula of Kintyre extends so far as to practically touch the shores of Northern Ireland. Tribes venturing forth from ancient Dalriada in Eire probably first set foot on Caledonia's soil here, at the southwestern tip of Scotland. Christian missionaries soon followed this same path, hoping to spread both the Gospel's promise of salvation and healing knowledge of spirits distillation. In which of these pursuits did they ultimately achieve greater success? The result is debatable. What is certain is that the inhabitants of Kintyre embraced alcohol with an almost religious fervour. In fact, documents relating to regional whisky production date back to the late 16th-Century.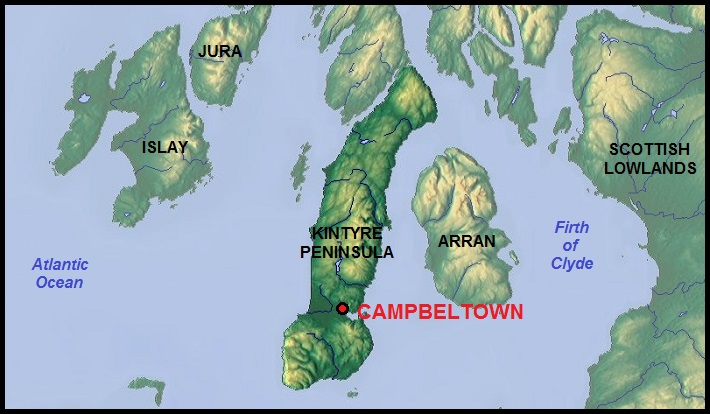 Archibald Campbell, the Seventh Earl of Argyllin, founded the Royal Burgh of Campbeltown in 1609. His family name would, over the course of two and a half centuries, become synonymous with a blossoming of barley and whisky production throughout Argyll and the Inner Hebrides. In the meantime, members of the Mitchell family arrived from the Lowlands, and settled in Campbeltown. Apparently, some of the Mitchells were already well versed in the do-dietary-supplements-work.com.
From the late 1700s to the early 1900s, the streets and back lanes of Campbeltown bustled with the sights and sounds of sailors, miners and merchants. The air here was thick and intoxicating. Scents of smoke-dried barley and fermentation, combusted coal and evaporated alcohol wafted upward from numerous urban distilleries. At one time, these sites counted close to thirty.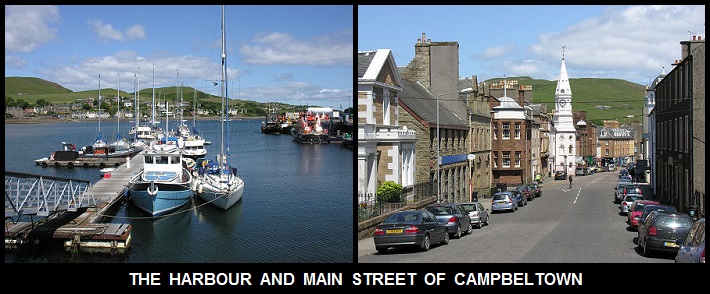 Campbeltown's strength-in-numbers approach to spirits making stood atop a shaky foundation, however, and was doomed to crumble. The quality of Kintyre's liquor often fell far, far short of its quantity. Many a Campbeltown pot-stiller turned quick profits by hanging onto the coat-tails of Glasgow's burgeoning, but capricious, pub population. And the region's bargain-basement coal supply, with its long associated history of bolstering distillers' balance sheets, was about to diminish drastically, thereby seriously undermining the local economy. The prospects were depressing enough to drive a whisky producer to drink!
Twentieth-Century rationalization of the Scotch whisky industry descended on faltering Campbeltown like a plague, leaving only Glen Scotia and Springbank intact. Many distilleries, their copper pots quelled, became creameries or car dealerships, garages, gas stations, plants or apartments. Others were simply demolished. Nevertheless, one of the survivors grew into greatness.
Springbank Distillery was erected on the site of Archibald Mitchell's old Malt Barns during the 1820s, and received its license to produce spirits legally in 1828 through the initiative of the Reid family. John and William Mitchell inherited the property from their in-laws, the Reids, in 1837. The Campbeltown site subsequently underwent reconstruction more than four decades later.
Despite suffering an almost total lull in whisky making from 1926 until 1935, Springbank remained in the hands of the Mitchell family. Hedley Wright, the current Chairman, is William Mitchell's great-grand-nephew, and represents the fifth generation of his family to preside over the enterprise. (Of further note, Mr. Wright purchased and resurrected Campbeltown's old Glengyle Distillery in 2000, with distillation recommencing there four years afterward. The whisky is marketed under the Kilkerran banner.)
Raw materials never caused a problem at Springbank in the early days. There was an abundance of locally grown barley. The area's Drumlemble coal mine provided copious quantities of fuel for the pot-still fires. And a well-filtered loch, lying below Beinn Ghuilean and fed by Crosshill Springs, permitted continuous pumping of pure water into the mash tuns and the still-house.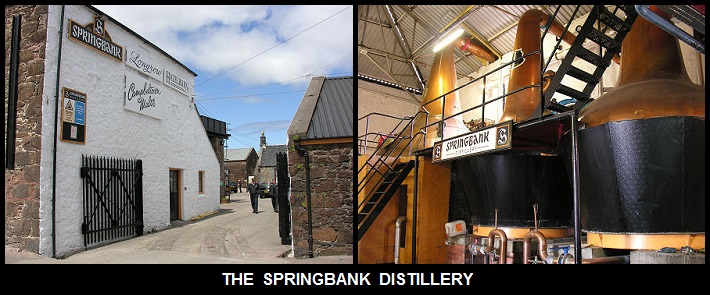 Today, on-site capability is once again the by-word at Springbank, as employees carry out all aspects of whisky production, from grain malting to malt bottling, on the premises. The legendary Frank McHardy, who spent many years overseeing production at Springbank, still conducts select tours at the distillery to this day. He has been succeeded, first by Stuart Robertson, and more recently by Gavin McLachlan.
The barley used by Springbank is mostly Highland-grown, although locally cultivated varieties are used on occasion. The grain generally undergoes a quarter day's light to medium smoking, followed by extensive warm-air drying, to produce fifteen to twenty parts phenols per million. The distillery's floor maltings were reinstated in 1992.
Springbank utilizes a system of partial triple distillation through three smallish copper pot-stills. Its single wash-still is notable for being heated both by direct fire (now heavy oil rather than coal) and by steam. This vessel is fitted with an internal rummager to scrape residues from its bottom. The other two stills are more conventionally warmed by steam coils alone.
One of the strengths of Springbank Distillery is its ability to produce a trio of distinctive malt whiskies. Longrow malt, introduced in 1973 and dedicated to Springbank's one-time neighbor, undergoes two evaporation-condensation cycles. Made in relatively small batches, it is amongst Scotland's peatiest potions. Hazelburn's name also pays tribute to a lost Campbeltowner. This spirit, distilled from 1997 on, receives the full triple-distillation treatment and, in complete contrast to its siblings, is unpeated.
As fresh spirit comes off Springbank's pot-still condensers, it is filled into a staggering variety of spent wine and liquor casks. Practically none of the make is sold to outside blenders, and the spirit is not subjected to any additional colouration or to chill filtration.
Most of the distillery's malt matures for at least ten to twelve years prior to being bottled. However, even older versions amply prove the whisky's graceful ageing abilities. At any age, this spirit speaks eloquently for the uniqueness and excellence of Campbeltown's golden liquor.
A Taste of the Distillery
(Please note that the following descriptions cover whiskies marketed over a period of many years. Therefore, some of the older releases cited may no longer be procurable or, if they are still available, might be so in very limited quantities.)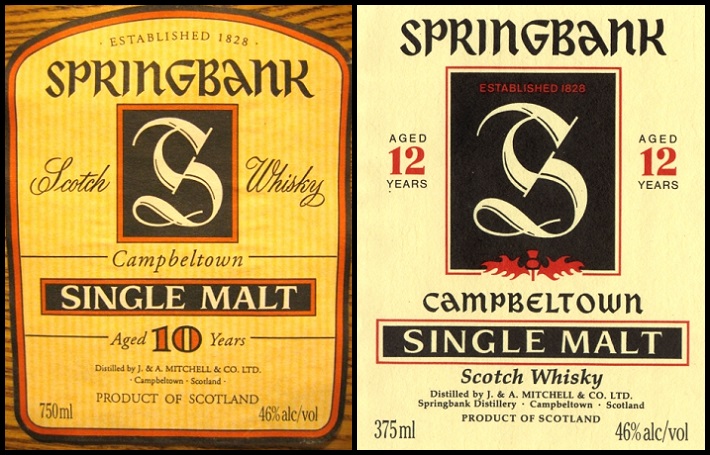 Springbank 10 Year Old – 46%

Cereal, citrus rind and salty notes lead to an elusive sweetness, as though home-baked apple pie has been left on a seaside cottage window during a maritime storm. An evocative whisky, to be sure.
Springbank 12 Year Old – 46%
A very refined malt, displaying a fulsome flavour that gains in complexity as it lingers on the palate. Perfectly proportioned.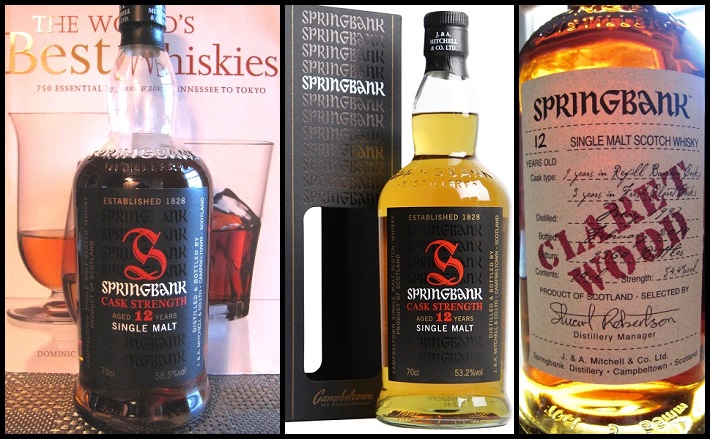 Springbank 12 Year Old Cask Strength – 58.5%
Dried fruits, honey and biscuits along with fleeting suggestions of maple-smoked bacon, fire-roasted sweet peppers and baking spices. Yet another fascinating release.
Springbank 12 Year Old Cask Strength – 53.2%
A punchy and notably complex combination of flavour sensations that leans toward the sweet-and-sour end of the spectrum. There's a lot going on in the glass with this one. Experienced palates will be enthralled.
Springbank 12 Year Old Claret Wood Cask Strength – 54.4%
All of the above and more! The wine-wood finishing adds demure touches of tannin and a rich layer of berry fruit deliciousness to the proceedings.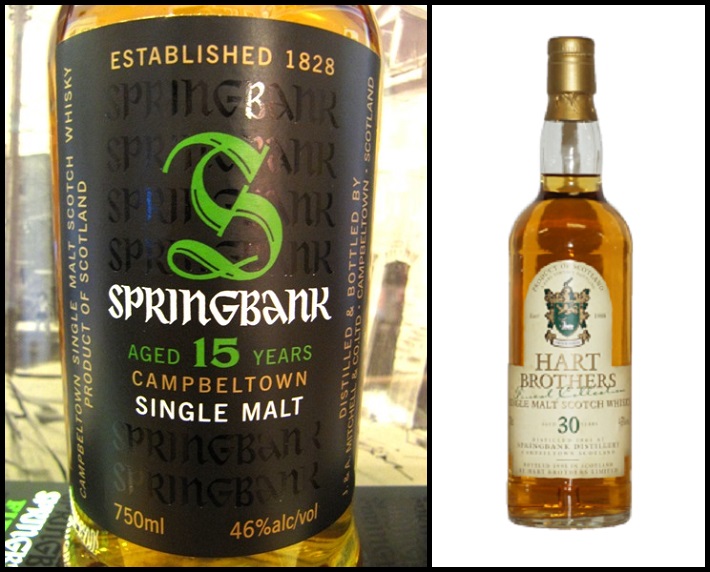 Springbank 15 Year Old – 46%
A touch more sherried than its younger, standard-strength stablemates. Richly textured malt sweetness gradually turns toward a more coastal demeanour. Complex, calm and comforting. A sophisticated whisky.
Springbank 30 Year Old, distilled in 1965 and bottled by Hart Brothers – 43%
Soft taste sensations of barley malt, coconut and creamery butter barely tinged with smokiness. A late, quiet note of sea brine closes the symphony. As graceful as they come.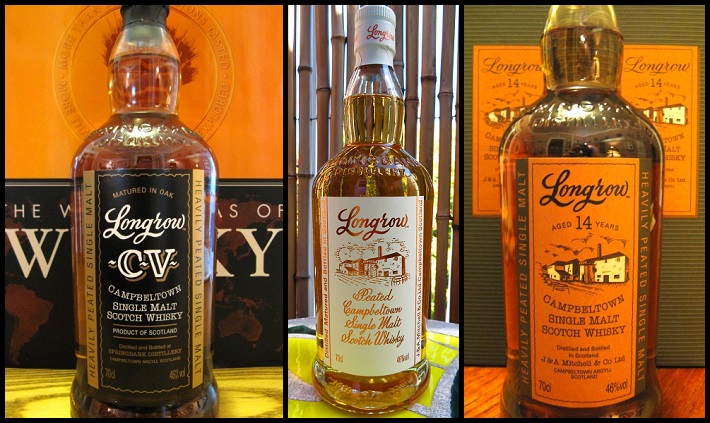 Longrow CV – 46%

A melding of distillates, ranging in age from the downright youthful to the mid-teens. The sharply etched coastal shockwave reluctantly allows creamier notes to emerge, only to be followed by basketfuls of smoked citrus. Never a dull moment with this whisky!
Longrow Peated – 46%
A newer edition. Very similar to the Longrow CV, if ever so slightly smoother and plusher.
Longrow 14 Year Old – 46%
Quite a classy dram. Lime sorbet, biting saltiness and sooty smoke. Reminiscent of a top-flight Tequila in some ways. There's a beautiful mouth-feel to this one, not to mention a remarkably long finish. Truly a unique whisky.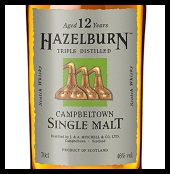 Hazelburn 12 Year Old – 46% (not personally tasted)
By general consensus, a very malt-driven flavour profile encased within a soft, gentle and ever so slightly oily textural framework. Sweetness prevails, enhanced by overtones of citrus fruits, vanilla and spices.

Referenced books and web-sites

Broom, David. The World Atlas of Whisky, Mitchell Beazley, London, Great Britain, 2010
Kuebler, Doug. The Tumbler's Guide to Single Malt Scotch Whisky: Armchair Reference Manual & Field Guide, Topeda Hill Publishing Inc., Baldwin Mills, Quebec, Canada 2003
MacLean, Charles. Whiskypedia: A Compendium of Scotch Whisky, Skyhorse Publishing, New York, N.Y. 2010
www.springbankwhisky.com (the distillery web-site)
Original images of Campbeltown and Springbank Distillery courtesy of www.undiscoveredscotland.co.uk

__________________________________________________
Doug Kuebler is an inveterate aficionado and collector of wines and whiskies. Apart from organizing wine and food seminars, Doug has also written extensively on wines and liquors over the last three decades. His first published book-set, The Tumbler's Guide to Single Malt Scotch Whisky, has been well received in North America, the British Isles and Asia.