A Rich Pour 34: Glengarioch Distillery – A Grainy Gift from the Good Earth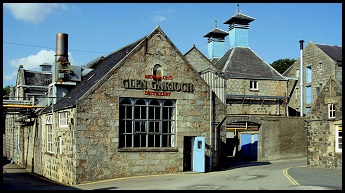 In this edition of A Rich Pour, Cigar Weekly Managing Editor Doug Kuebler (jazznut) delves into the history and liquid bounty of Scotland's easternmost malt whisky distillery.
September 12th, 2016
A whimsical hodge-podge of granite-stoned structures stands amidst the rich farmland of Aberdeenshire, near Percock Hill. Two tall-necked pagodas rise from the compound's central area – a sure indication that whisky business is taking place inside. This is Glengarioch (Gaelic for 'valley of the rough ground', and pronounced 'Glen-geery'), one of the few Highland distilleries able to trace its roots all the way back to the 18th Century.
For you Scotch lovers who also happen to be history buffs, I'd like to offer a brief narrative covering the distillery's two-centuries-plus of existence. Pour yourself a dram (even better if it's a healthy measure of whisky from Glengarioch!) and settle in.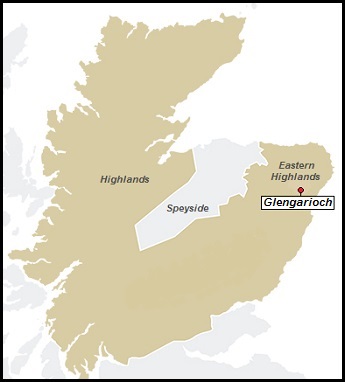 Although Glengarioch's year of establishment is generally thought to be 1797 (and '1797' adorns its official distillery-released bottles of whisky), considerable confusion surrounds the precise date of initial operations. The Statistical Account of Scotland makes mention of a distillery and brewery existing in Old Meldrum in 1794, while a 1785 edition of the Aberdeen Journal cites the selling of spirits from Meldrum Distillery. Could the latter site have been the original Glengarioch? Possibly.
A similar cloud of uncertainty underlies the identity (or identities) of the original founder (or founders) of Glengarioch. Some individuals (including those responsible for the distillery's web-site) credit two brothers, John and Alexander Manson, with establishing Glengarioch on the site of an old tannery. Others assert that one Thomas Simpson was responsible for founding and building the distillery. Then there are those who claim Simpson either purchased or licensed the enterprise from the Manson family in 1798. Add to all of this the fact that John and Alexander Manson also operated another distillery, Strathmeldrum, in the vicinity of Glengarioch during the early part of the 19th Century, and you practically have the makings of a mystery novel.
By the way, Strathmeldrum closed down in 1839, two years after the Manson family had bought back Glengarioch from its blog, Ingram, Lamb & Company. Oh yes... Glengarioch sometimes ran under the title of Old Meldrum during this era!
The Mansons didn't rest on their laurels, but instead chose to enlarge the premises and to install new pot stills. Curiously, the size of the new 1,900 gallon wash still and 1,500 gallon spirit still corresponded to the respective capacities of the copper distillation vessels at the old Strathmeldrum site.
The Manson family's 'reign' came to an end in 1884, when J.G. Thompson & Company, based in Leith, purchased Glengarioch. Two years later, Alfred Barnard, as part of his historic tour of Scottish distilleries, arrived in Aberdeenshire. Barnard observed a whisky complex incorporating a pair of malting floors and capable of producing 50,000 gallons of spirit annually. He was, by all accounts, impressed.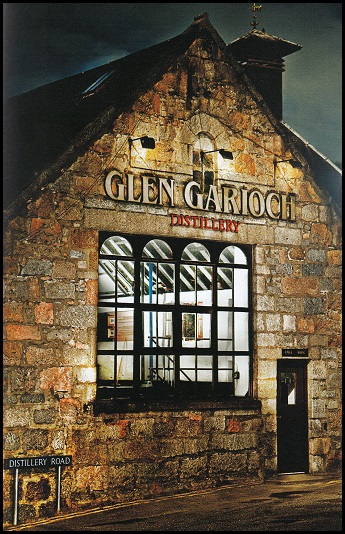 1886 also saw William Sanderson, the creator of Vat 69 Blended Scotch, gain a fifty percent holding in Glengarioch. William Sanderson & Son Limited and a group of associated investors eventually acquired exclusive ownership of the distillery before Booth's Distilleries Limited (known primarily for the distillation and marketing of gin) entered the picture. Soon thereafter, Scottish Malt Distillers Limited (a branch of Distillers Company Limited, or DCL) took over control of the site, which subsequently went silent during the Second World War.
Glengarioch boasted a longstanding tradition of producing a rather heavily peat-reeked Highland malt, even though some of its owners, with their eyes cast more on the blended Scotch market, might have leaned toward making a less smoky style of whisky. When the parent company went 'searching' in the late 1960s for sites capable of producing additional quantities of phenolic whisky to bolster its blends, Brora and Glengarioch topped the list. Unfortunately for the latter, a dwindling water supply spelled something of a death knell. The site closed down.
Stanley P. Morrison Limited, of Bowmore renown, came to the rescue and purchased Glengarioch in 1970 for the tidy sum of £150,000. The new owner's first order of business was to find a reliable water source. Fortuitously, a local man by the name of Alec Grant (soon to be known as Alec 'Digger' Grant and, incidentally, the father of Glengarioch's present-day manager, Kenny) discovered a subterranean spring in close proximity to the distillery, at Coutens Farm.
Further alterations included an increase in the number of stills (during the early 1970s) from two to three, and then to four, as well as conversion of firing of the stills to gas, and later on to an indirect steam heating system. The site's annual whisky production simultaneously climbed, and an official distillery version of Glengarioch's single malt was released for the first time.
Suntory Corporation, a Japanese firm with extensive experience in the whisky field, assumed a majority holding in Morrison-Bowmore (Stanley P. Morrison Limited's adopted title) and its trio of distilleries, which included Auchentoshan in the Lowlands and Bowmore on the Isle of Islay, during the early 1990s.
Circumstances appeared quite rosy for the venerable still site following the Suntory takeover. Nevertheless, Glengarioch surprisingly suspended operations in the summer of 1995. It was put up for sale soon afterward.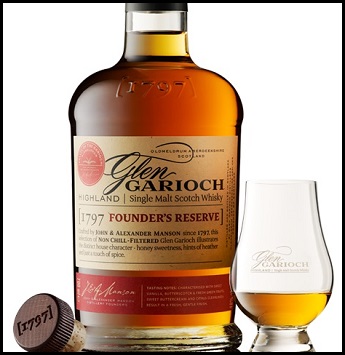 The distillery's closure decimated the local community. Reasonable offers of purchase were not forthcoming. The floor maltings had been abandoned, and one of the wash stills removed. Plans were even afoot to convert the site to residential use. It seemed as though the property, in whisky terms, was headed for oblivion.
Thankfully, Morrison-Bowmore and Suntory did an about-face and reopened Glengarioch in 1997. They even equipped the distillery with new machinery.
Still and all, the totality of the changes instituted from the late 1960s through to the middle of the 1990s influenced the style of the distillery's malt spirit, as well as the site's functional status. This was no more evident than when the enterprise brought in an Islay bloke to oversee production, and peating levels shot through the roof. Consumers therefore encountered a Scotch displaying multiple personalities. One bottle could be as mild as a field of heather, another as pungent as a bog fire. The liquor consequently failed to capture a significant share of the malt market, and began to suffer from inconsistent availability.
Despite such tribulations, Glengarioch has rebounded in the New Millennium, and is once again prized for producing a well-rounded Highland whisky possessing many unique flavour qualities. The current offering of official distillery releases includes a no-age-statement Founder's Reserve as well as twelve and fifteen year old versions, not to mention a range of vintage-dated, cask strength editions distilled between the late 1970s and 1990s. Many aficionados even yearn for a day when the on-site malting facilities might be resurrected.
As if this weren't enough, hard-core Glen Garioch (that particular spelling is the way many distinguish between the bottled spirit and the distillery itself) fans can search auction lists or the dusty back shelves of merchants' shops for older (and now discontinued) releases distilled from the 1960s through to the early 1970s. A few of these bottlings rival the best of the Islay malts in terms of their uncompromising intensity.
And if you're contemplating a visit to the distillery, rest assured that you can book tours at Glengarioch, ranging in cost from £7.50 to £40 per person. You may even consider the possibility of filling your own bottle directly from a selected cask!
Below, I relate my personal impressions of a half-dozen distillery releases I've tasted down through the years...
12 Year Old – 48% (a contemporary release)
An incredibly underappreciated whisky with a dense malt core that evolves from smooth grain and fruit sweetness to oaky dryness in the glass, just as it should. The above-standard alcohol level adds greater palate penetration. A great value, too.
15 Year Old – 43% (an older release)
Aromatic and very autumnal in style, as fleeting suggestions of creamy sweetness vie with drier earth-bound nuances. A uniquely traditional taste of the Highlands.
21 Year Old Distillery Archive – 43% (an older release)
Abundant malt sweetness and a plush palate presence, with persistent earthiness and smokiness lurking in the background. Balanced, warming, long and satisfying. Expensive.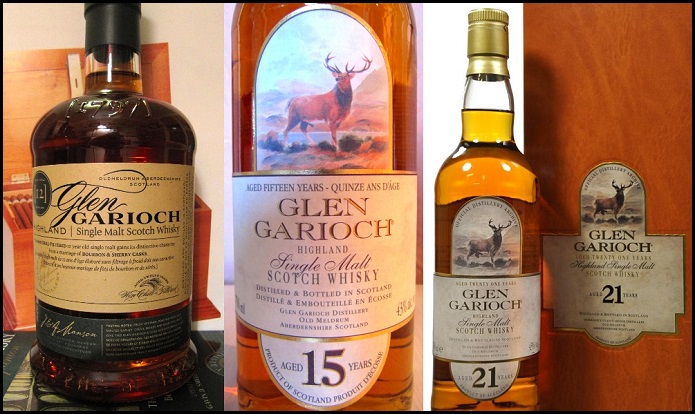 27 Year Old Distillery Archive,
distilled in 1970 – 50.1% (an older release)
Bottled at cask strength from an individual hogshead. Surging complexity from start to finish. An intense and satiating malt whisky experience. Rare, and more expensive to boot.
29 Year Old Distillery Archive, distilled in 1968 – 55.5% (an older release)
Bottled at cask strength from an individual hogshead. Resoundingly rich flavour thrust suggestive of roasted nut meats and resin, with powerful influences from the oak battling the medicinal sweetness. A truly memorable malt whisky. Very expensive, and now extremely difficult to find.
Batch No. 10, distilled in 1995 & bottled in 2012 – 55.3% (a contemporary release)
Bottled at cask strength, and purportedly selected from the last peat-infused distillates produced at the distillery before it temporarily closed in the fall of 1995. Lemon curd and banana pudding in a bottle, with an overlay of toasted coconut, ginger biscuits and subtle peat. Two drops of water and you're on your way.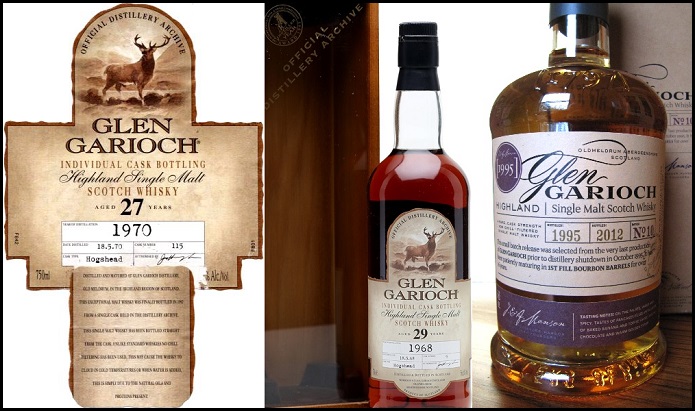 Referenced books and web-sites
Buxton, Ian. "A Survivor (Distillery Focus: Glen Garioch)", Whisky Magazine, Issue 119, July 2014, Paragraph Publishing Ltd., Norwich, Norfolk, UK, pp.30-33
Buxton, Ian. But The Distilleries Went On: The Morrison-Bowmore Story (The History of a Scotch Whisky Company 1951-2014), Angels' Share in association with Morrison-Bowmore Distillers Ltd., Neil Wilson Publishing Ltd., Castle Douglas, Scotland 2014, pp.165-168 (accessed through www.akel.uk)
Kuebler, Doug. The Tumbler's Guide to Single Malt Scotch Whisky: Armchair Reference Manual & Field Guide, Topeda Hill Publishing Inc., Baldwin Mills, Quebec, Canada 2003

MacLean, Charles. Whiskypedia: A Compendium of Scotch Whisky, Skyhorse Publishing, New York, N.Y. 2010, pp.163-164
Townsend, Brian. Scotch Missed: The Lost Distilleries of Scotland, Neil Wilson Publishing Ltd., Glasgow, Scotland 1997, pp.63-65

Scotland Distillery Names & Pronunciations, whiskycast.com, originally compiled by Jeroen Kloppenburg & contributors to his peatfreak.com site
www.thewhiskyexchange.com
__________________________________________________
Doug Kuebler (jazznut) is an inveterate aficionado and collector of wines and whiskies. Apart from organizing wine and food seminars, Doug has also written extensively on wines and liquors over the last three decades. His first published book-set, The Tumbler's Guide to Single Malt Scotch Whisky, has been well received in North America, the British Isles and Asia.
__________________________________________________