Going with the Grain

Most Scotch drinkers are aware of the exalted position single malts occupy within the hierarchy of Scotland's spirits. And many may know of the important role grain whiskies play in blended Scotches. But what of the grain whiskies themselves? Is there yet another realm of spirituous delights flying under the radar? The short answer is, "Yes."
Unfortunately, the scarcity of single grain Scotches available in the marketplace works against a larger appreciation of these whiskies. Official distillery releases are few and far between, and it's largely been left to independent bottlers to fill the void. If you're thinking to yourself that this situation seems uncannily similar to the one which plagued single malts before the 1960s, you're right.
The liquid subject of this review comes from as industrial-looking a place as one is likely to encounter. Strathclyde Distillery, founded in 1927 by Seager Evans & Company, is located on Moffat Street in Glasgow near the River Clyde. It utilizes a high wheat content mashbill for its grain whisky. The parent company is Pernod Ricard, and almost all of the site's make is slated for – surprise! – blended Scotches.
What of the whisky itself? Is it any good? Well, I happened to bring a bottle of this particular release of Strathclyde to a gathering of malt whisky aficionados in November, wishing to fit it in as the 'dark horse' of the tasting. Before I knew it, the 'horse' had galloped past the finish line, leaving many a renowned malt in its dust. The bottle was empty. And everyone was amazed.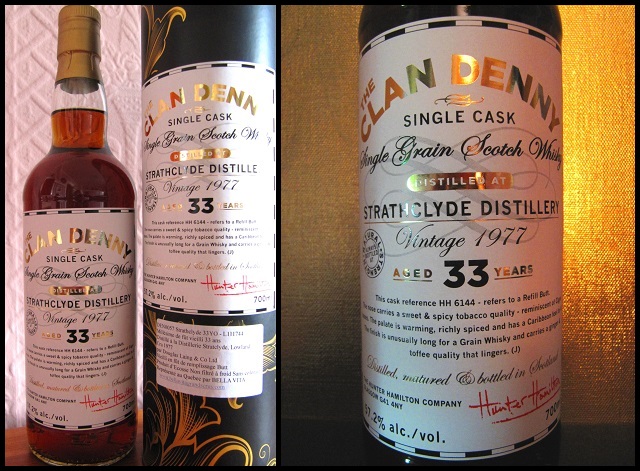 Here are my tasting notes…
33 Year Old Single Cask Clan Denny Strathclyde, distilled 1977, bottled from a refill butt – 57.2%
Deep amber in hue. Floral and fruity fragrance with scents of cedar, nutmeg, stewed fruits and sultana biscuits. Viscous mouth-feel. The flavour spectrum encompasses taste sensations of crème brûlée, maple sugar, dried dates and Portugal hot peppers, as well as an earthy characteristic reminiscent of cigar boxes. A dash of water releases a more delicate clover honey aspect, followed by a surge of warming spices that slowly recedes, leaving a harmonious mélange of custard and baking spices in its wake. Delectable!
Now, these sorts of whiskies are not exactly inexpensive. However, given their age, high proof and relative rarity, they're definitely worth considering as special blog. Keep your eyes open, and be ready to sip something uniquely fulfilling.
I'd like to take this opportunity to wish all of you the best of health and happiness in the New Year. Cheers!
Referenced books:
MacLean, Charles, Whiskypedia: A Compendium of Scottish Whisky, Skyhorse Publishing, New York, N.Y. 2010
Murray, Jim, Jim Murray's Complete Book of Whisky, Carlton Books Limited, Great Britain 1997
(Original image of Strathclyde Distillery sign courtesy of Whisky.com)

__________________________________________________
Doug Kuebler (jazznut) is an inveterate aficionado and collector of wines and whiskies. Apart from organizing wine and food seminars, Doug has also written extensively on wines and liquors over the last three decades. His first published book-set, The Tumbler's Guide to Single Malt Scotch Whisky, has been well received in North America, the British Isles and Asia.
__________________________________________________
Discuss this article in the I'll Drink To That! room on the Cigar Weekly forums. Not yet a member? Then join other like-minded aficionados by registering HERE. You won't regret it!