Holiday Season the Scotch Way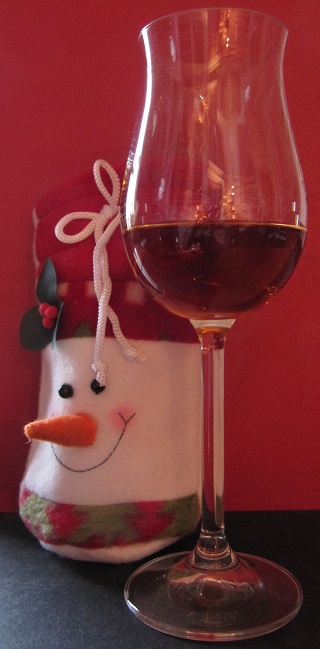 As the Holiday Season nears, Scotch lovers are faced with something of a challenge – how to offer their guests with more sensitive palates quality malt Scotch whiskies that won't offend, but that will also satisfy the demands of more experienced imbibers who might be gathered.
Yes… There are people who appreciate a good malt but just can't get their taste buds around drams of Lagavulin or Laphroaig!
Fortunately, when it comes to meeting this challenge, there's true 'gold' to be had. Let me guide you to a small number of distilleries, provide you with a few (hopefully) interesting facts about them, and profile some of their whiskies. These Scotches are sure to please. And, with one exception, they won't bust the bank.
Time to read on, and taste!
(Note: In some of the pictures below, I've included images of both older and more recent releases of the whiskies. You may stumble across either. After all, there are stores out there with dusty bottles hidden away on back shelves.)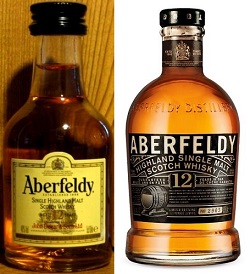 Aberfeldy
Location & a brief history:
The Highlands, at Aberfeldy in Perthshire.
Aberfeldy represents John Dewar & Sons' 'ace-in-the-hole', and figures prominently in the company's blends.
The distillery was founded during the whisky boom years of the late 19th-Century on the site of a previous brewery and onetime distillery.
12 Year Old – 40%
Medium gold in colour. A softly conveyed sensation on the nose. Ripe melons, oranges and mangoes. Sweet indeed. The faintest tickle of spirited liveliness on the tongue to start. Then a plush and very pure wave of archetypal honeyed Highland malt. Drying gently toward the finish as grass and oak tones delicately play off the sweetness. Lemon meringue pie at the close. Surprisingly full on the palate despite the whisky not being a heavyweight by any stretch of the imagination. A balanced, tasty and very solid middle-of-the-road malt.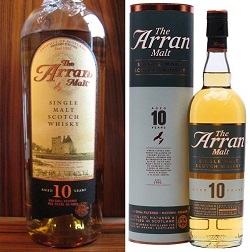 Arran
Location & a brief history:
The Isle of Arran, at Lochranza in Argyllshire.
Arran lies midway between the west coast of the southern Highlands and the Kyntyre Peninsula. The name is Brythonic (very early Gaelic) for "place of peaked hills" or "high place".
Arran is a young enterprise, having opened its doors in 1995. Despite this fact, the distillery has rapidly become known for the intrinsic quality of its spirit, not to mention its enthusiastic experimentations with cask finishing.
10 Year Old – 46%
Not chill filtered. Bright golden hue with lemon yellow highlights. On the nose, peach ginger compote, buttered crumpets and lemon zest in honey. Relatively light in body, but with an attractive glycerine-like textural quality. Ripe pears and passion fruit lead off the flavour brigade. Lemon vanilla cake. Almond paste. A suggestion of saltwater mist and spices deftly counterpoints the malt sweetness. Coming along very nicely at a decade's worth of maturity. The intrinsic quality of the distillate is, as always, noteworthy. A well rounded and approachable whisky.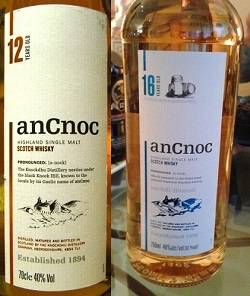 An Cnoc (Knockdhu)
Location & a brief history:
The Eastern Highlands, at Knock by Huntly in Aberdeenshire.
Knockdhu translates to "the hill", a reference to a nearby 1,200 foot high barren browed mountain. On-site distillation first took place in 1894.
The enterprise recently elected to change the name of its malt whisky, largely in order to avoid any confusion with that from Knockando Distillery in the Spey Valley.
12 Year Old – 40%
Gold with a hint of amber. An attractive pineapple-ginger compote aroma. The smooth malt palate entry leads to a teasingly sweet fruitiness with a ginger-oak twist. Fades gently at the finish. Absolutely drinkable.
16 Year Old – 46%
A beautiful whisky. It amplifies the characteristics of the 12-year old while adding more intense citrus, field grass and spice tones as well as a very subtle contrasting notion of earthiness, the latter of which could easily be mistaken for a hint of ash. To rush this one in the glass would be to miss out on its underlying complexity. A tad expensive.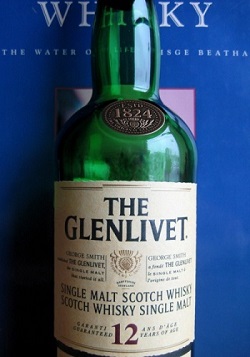 Glenlivet
Location & a brief history:
The Central Highlands, north of Cairn Ghrantaich in the valley of the River Livet, at Ballindalloch in Banffshire.
Glenlivet is Gaelic for "valley of the smooth place or smooth-flowing one".
Legend has it that John Smith fought alongside Bonnie Prince Charlie at the Battle of Culloden. Following the English army's rout of clan forces in April of 1746, John fled southward into hill country. He then changed his surname from the Gaelic 'Gow' to the all-too-Anglo 'Smith' and began to farm in the valley of the Livet.
Along with scores of others, John took to distilling in order to supplement his income. He made his first batch of illicit spirit in 1764. Within a decade or so, Smith's whisky was widely acknowledged as one of the best of that era.
Glenlivet later became one of the earliest licensed Speyside distilleries. The year was 1824.
The enterprise thrives today as it has since the turbulent days of its inception.
12 Year Old – 40%
Shimmering pale gold hue. Discreet floral-vegetal fragrances carried forth on a cloud of clean, crackling cereal grains. Fleeting copper-tinged smokiness and honey-apple overtones to boot. Soft and salivating overture on the palate. Sweet malt, a zephyr of smoke and a deft touch of oak set atop field grasses and flower petals. Easy going, even as the light smoke and spiced oak draw closer to help firm up the Granny Smith apple finish. Inoffensive to be sure, but not to be discounted.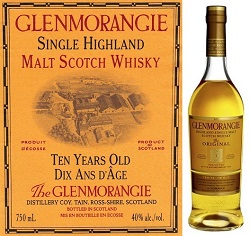 Glenmorangie
Location & a brief history:
The Northern Highlands, on the southern bank of Dornoch Firth at Tain, Ross & Cromarty in Ross-shire.
Popularly cited as Gaelic for "valley of tranquility", the distillery's name more likely translates as "valley of the big meadows", or possibly "low fertile ground by the sea".
An inventory compiled in 1703 noted the existence of an aquavitie pott (or whisky still) on the estate of the Duchess of Westminster, adjacent to where Glenmorangie presently stands. Glenmorangie itself began life in 1738 as the Morangie Brewery. Its excellent ale was known from Tain to Inverness.
William Matheson later took over tenancy of the brewery and transformed it into a distillery in 1842. The whisky site was licensed in 1843.
Glenmorangie boasts the tallest pot-stills in Scotland. And its malt spirit numbers amongst the most popular in the country.
10 Year Old Original – 40%
A light yellow-ochre golden hue. Medium weight. Crisply delineated notions of flowers and crushed apricot stones with undercurrents of licorice and vanilla, ginger and nutmeg. Neither truly dry nor sweet, and extremely refined. A charming Highlander that novice and veteran can enjoy most anytime.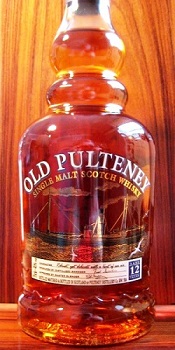 Old Pulteney
Location & a brief history:
The Northern Highlands, at Wick in Caithness.
James Henderson founded the (Old) Pulteney Distillery in 1826, naming it after Sir William J. Pulteney, director of The British Fishing Society. The site chosen lay not far from the northernmost tip of the Scottish mainland.
Old Pulteney is renowned for producing a bracing spirit that reflects its coastal location.
12 Year Old – 40%
Amber-tinged full straw gold hue graduating to pale Naples yellow at the rim. On the nose, flowering gorse with a whiff of lavender and a hint of the docks. A moment of Sherry roundness precedes sweet peppered grains and a dousing of saltwater on the palate. Viscous yet dancing lightly. Then charred oak leading to a smoked pear finale. Delightful coastal balance between sweetness and dryness, succulence and lithesome exuberance. Supremely quaffable. A Scotch for any hour of the day or evening.
And now for something a little bit different…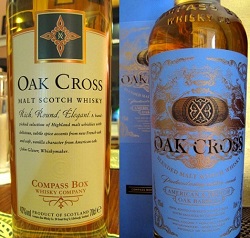 Compass Box Oak Cross – 43%
Personally, I feel the art of blending together various malt Scotches, in an effort to formulate a whisky that elevates depth and complexity to another level, is a noble pursuit. John Glaser, of Compass Box, obviously harbours just such a passion for creativity and experimentation. No doubt about it; John's a genius.
Exhibit 'A': Oak Cross Malt Scotch Whisky. This is a melding of different Highland Scotches matured in American (ex-Bourbon) barrels, which have had their heads (ends) replaced with fresh French oak ones. The resulting spirit is so dangerously drinkable that you'll be hard pressed to find anyone who doesn't like it.
Happy Holidays!
Bibliography: Referenced articles, books & websites
Jackson, Michael, Michael Jackson's Malt Whisky Companion, Sixth Fully Revised Edition, Updated by Dominic Roskow, Gavin D. Smith and William C. Meyers, Dorling Kindersley Limited, London, England 2010
Kuebler, Doug. The Tumbler's Guide to Single Malt Scotch Whisky: Armchair Reference Manual & Field Guide, Topeda Hill Publishing, Baldwin Mills, Québec, Canada, ©2003 Doug Kuebler & Topeda Hill Publishing
MacLean, Charles, Whiskypedia: A Compendium of Scottish Whisky, Skyhorse Publishing, New York, N.Y. 2010
"Place names of Islay – their meanings and pronunciations", www.islayinfo.com, an extraction from a 2002 publication of the Museum of Islay Life, originally compiled by Katie Ferguson & Margot Perrons, 1988
"Scotland Distillery Names & Pronunciations", whiskycast.com, originally compiled by Jeroen Kloppenburg & contributors to his peatfreak.com site

__________________________________________________
Doug Kuebler (jazznut) is an inveterate aficionado and collector of wines and whiskies. Apart from organizing wine and food seminars, Doug has also written extensively on wines and liquors over the last three decades. His first published book-set, The Tumbler's Guide to Single Malt Scotch Whisky, has been well received in North America, the British Isles and Asia.
__________________________________________________
Discuss this article in the I'll Drink To That! room on the Cigar Weekly forums. Not yet a member? Then join other like-minded aficionados by registering HERE. You won't regret it!