The Virtual Gourmand 19: Hot'n Fast Baby Backs on the Weber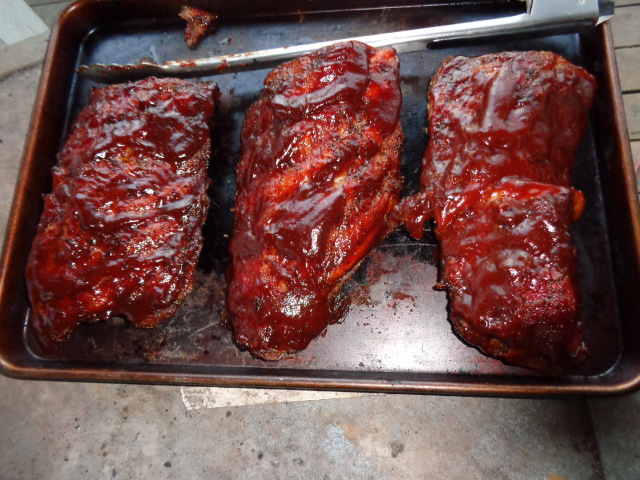 By now (if only from the number of articles I've written on the subject), I'm sure you're aware that I am not just a casual fan of barbecue. Barbecue is probably my favorite food group, and would likely play a part in my last meal should I ever face the misfortune of being on Death Row.
Even though I have all manner of specialized equipment that I use to barbecue, this doesn't mean that you have to spend untold dollars on such specialized equipment to achieve the same results. In fact, a humble grill can turn out fantastic baby back ribs. And you won't have to spend the whole afternoon tending a fire, either.
Now, by barbecue, I do not mean grilling. You can certainly make barbecue on a grill. You can grill a piece of meat, pour some sauce on it and call it 'barbecue'. But the term barbecue (at least in the Deep South where I live) refers to pork, chicken or beef cooked slowly over a bed of hardwood or fruitwood coals until what are often undesirable, tough cuts of meat become tender and delectable. Depending on where you live in the South, the king of barbecue meats is either pork (eastern part of the South) or beef (western part of the South, mainly Texas). I like all barbecue styles (OK, some more than others). Still, I think my favorite of all is the humble pork baby back rib.
But what if you don't own a specialized smoker or any of the tools of the competition barbecue teams? Well, you could make grilled ribs. There's nothing at all wrong with that. Yet even with just a humble charcoal or gas grill, you can turn out really tasty and tender ribs without spending half the day tending a fire. Would you believe that the whole process for tender, meaty, smoky, sticky sweet ribs can be done on a simple grill in 2-1/2 hours from the time you light the fire to the time you tuck into the finished product? Well, you can.
I've been watching what passes for barbecue competitions on television the last few years (they aren't very good as a whole, but some are better than others). Several of the top teams have been using their multi-thousand dollar smokers to turn out what they call 'hot'n fast' barbecue. The operative principle is that the meat doesn't know which temperature it is being cooked at, and if you can get the same finished product in just a few hours as opposed to all night and half a day, why not do it that way?
More than one championship has been won recently using the hot 'n fast method of barbecuing. And this strategy isn't out of reach of the humble home chef armed only with a simple grill and a few gadgets, which they likely already have in the house anyway. If you don't believe me, ask Myron Mixon, arguably the winningest man on the barbecue competition circuit, who has embraced the technique with open arms with his brisket – and he's still winning with it.
First of all, I want to emphasize that I am working with a charcoal grill – a Weber Performer 22-inch kettle grill, to be exact. I don't own a gas grill. I have nothing against those who prefer to cook with gas. Gas grills simply aren't my cup of tea. Nevertheless, I think that the technique I'm about to describe could be easily adapted to a gas grill. But since I don't have the equipment to test it on myself, I won't presume to tell you how to do it that way.
The first part of the technique is the hot part. Conventional charcoal briquettes burn at a temperature of about 800 degrees F. Briquettes are composed of wood sawdust combined with other fillers, all of which allow the charcoal to be pressed into consistently formed and burning chunks. I have nothing against them and, in fact, use them for my conventional grilling needs. However, in this particular case, I need something that burns even hotter.
That would be natural lump charcoal, which burns at close to 1200 degrees F. There are a lot of different brands of hardwood lump charcoal out there. Each brand has positive and negative attributes. And many brands are only available regionally. I would recommend visiting several home and grocery stores, making notes as to what brands are available, and then consulting http://www.nakedwhiz.com/lump.htm to determine which brand might work for you. This site provides extensive listings and ratings for just about any brand you can find available out there.
The second thing I would suggest you invest in (if you are a charcoal person) is what is known as a 'weed burner'. This is little more than a propane-powered flame-thrower. It costs as little as $20 at Harbor Freight (http://www.harborfreight.com/propane-torch-91033.html), and will both burn off any residue of the last grilling from the grates and start a bed of coals in five minutes without any other means – chemical or otherwise - that can add an 'off' taste to your food.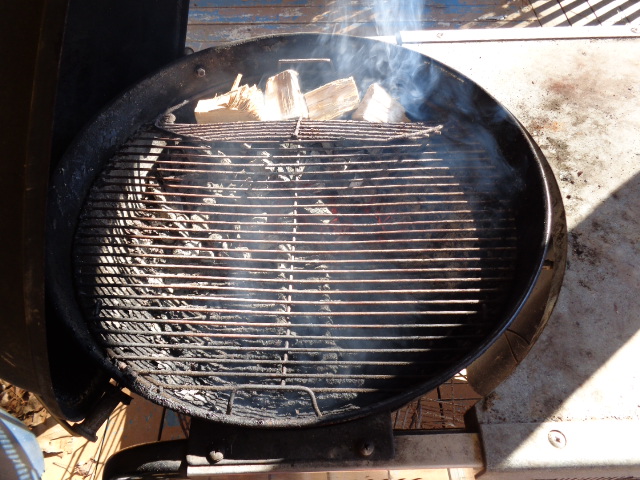 First, pile your charcoal at the back of your grill. I am going to be cooking with indirect heat. So while I want a nice, hot fire, I don't want it to be directly under the food. Once the coals are started, put a few hardwood chunks of wood on the top of the pile (I'm using hickory for this cook) and head to the kitchen to prep the meat.
I'm going to be using a rib support rack for this cook. Rib racks are available for less than $20, and are a good investment if you want to maximize the amount of meat you can fit on a smaller grill. If you don't want to spend the funds on one, you can invert the roasting rack out of your turkey roaster on the grill instead. Be advised that the roasting rack won't have any support structure underneath. So you will have to put the rack on the grill first and then add your meat, whereas the rib rack can be carried as a single unit – meat and all – to the grill.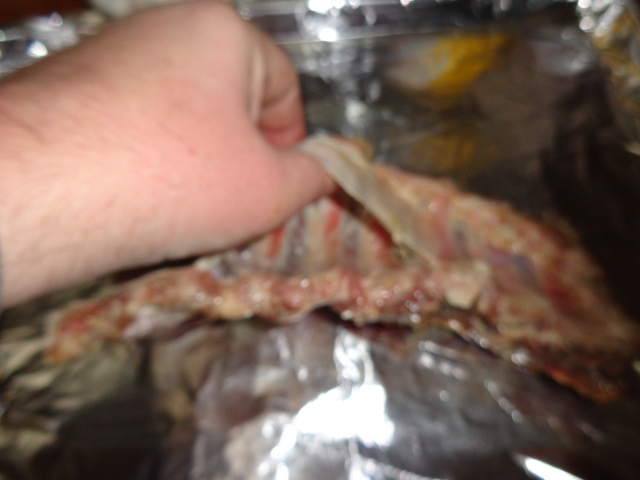 The next step of the technique is to split the racks of baby backs in half. This will significantly reduce the cooking time without any adverse results. Then, slide your thumbnail underneath the membrane on the back of the center of the halved rack, and work it underneath until there is enough room to get your finger between the membrane and the meat. Work your finger inside until you reach the far side of the bone, and then grip it and pull the membrane off, first from one side and then the other. Season both sides of the racks with Kosher salt and coarsely ground black pepper (also known as Butcher's Pepper), and set them in your rib rack so that the meatiest parts are all facing in the same direction. Now back to the grill.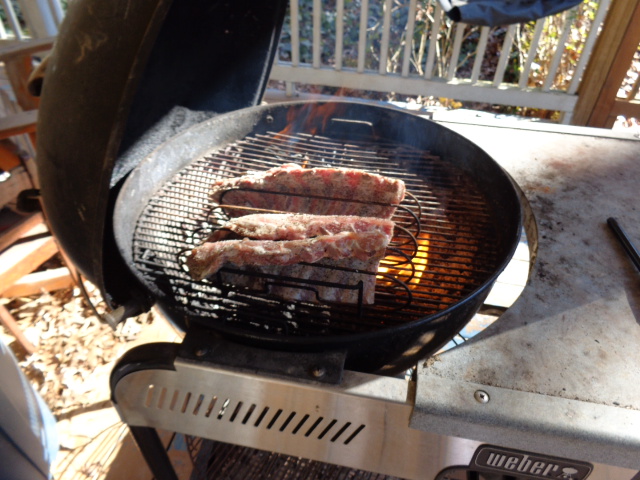 By now, your coal bed should be 'fully involved' with fire (as firemen say) and at its hottest. Place the rib rack on the back part of the grill, facing the meatiest part towards the coal bed. Position the lid so that the vent in the lid is directly over the meat, and set it wide open. Now, find something else to do for an hour (like make side dishes – see below).
After an hour, lift the lid and turn the racks around so the least meaty part is facing the coal bed. Then, replace the lid. You'll want to come back and check on the meat in thirty minutes.
As every fire and every rack of ribs differs, you can't prescribe any cut-and-dry foolproof method for timing when the meat will be done. Racks are done when they are done – no sooner, no later. To check, grasp a bone with your thumb and forefinger and wiggle it. If you can twist a bone, the racks are more than done. You want some resistance, but not too much or too little.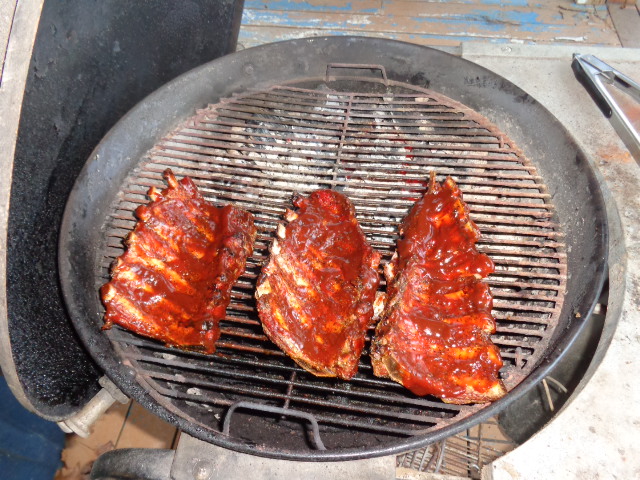 When you get to that point, empty the ribs out of the rack and position them bone side up, with the meatiest part again facing the fire. Begin to brush the ribs with your favorite barbecue sauce. My favorite rib sauce (other than Bone Sucking Hot (http://bonesuckin.com/) out of the jar) is a mixture of two cups of Sweet Baby Ray's sauce, 1/2 cup of the rooster brand Sri Racha sauce and about a cup of vinegar to both cut the sugar and thin the sauce down. You decide how thick you want it. So add the vinegar gradually and whisk it into the sauce.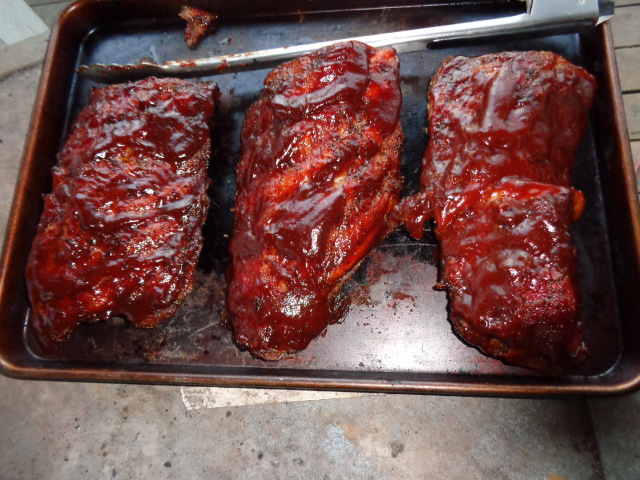 Give the sauce ten minutes to set on the back side of the ribs, and then (using tongs) flip them over and apply another two coats on the top side, allowing ten minutes for each coat to set. I like my ribs like I like my women – hot, spicy and sweet. If you like less saucy ribs, cut back on the second coat. You should be ready to tuck into some fine baby backs after having spent only 2-1/2 hours preparing them.
Now for some easy side dishes to serve alongside your ribs. Sweet pea salad is extremely easy. Begin by crisping six to eight slices of bacon in the microwave (which takes about 8 minutes). Core a head of iceberg lettuce and split it in half. Depending on how much salad you want to prepare, cut each half into three equal slices, and then slice it into bite-sized pieces perpendicularly to the cuts you've already made. Arrange the lettuce in a casserole dish.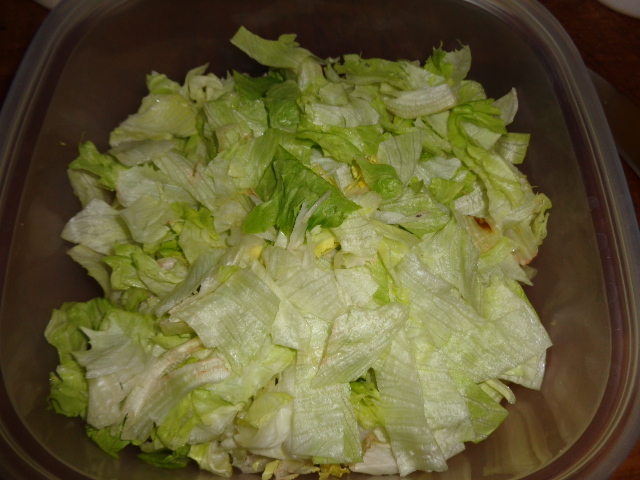 Top this with either thawed frozen or canned sweet peas (two cans), spreading the peas evenly across the lettuce. For the dressing, put two cups of sandwich spread (like Miracle Whip) in a quart jar, add a package of dry Ranch dressing mix and about a cup and a half of buttermilk. Replace the jar top and shake everything vigorously until all is combined. Pour the dressing over the top of the lettuce and peas, and smooth it over the whole dish. Crumble the crisped bacon over the top, and refrigerate the salad until you're ready to eat. This recipe is for a half head of lettuce. Adjust accordingly if you are going to make more (or less) of the salad.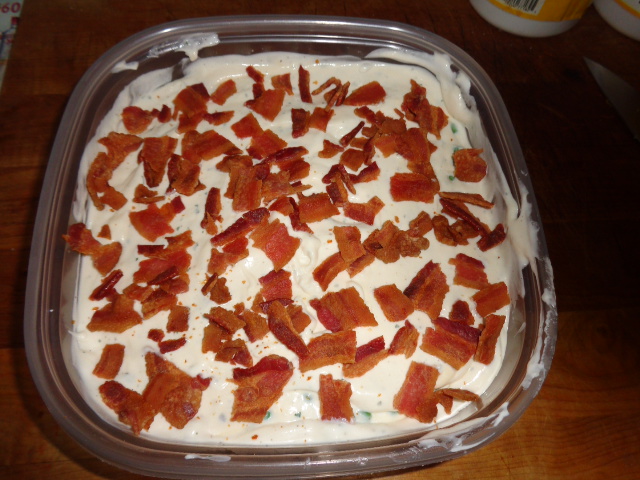 A simple fruit salad also makes for a great side dish. Into a mixing bowl, empty two cartons of fresh raspberries or blueberries. Top and slice two pints of strawberries, seed and chop a whole cantaloupe into pieces and then peel, core and slice up a fresh pineapple and add it to the bowl. When serving, dig down to the bottom of the bowl to get some of the berries with the melon and pineapple. This will minimize the bruising of the fruit that would occur if you mixed the fruit up in advance.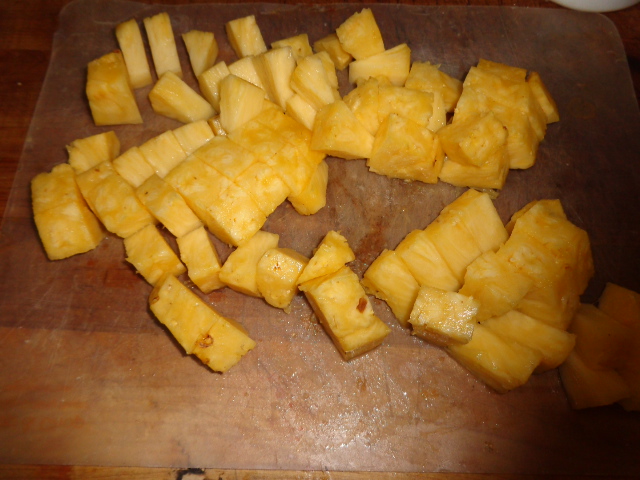 Plating the meal is a breeze. Cut four ribs off of a rack, and serve them with a spoonful of the fruit salad. The pea salad is best plated with a pair of tongs, so serve it accordingly. Enjoy everything with family and/or friends. And don't forget to have plenty of napkins available!
_________________________________________________________________