The Virtual Gormand 18: A Squash Dish Even Squash Haters Will Love
I'm one of those people who generally hate squash. Crookneck, zucchini, spaghetti – to me they are all disgusting. Cool weather like we've been experiencing this past winter all across the country puts people in the mood for soups, chillies and stews. And I have found a recipe for a butternut squash soup that is hearty, filling and will tempt the palate of even the most vehement squash hater.
I have two girls and a boy attending college. And at various times, they all request this soup. They say they hate squash, too. The fact that the soup is very easy to make on a weeknight only adds to its appeal for the home cook.
To start off with, you will need 3 to 4 pounds of butternut squash from the fresh produce section of the supermarket. The soup recipe is completely adjustable as to flavor and amounts, so get what you can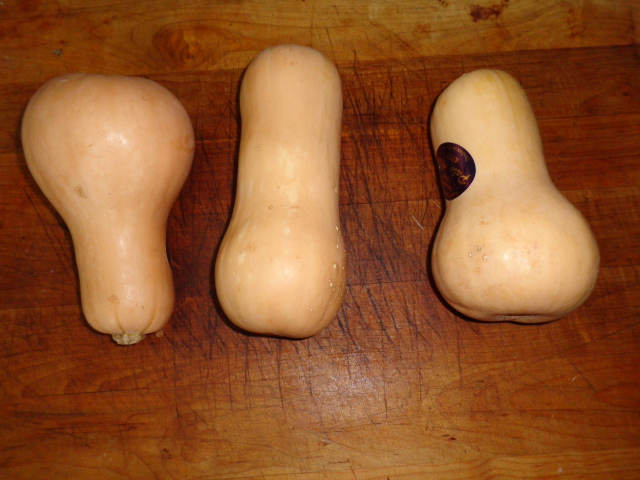 and don't worry about it. Just taste as you go and adjust the seasonings to your own liking. You can completely play with this recipe. It requires no exact measurements (other than how you like it).
First, cut off the top and bottom of the squash with a chef's knife. Using a vegetable peeler, remove the skin from each squash. The skin is tough and fibrous, and actually subtracts from the dish unless you remove it. From here, you need to split each squash lengthwise.
Removing the seeds is much like removing the seeds from a pumpkin, except that they're smaller and harder to get to. Use a sturdy spoon to scrape out all of the seeds and stringy fibers, and discard them.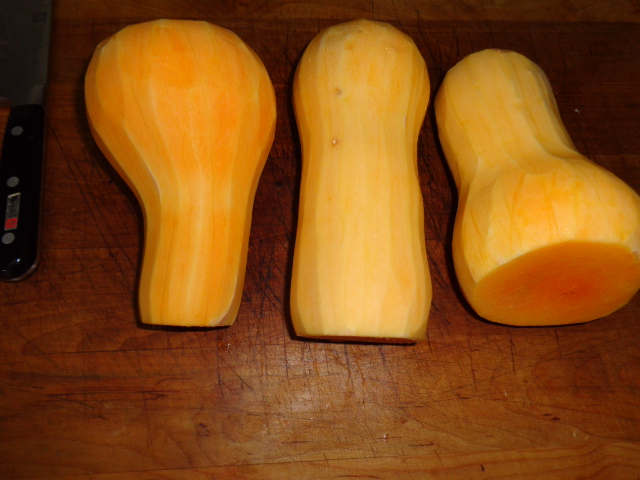 Cut each squash half into approximately 1-inch cubes. Line a half sheet pan with aluminium foil, and spray the foil down heavily with cooking spray. If you fail to do this, you are going to have a nightmare for cleanup and getting the squash out of the pan.
Place the squash cubes in the pan, spreading them out evenly. Roast the squash on the middle rack in a 400-degree oven for about an hour, checking it at 45 minutes (ovens vary in heating, and some may get the job done sooner than others). The squash should caramelize on the side facing the foil. Without the foil and the cooking spray, it would be a serious pain in the neck to remove the squash cubes. The caramelizing adds a tremendous amount of flavor, but you don't want that caramel to burn.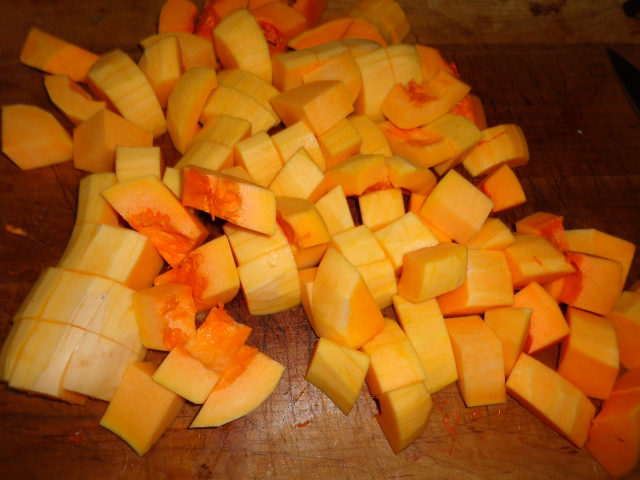 While the squash is roasting, dice half of a large red onion and sweat it down in a Dutch oven until it starts to caramelize itself. Add a couple of teaspoons (about three cloves) of garlic and stir until the garlic becomes fragrant – about 30 seconds. When the squash is done, put the onions and garlic in a blender along with a few pieces of squash and some cream. Be forewarned: Do this in small batches. I have burned out a blender motor trying to speed up this process by putting more in the blender than the motor could handle. Return each batch of puréed squash back into the Dutch oven, processing until it is all done.
What you have now is a very thick squash paste. Add low-sodium chicken broth to the pot until it reaches your desired consistency. You don't want the mixture too pasty, but you don't want it overly soupy either. Think of a consistency just a bit thicker than prepared condensed tomato soup, and shoot for that.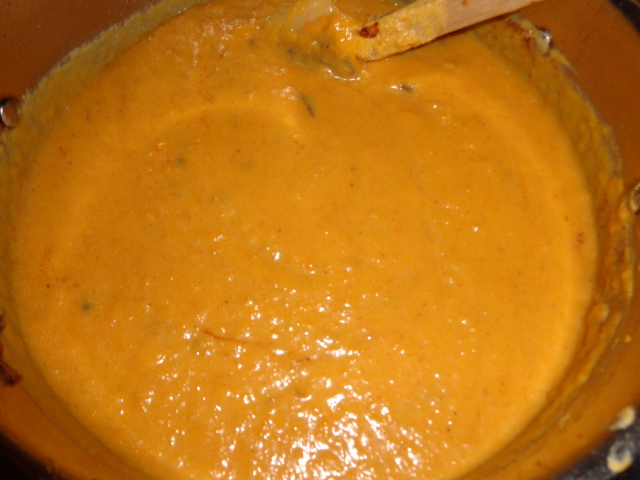 Now for the seasonings: This is purely subjective. You want to add salt and pepper to taste, and then fragrance the soup with nutmeg (freshly ground is far superior to store-bought ground – see below) and cinnamon. Season and taste, season and taste until you get the soup to the point that it tastes good to you. You'll notice that it has none of the characteristics of regular squashes, but instead tastes remarkably like sweet potatoes. I think this why people who don't normally like squash like this soup – it has none of the textural quality or flavor of ordinary squashes.
To serve the soup, you can employ a number of garnishes. For the photo, I put a dollop of sour cream in the center, and shredded some leftover rotisserie chicken and chives on top. This can also be an
excellent Lenten Friday dish if you substitute vegetable stock for the chicken stock and leave the chicken garnish out. Add some nice crusty bread (in this case, I bought a crusty loaf that had whole cloves of roasted garlic baked into it), and you have a meal that will satisfy the pickiest of eaters.
A note about nutmeg: Freshly ground nutmeg is far superior to the pre-ground nutmeg you buy at the supermarket. It is stronger and far more fragrant. Fortunately, whole nutmeg isn't an expensive addition to your cooking arsenal.
You'll also need a decent grinder. The Microplane Grate'n Shake costs ten dollars, and does a terrific job of grating whole nutmeg. In addition to its excellent grating surface (and you do have to be a little careful, as it grates knuckles even better than it does nutmeg!), the Microplane Grate'n Shake boasts a hopper for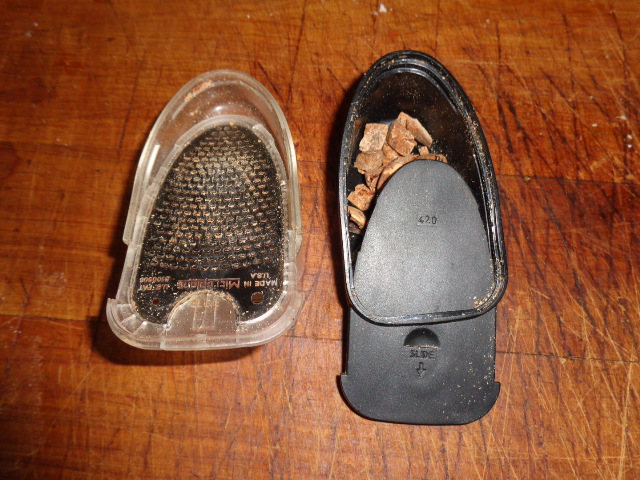 storing the grated nutmeg as well as a second half, which provides storage for partially grated nuts. It's a compact and very useful tool. I don't endorse very many products, but this one gets my full support.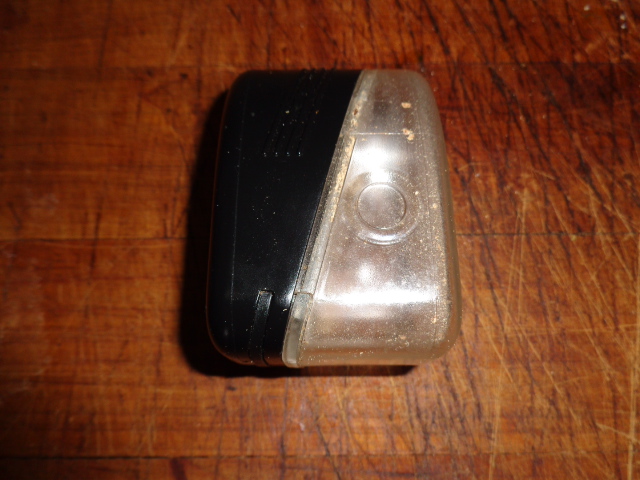 I know you may still be skeptical, but give this recipe a try anyway. You might just convince a squash hater (like me) that there are some squashes we actually like.
Here is the Master Recipe. You can make any adjustment you like to your own taste:
3-4 lbs. fresh butternut squash
1/2 large red onion, diced
3 cloves garlic, miced finely
1 C. heavy cream
1 12 oz. can low sodium chicken or vegetable stock
Salt and pepper to taste
1 T. freshly ground nutmeg (2T if using store-ground)
1 T. ground cinnamon
Sour cream and chives to garnish
Cut the ends off each squash. With a vegetable peeler, peel each squash thoroughly. Halve each squash and, using a heavy spoon, scrape all seeds and fibers inside. Discard them. Cut squash into 1" cubes and place on a half-sheet pan covered in foil, and spray foil heavily with cooking spray to prevent sticking. Roast the squash on a middle rack of the oven at 400 degrees for an hour, checking it at the 0:45 minute mark to prevent burning of caramelized sugars (because all ovens operate and cook differently).
In the meantime, sauté 1/2 of the finely diced red onion in a Duch oven. When it begins to turn translucent, add the garlic and stir until fragrant, about 30 seconds. Transfer mixture to blender.
In small batches, blend the squash and add heavy cream as you go to liquefy each batch. Return each batch to the Dutch oven until all is puréed. Add stock to thin soup to desired consistency (a little thicker than commercial condensed tomato soup after preparation). Season with nutmeg, cinnamon to taste.
Serve with garnish of a dollop of sour cream in the center and sprinkle with chives. Serve immediately with crusty bread.
Serves four hungry people or six who aren't so hungry.
_________________________________________________________________