Local Flavor #3: Elite Cigars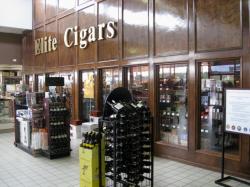 CW Contributing Editor roadhog (Neir Nofsinger) sits down with Jim Kaden of Elite Cigars in Woodland, Texas for a few words about the cigar business.
CW: First of all Jim, thanks for taking time out of your day to meet with me and share your thoughts with the Cigar Weekly members.
JK: No problem at all. I'm always happy to discuss cigars and take time out to light one up. Although, this is not quite the same setting as when you and I were enjoying cigars on the patio at Rocky Patel's hacienda in Honduras a few years ago!
Neil & Jim Kaden
CW: What is your personal history with cigars and tobacco?
JK: I was not really involved at all with any tobacco products until I got into college in Pittsburgh. My roommate was a fan of Copenhagen smokeless and I enjoyed that from time to time and then started to develop a taste for tobacco. Later, my father-in-law was a huge fan of cigars and always had a shirt pocket full of sticks, which I managed to sample as often as possible. From that point, I began to enjoy hand-rolled cigars and the rest is history.
CW: How did the concept of offering quality cigars at Travel Centers along the highway evolve?
JK: Petroleum Wholesale has a large number of truck stops and travel centers throughout the Southwest. Back in 2003, we were brainstorming about ways to increase our exposure and build the business. I suggested we look at installing walk-in humidors, with a nice selection of cigars, at good prices and see if it would fly. After visiting with vendors at the Cigar Retailers Show in Las Vegas and after a lengthy conversation with the folks from Carlos Torano, I got some great information and Elite Cigars was started from that point.
Elite Cigars from the highway
CW: Give us a summary of what you currently have in place.
JK: Well, we now have five locations with humidors in the greater Houston area, two others in the western part of the state, one in Arizona and one in Wyoming. Not all of our other locations have humidors, but as we purchase properties or remodel existing sites, we consider the cigar business opportunity as well. We currently have nine walk-in humidors at our facilities and they range from 100 – 800 square feet, with an average of about 400 square feet, including this 500 square foot lounge at our Woodlands, Texas store.
Elite Room Lounge interior
Elite Room Lounge exterior
CW: How have you been able to overcome the "truck stop" image?
JK: To be honest, this is still evolving. Back during the cigar boom before we got started, it seemed like every corner store, convenience outlet and "mom & pop" had cigars for sale. Unfortunately for the consumer and the manufacturer, a lot of these locations did not store the cigars properly and had no knowledge of the product. Because of this, some of the tobacco brands got bad reputations and it was a flawed business model. But at Elite, our customers realize that when they come into our stores, the cigars are carefully stored, they will find a very nice selection and they will be offered at a good price point. Also, as our customers believe in us, the manufacturers have also come to know that they can depend on us to successfully market their products. It is all working very well.
Elite Cigars Walk-in Humidor
Inside the humidor
More inside the humidor

CW: How is business?
JK: It is actually very strong. In fact, it is the highest growth category of our business and it is certainly the most fun, from my point of view.
CW: What sets Elite Cigars apart from other cigar shops and retailers?
JK: Good question. We feel we offer several advantages to our customers. First, we have excellent locations. We are on major thoroughfares and easy to find; no need to dig through a shopping center to find us. Because of the SunMart Travel Center locations, we also have huge parking lots, so it is convenient for truckers and other drivers. Also, many of our locations are open 24 hours, so we are very accessible. Lastly, we feel we are positioned almost as a "hybrid" between online retailers and the typical B&M with regard to customer service and price. We may not sell as cheaply as you can buy online, but we have walk-in humidors where you can touch, see and feel the merchandise, you can buy one stick or a box and, like you and I here, we can light up a stick in a comfortable lounge.
CW: Unlike a B&M, how do your customers get information on the cigars?
JK: Our staff does not pretend to be cigar experts, but many do have some good fundamental understanding of the brands. What we do, is to provide a very detailed label or "spec sheet" in front of every selection. We describe the specifics such as wrapper, binder and filler and also a rating of the strength and occasionally tasting notes. This information is compiled from a combination of manufacturer data, review data, plus in many cases, my own experience with a particular cigar.
CW: Your business is linked with fuel stations and travel centers. Do you have any other plans to expand to pipes, wines, etc.?
JK: Not really. We do have a decent wine selection on the floor at this location, but we are pretty satisfied with the current model of the cigar humidors and do not want to stretch our staff too thin.
CW: What types of clientele frequent your stores?
JK: As you can imagine, there is a wide variety. Of course, we have truckers who will plan some of their trips and routes where they have certain amenities, be it lodging, restaurants, fuel stops, or in our case, cigar selections. We have blue-collar workers, white-collar workers, bankers, lawyers, mechanics, teachers and really everyone from A to Z. The one common theme is that they all truly love cigars and they know that we are as serious as they are about cigars.
CW: What are your customers' favorite brands and sizes these days, and have you seen a shift in the past year or so?
JK: There is a steady demand for the proven brands; Rocky Patel, Torano, Camacho, Oliva, CAO and others. For many of our customers, these are the "go to" names. We have seen a shift from what used to be a "bigger is better" mentality with regard to ring gauge. There was a big interest in 60 – 64 RG sticks, but this seems to have subsided a bit. There is also a good selection now being offered by many manufacturers of smaller sizes and different varieties in smaller ring gauges. In the Houston area and other southern regions, and there is also the summertime factor. Let's face it: there are fewer and fewer places to enjoy a cigar indoors. Not many people want to sit outside in these temperatures and spend an hour or more with their favorite Churchill. It may make sense to enjoy a 15 – 20 minute smoke while also paying a bit less for that smaller cigar. In addition, there has been more interest than before in medium strength cigars, as smokers focus on different flavor profiles and developing their palates.
Jim in the Elite Room

CW: The economy has been a bit bumpy. Have you seen a trend away from premium level cigars, or more single stick versus box purchases?
JK: Not really. The box purchaser is still the box purchaser; probably due to the fact that if you like a particular selection, purchasing a box is the most economical way to buy them. We do have a lot of people buying 5-pack samplers and the manufacturers have done a good job of offering samplers which give the customers a good variety or selection of smokes. As far as price, I would say that many folks have dropped one "level" of cigar in the past year or so. By that I mean that a person who previously bought a $6 cigar is still willing to spend that much on a cigar. However with government imposition, tax increases, SCHIP, etc. he may now be buying a cigar that was previously a $5 cigar.
CW: What trends do you see in the future with regard to the cigar industry?
JK: Well, cigars are not our primary business, so I won't profess to be an expert, but I think the demand will continue to be strong for cigars which provide good value. Quality cigars at good price points will thrive. The strong companies will do fine and there will continue to be consolidation as some of the smaller manufacturers are absorbed by the bigger guys, as with Cusano and Davidoff. We have already seen a lot of this and I expect the trend to continue. It is kind of sad to see some of the smaller brands lose a bit of their identity as they become part of larger corporations, but if that is good for the industry as a whole, it may be a good thing in the long run.
CW: What specific challenges do you face in the tobacco business going forward?
JK: We are all concerned about the effect of government intrusion and taxation, combined with personal restrictions. What I would like to see is a unified effort between, for instance, the cigar manufacturers, the liquor industry and others to confront the bureaucrats and say "No more!" Cigars are under the gun right now, but the message for the other folks is to get ready, your time in the spotlight is coming. If we could all band together, we certainly would have a louder collective voice.
CW: What are some of your favorite smokes right now?
JK: Well, the Alec Bradley Vice Press that you are smoking is very nice. I have always loved box-pressed cigars and I think the AB line is great. They are also introducing the AB Special Cabinet Reserve which is excellent. I continue to enjoy many of the Rocky Patel selections, and I can always count on Oliva to offer a lot of flavor. I have found lately that I am trending more from the heavy duty, full bodied maduros to a more medium bodied smoke, where the taste and complexities really come through. I call this a "journey of taste" and think it is a common phenomenon among smokers as their palates mature and their tastes develop.
CW: Any special news from Elite that you would like to share with the CW members?
JK: Yes, I would encourage them to stop by an Elite Cigars location when they see one and check out our selections and products. I want them to know that cigars are not just a hobby for us or that we are just going to try it and see if we can sell a few cigars; we are committed to this as a business line and intend to be great source of quality cigars to the serious smoker. They can find the closest location by clicking on our website: petroleumwholesale.com. Also at our Woodlands, Texas store we have a Rocky Patel tasting event scheduled for Saturday evening, September 26th. Rocky will be here, we will have food, drink, music, cigar specials and it will be a lot of fun.
CW: Jim, I think that should wrap us up. Thanks very much for spending time with me and sharing your views with the Cigar Weekly community.
JK: My pleasure.
Locations:
Elite Cigars / SunMart
24627 I-45
The Woodlands, TX
Tel: 281-364-1941
Other locations listed at: www.petroleumwholesale.com/sunmart.web/homepage.html
____________________________________________________________
Neil Noffsinger (Roadhawg) is a retired sales executive from the semiconductor industry, and enjoys life with his wife Gail in Spring, Texas. The seven years since retirement have been filled with motorcycles and extensive travel to all corners of the U.S. and Canada. He has been on 2 wheels in 49 states (missed Hawaii), and typically enjoys a quality cigar at the end of the day – especially after an 800+ mile day in the saddle of his motorcycle!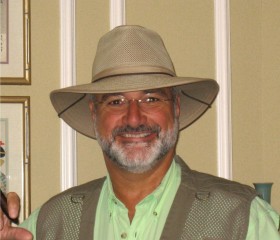 Like to discuss this orother articles? Check out the Close But No Cigar forum or any of our other forums at cigarweekly.com.