Cigar Magic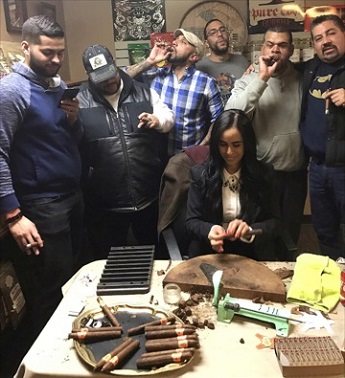 March 23rd, 2017
It's been my experience that cigar people are some of the nicest I've ever met, and that 'cigar magic' happens whenever they come together to enjoy 'the leaf' with one another.
A fairly short time ago, I once again saw this truth in action. A friend of mine is a blender and brand owner. Her name is Paula Hernandez, and she owns Paula Cigars. Over several months and visits at Cigar and Tobacco (a shop & lounge in Berlin, Connecticut), I've also became friends with Ray, the shop owner, and some of his patrons.
Until last year, I hadn't known Paula or Ray. But over the course of 2016, one cigar at a time, our relationships formed and grew. And now, as with so many other 'brothers & sisters of the leaf' I've met, Paula and Ray seem like old friends.
Paula had been selling her cigars exclusively on line – Dominican beauties, solid and flavorful. Meanwhile, Ray has been overseeing a very active shop, where he usually holds a couple events per month, featuring specific brands.
A few months ago, I introduced Paula's premium smokes to Ray. He bought a couple of boxes, and they quickly sold out. I loved Paula's blends, and it seemed Ray's customers did too. So I suggested that he hold a rolling event featuring her brand. Ray was game. And when I brought the proposal up with Paula, she was thrilled to have the opportunity. A date was set. Paula would come up from New York with her husband (himself an expert roller), and she would meet Ray and some of her new fans.
The day finally arrived. As luck would have it, the whole region, including the route Paula would be taking from New York City, was hit with a major snowstorm. Ray and Paula postponed the event until the following week.
As the make-up date arrived, all lights were green except for the tail lights in front of Paula as she made her way to Central Connecticut from the Bronx in New York. They were red as she crawled north. Also, while Paula fought traffic on the Merritt Parkway, her husband was on a flight back to the Dominican Republic to check on their operation there and meet with a packaging vendor for a previously scheduled appointment. In her husband's place, Paula brought along another expert roller. And although their trip took longer than expected, she and her roller finally arrived to an enthusiastic welcoming crowd of Ray's customers.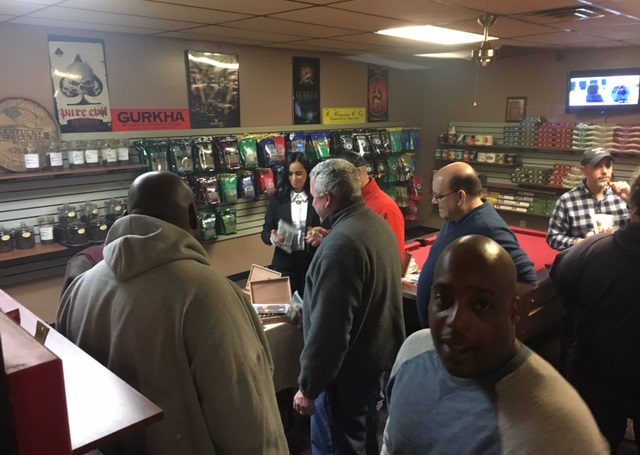 Paula, decked out in a smart looking suit, and her roller, wearing a traditional guayabera and straw hat, quickly captured the crowd's attention. Her warm and engaging personality immediately brought customers and spectators to the table to watch the rolling, ask questions, take photographs and sample the fresh cigars. Sample packs of Paula's best-selling cigars were offered, and the line at the register seemed to continually replenish itself.
Paula spoke with everyone who came up to talk and learn about her cigars. She posed for dozens of photographs with customers. Once again, I was witnessing 'cigar magic'.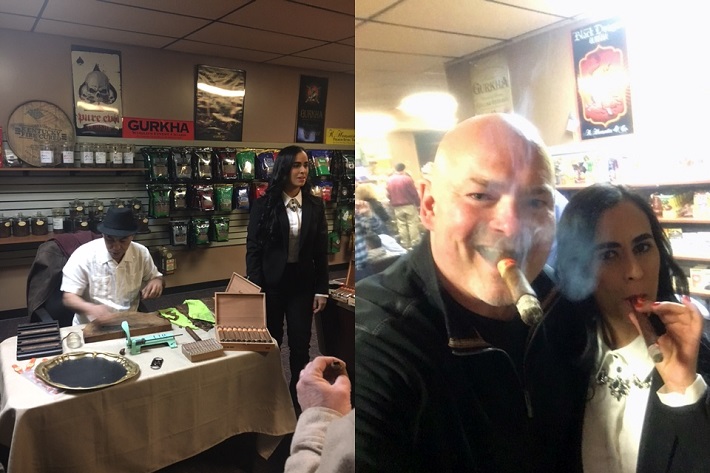 To an outsider, the atmosphere would have probably appeared to be like a huge family gathering or a club event of some sort. New friends were being made. Camaraderie, conversations, laughter and smoke filled the air. The event lasted for hours, and Paula remained genuinely engaged with her new friends and customers until nearly four hours after her arrival.
Cigar sales exceeded expectations, and everyone went home with a smile and a cigar. Paula packed up and got back to New York City around midnight. And Ray was so pleased with the outcome that he now carries five different cigars of Paula's in his shop.
Ray certainly knows how to hold an even, and is a very gracious host. He even fed us all some famous Berlin pizza from the restaurant next door. The night was a complete success.
In a day and age when people do so much shopping online, it was great to see a boutique cigar blender and a brick and mortar cigar shop owner throw a rolling event/pizza party for what had to be sixty or seventy cigar people who had come out on a weeknight to support both.
Life gets busy and the workweek is so hectic that many of us don't make the time to do something as simple as smoke a cigar with friends. From where I sit, I say those of us that don't are missing out.
So venture out there and attend an event. Get to know your local shop owners, and meet some of your fellow cigar enthusiasts in person or on social media. Both venues offer a great way to expand your cigar knowledge and enhance your cigar experience.
I'm always learning about new releases, as well as which cigars everyone else is enjoying. Even better, I get to know like-minded, good people, 'cigar people' from near and far, especially on Twitter. I seem to have friends (that I've gotten to know online and through other cigar smokers) everywhere I travel. There's something real nice about landing in a city that you've never been to, and already having plans to meet up with another cigar enthusiast for a smoke. I really can't think of a fellow 'brother or sister of the leaf' I've met who I didn't like and have plenty to talk about with.
Enjoy this pass time and lifestyle we share by meeting new people, trying new cigars and visiting different shops and lounges. Experience some 'cigar magic' yourself! Supporting your local cigar shops is not only a great way to buy cigars and learn about them; it also allows you to sample what's out there one cigar at a time. Try new brands, small brands and large brands. You too may discover a 'diamond in the rough' like Paula's Cigars, and thereby add a new and tasty brand to your collection. Like another friend of mine, Cigar Chairman, says, "Gotta' try 'em all."
Personally, I like to promote our lifestyle and support the industry by building relationships. My mission is to connect good people with great cigars and cigar experiences. Let me know about your favorite cigars and experiences. And if you live in Connecticut, drop me a DM or email. Maybe we can have a smoke sometime.

Keep The Magic Alive!
Best regards, Anthony Toland (Cigar Gent)
On Twitter @CigarGent_CV66 or This email address is being protected from spambots. You need JavaScript enabled to view it..
To buy Paula Cigars, see Ray at Cigar and Tobacco, Berlin, Connecticut, or visit Paula at: www.paulacigars.com.