A Woman's Perspective on the World of Cigars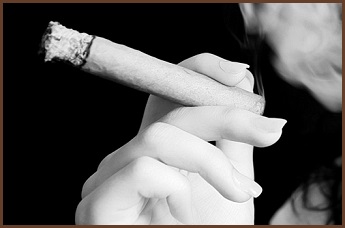 October 6th, 2016
I began smoking cigars almost three years ago. I'm sure the way in which I got started isn't uncommon. I was driving home, and wanted to relax after a particularly long and exhausting day at work. Then, I saw something. It was sign that said 'Cigar Lounge'. Something just clicked in me. I pulled in.
I walked into the lounge, my heels clacking on the dark wood floor and my laptop in hand, quietly sat down, and ordered a coffee. But I'm an adrenaline junkie. So I looked at the humidor. It was scary and exciting all at once. I ventured in, and immediately fell in love. The humidity in the humidor made my curls three inches bigger, but I took my time. After forty minutes, I had picked my cigar.
I remember sitting there and watching the people around me. What I noticed were looks of surprise and skepticism on their faces. I could see they were pondering my motives. They were likely wondering, "Does this woman enjoy cigars like us, or is she just here looking for dick?"
There I was, sitting in a cigar bar full of men, in a male-dominated domain. I get that. But women are the largest growing demographic in the cigar industry, and I have to wonder, "Do we have a voice? And if not, why not?"
There is a ritual to picking out a cigar, not to mention the lighting of the cigar, the brotherhood of it all and the passion. How can you not consider all of this an art after you've watched Z from Cordoba & Morales hand roll a cigar? When you speak with someone who blends cigar tobaccos, and listen to them talk about their leaf, their filler and their passion, it's easy to get hooked. So yes, this woman's motives are not unlike yours.
The secret is out, and more and more women are discovering all the wonderfulness of the cigar world. It's also exciting that the cigar world is discovering the wonderfulness of women. Yes, the industry still has some work to do. But we are being noticed. Thank you Ashton for actually carrying a woman's T-shirt! This may seem like a little gesture, but I know I don't want to wear a guy's T-shirt where the shoulder seam is to my elbow. I want a shirt that acknowledges me as a woman, and acknowledges my blog.
Women of all shapes are beautiful and sexy. We can't help it if we take a selfie with a cigar and it's considered sexy. Lately, I see more and more woman trying to look sexy. My first reaction to this is, "I don't take you seriously." If I think that, guess what: neither will the culture at large. That slows down the progress of our voices being heard.
Why do our voices need to be heard? I'll repeat it again. We are the largest growing
demographic in the industry. We are opening shops and lounges. We are blending and making cigars. We are purchasing cigars, lighters, cutters and gear.
Nothing inspires me more than when I walk into a cigar lounge and see a beautiful, sexy and confident woman enjoying a cigar with her brothers and sisters of the leaf. #Ladyboss all day and everyday!
Do I have answers to our current confusion? Nope, I don't. I like to consider it a sign of growing pains – a time when we can initiate an open dialog on these matters, and a time when I can appreciate sitting around with my BOTL joking about sexuality. (Yes fellas... everything seems bigger in the dark... LOL.)
There's nothing more bonding and respectful then being able to be open and honest about our confusion. How cool is it that we get to learn more about each other and who we are, and that we get to do so while enjoying the thing we all love – a softly burning, fragrant and finely rolled cigar.