Day One - IPCPR Top 10
Cigar Weekly's own Jeff Slatton (jefslat) offers up his 'Top 10' impressions from the first day of the (2016) International Premium Cigar & Pipe Retailers 84th Annual Convention & Trade Show. Savor the moment!
#10 Best cigar boxes

HS Cigars has developed the most amazing boxes for two of its cigar lines. Look for an upcoming review to see if these cigars are as worthy of their boxes as they seem.


The Berlin Wall Series comes in a mausoleum-styled box. It's an earthy, medium body vitola that will appeal to the seasoned cigar smoker.

The Moscow Series box is metallic with an embossed city view. These ultra-premium Maduro cigars come from the Tabadom manufactory, and have Connecticut broadleaf wrappers. This company's products are mainly distributed on the east coast, though the firm is looking to go westward.
#9 Most unique/heartwarming stories

Visit Evil Genius booth #3645 to hear the story of the new Goosebone cigar. The journey to recreate a cigar brand and secure the name is a good one. And visit Cordoba and Morales booth #3800 to hear the touching story of a young couple's love for cigars brought out in their products. While you are there, order some quality product.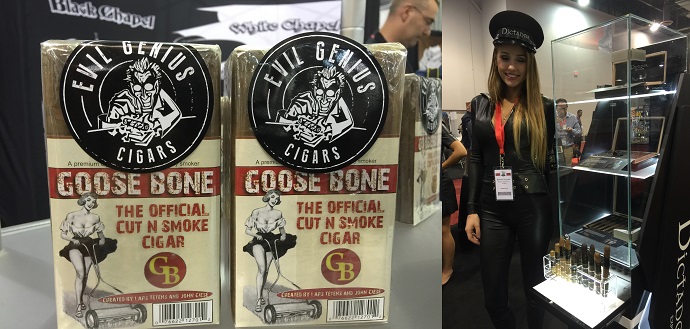 #8 Best pairings
Dictador Cigars took pairings to a new level by creating their own Rum, Gin, Coffee and Chocolate to pair with each cigar line. They also had a delicious looking line of models, in skin-tight outfits and military-style hats, for those who like that kind of pairing.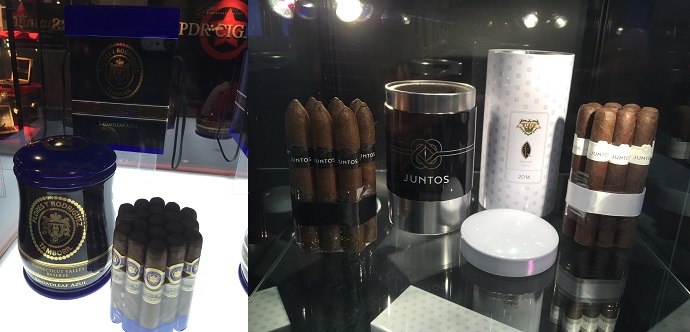 #7 Most unique packaging

PDR Cigar's umbrella covers Flores Y Rodriguez's new Broadleaf Azul. They, as well as Viaje's Juntos, sported a new look for cigars by being sold in decorative ceramic jars. A great place to 'keep your ashes'.

#6 Biggest improvement

Boveda showed off an amazing new two-way Humidity Control package. It humidifies 6x the space for 6x as long.

#5 Best events

Altadis USA Activities-Daily registrations for a Harley Davidson, Coffee Pairings, Photobooth pictures, Happy Hour and new cigar reveals.

#4 Most clever line

The Skinny, Pudgy and Little Monsters from Tatuaje. They may be difficult to find, so if you see the boxes, grab one up.


#3 Best cause

Save the Leaf. August 6-9, Save the Leaf will protest the FDA's over reaching regulations. Learn more at savetheleaf.org, @savethe leaf, facebook.co./groups/savetheleaf or savetheleaf on twitter.

#2 Most hospitable

Hiram and Solomon/Blanco Cigars Booth #442. These guys treat you like family, and will make your stay in their booth enjoyable.


#1 Best salesman

Pete Tyndale of King Cigars. Wanna' hire a motivational speaker and not have to put up with Flipflop's gas? Hire the 'Prince' from Kings Cigars. Pete really believes in his product, and will convince you each one of his cigars is the best.
___________________________________________________
Jeff Slatton (jefslat) hails from the San Antonio, TX area.