GTO Bueno

April 12th, 2018
After three years as producer of The Smooth Draws Radio Show, and with a lot of encouragement from Cigar Weekly's Big John, I am writing my first cigar review. If you are expecting to read about notes of white pepper, orange peel and saffron, you are in the wrong place. I am an everyday guy who enjoys cigars. So here is my review...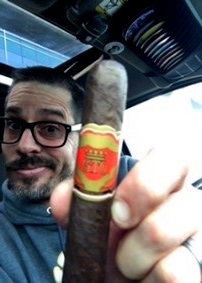 From The Gallows with Hangman:
The Bueno from GTO Dominican Cigars
Wrapper: Sumatran
Binder: Dominican
Filler: Dominican
Let's begin with the fact that I really liked this cigar. Although starting out mild, it progressed in strength as I smoked it. Right off the bat, I noticed a bit of spice – but not overwhelming or overpowering. The main flavor I picked up on was earth, which is typical of Dominican tobacco.
Oscar Rodríguez, brand owner of GTO, told me that the binder and filler of this cigar are the same used in his Anesthesia and Don Emilio lines, thereby maintaining the taste and flavor profile you would expect from a GTO.
I make no bones about it. This is my new favorite offering from GTO. It's a solid cigar that gets stronger as you smoke it. Don't expect complicated flavor notes. But the earthiness is there, and it's enjoyable. I hope you enjoy this cigar as much as I did.
Smooth draws until next time - HANGMAN