Case Study CS/04 Torpedo

December 18th, 2017
Size of cigar: 5.5 inches by 52 ring gauge
The Case Study line comes from Ventura Cigar Company. In reality, there are 26 Case Study blends. Each blend is available in one to four vitolas. The 26 blends pay homage to 26 famous homes built in the simplistic, modernist architectural design and located in Los Angeles – hence the simple labeling.
Sixteen of the blends are 'Master Editions', while ten are 'Limited Editions'. The architect of each of these blends and the origin and composition of the blends are secrets. The only detail of each blend that Ventura has released concerns the wrapper leaf.
The cigar I smoked for this review was the CS/04. It's one of those ten 'Limited Editions', and is available in only one size – a Torpedo. Again, Ventura Cigar lists no details other than the wrapper, which is an Ecuadorian Dark Connecticut leaf.
The Case Study CS/04 sports a black label. (The 'Master Edition' cigars have white labels.) Mine had been resting in the humidor for a month before this review was conducted.
The wrapper was a light brown colored dark Connecticut leaf. It was smooth, silky and dry with only a pucker or two, but no obvious flaws – a comely cigar. Before lighting, I gave the cigar a squeeze test, and found it to be soft and squishy but uniform from end to end. It felt light in hand.
The cold smell was a light fruity scent. I used a modest guillotine cut prior to employing my usual cedar splint to light the CS/04. The cigar fired up easily enough.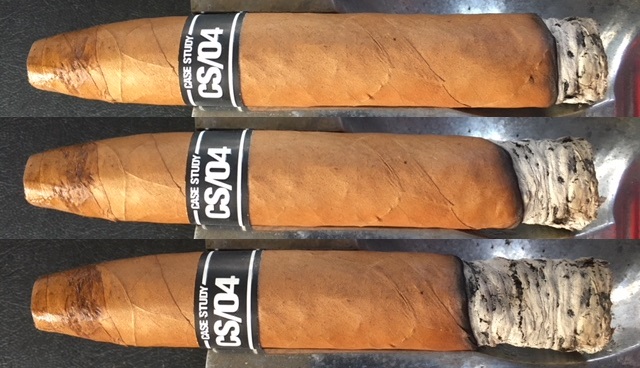 Initially, the draw was easy with plentiful smoke. The burn was cool and even until the midpoint, when it went a little wonky. It was then that an unusual thing occurred. The draw became more difficult, and stayed that way through the finish. The smoke thinned as well. Total smoking time was a quick 45 minutes. The sturdy enough ash was a mottled average-gray with even segments.
First flavors were difficult to define. The cigar seemed either stunningly complex or simply lacking in flavor. I don't think I'm qualified to make that call. I'll just say that what flavors I could deduce were delicate. At any rate, I noted citrus, sweetness, a smattering of leather and paper. The Torpedo tasted warm and earthy, smooth and mild.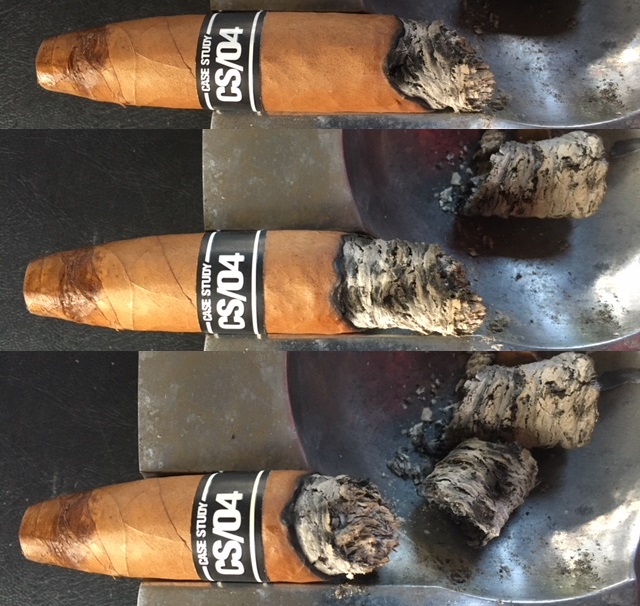 In the middle of the session, some new flavors became apparent. There was a 'not exactly pepper' quality that added some oomph to the palate. The cigar also became toasty and wheaty. I actually thought to myself, "Wheat beer," while smoking it.
Over the final third, there was only minimal intensification and no real change in the flavors.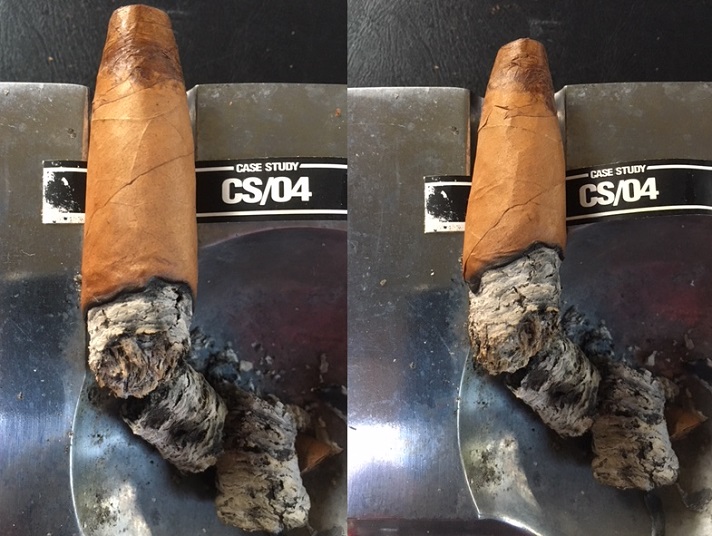 Using the Cigar Weekly rating system, here's how I scored the CS/04:
Pre-light: 9.0 (she's pretty and smells nice, too)
Light: 9.0 (nary an issue)
Draw: 8.0 (starts fine, but ends poorly)
Construction: 7.5 (I'm not a torcedor, but this one had issues)
Flavor: 7.9 (not enough of it)
Power: 7.0 (mild – this mark isn't averaged into the score)
Average: 8.28 (that's a low "B")
As you can tell, I wasn't crazy about the CS/04. Things started off well enough. Yet the Torpedo just didn't push my buttons. I could be wrong. Another reviewer might say that this mild cigar has the most complex profile ever. But I didn't taste it. Because it is so mild, newbies and ladies should like it. I believe it would pair well with beer. The CS/04 would probably make for an appropriate morning smoke, too.
Retail distribution is nationwide, although this is a new product and is not yet available everywhere. The Case Study Line is available on-line as well.