DREW ESTATE LIGA 9 10TH ANNIVERSARY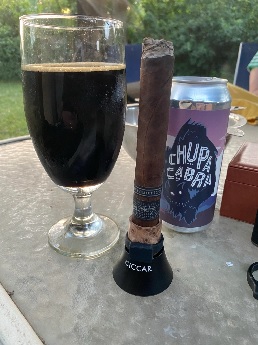 A very attractive dark Lonsdale with a very smooth wrapper. There are light aromas of sweet tobacco from the foot. The cold draw is perfect. Tonight's beverage is a 903 Chupa Cabra stout.After toasting the foot to get past the char, the smoke is medium bodied and very flavorful. The profile is light toasted tobacco and Nicaraguan earth. There are also hints of flavors that will develop further into the cigar.
And yes, I'm using one of the trendy cigar holders, a Ciccar in this case. The cigar smokes more evenly and doesn't tend to go out. The smoke also stays cooler.In the first third strong black coffee notes emerge over the earthy base, which is a good pairing with the oak, coffee, chocolate and cinnamon stout ale. With this holder, the ash is steady and the burn is very even. The retrohale is very smooth.
During the second third the flavor profile has taken on an espresso note when combined with the ale. A most excellent pairing. Sweetish coffee notes over a prevalent earthy base. Some spices also begin to appear. In the holder the ash is stacking nicely and the burn remains even.So, yeah, we fell for the pitch at the Ciccar booth at PCA, but I'm glad that we did because the holder spreads the smoke and the cigar smokes cleaner. A worthy investment.
Approaching the final inch the flavor profile has taken on a light sweetness to blend with the coffee and savory spices. The ash remains solid and the burn remains even.
Overall the cigar is a real treat for fans of the Liga 9. More complex and equally as good construction. 9.7/10, Joe Bob says check it out.