From The CW Vault: Christmas Movie Favorites
Editor's note: As the Holiday Season is rapidly approaching, Cigar Weekly is pleased to re-publish this popular feature article from last year.
ROB'S TOP 10 CHRISTMAS FILMS
It's almost that time of the year. Soon, we'll be unpacking decorations stored away since last year. The kids will be giving us lists of all the presents they hope to find under the tree. My wife will be deciding what foods she will make for our family gathering. Yes, the Christmas season is upon us. And what better way to celebrate the season than with Christmas movies.
Starting on Thanksgiving Day, I begin my annual Christmas movie celebration. I usually view at least one film a day, watching some of my favorites several times throughout the season. The films I have listed here, along with mini-reviews, are my top 10 favorites. This list is certainly not exhaustive. These are the films that highlight the joy and beauty of the season for me.
1. A Christmas Carol - The original story, written by Charles Dickens in 1843, has been made into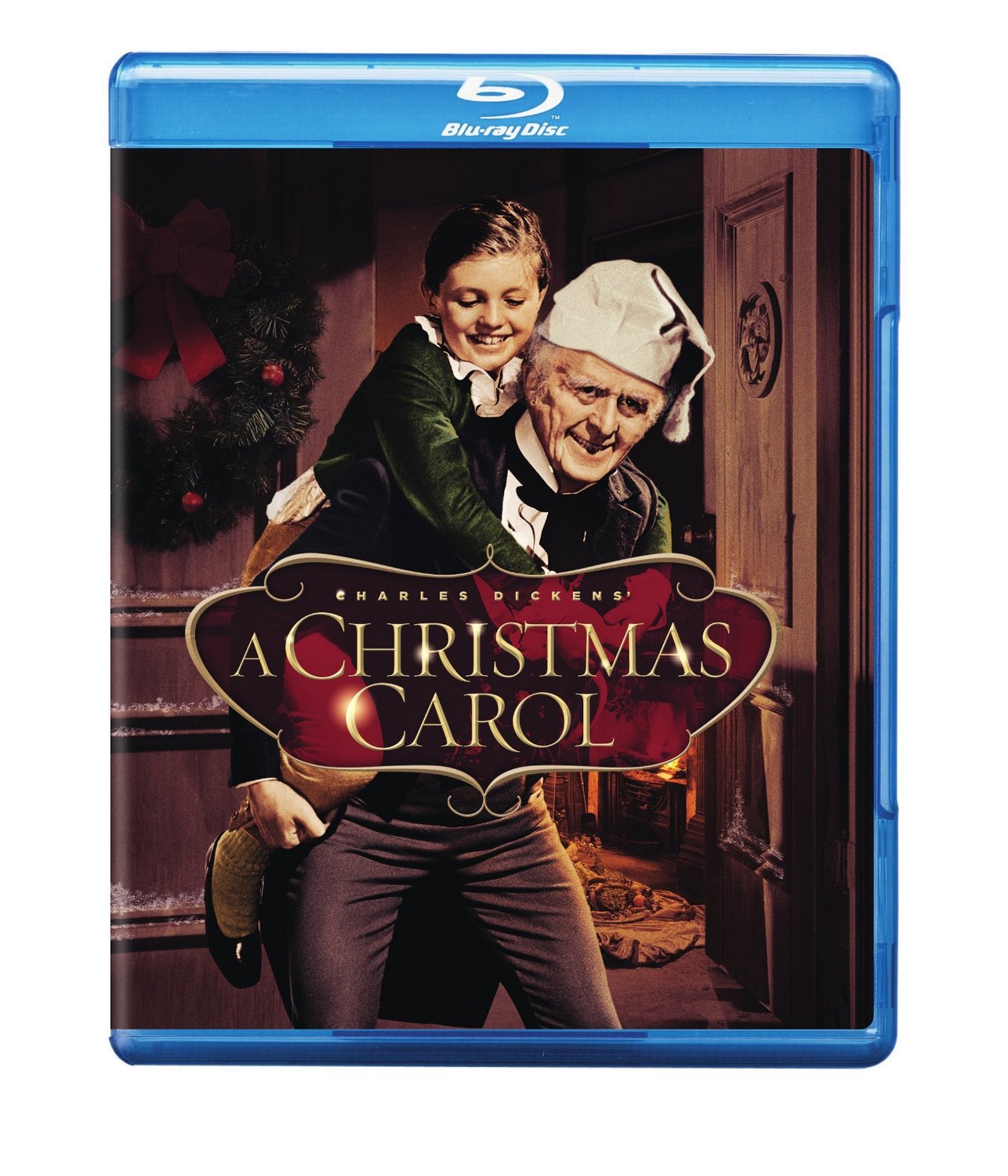 dozens of films and incorporated into even more TV shows. It would be difficult to find anyone who is not familiar with the story. Although there are numerous films based upon this story, three of those versions stand out as true classics.
A Christmas Carol (1938) (DVD) - While not the first film adaptation of the Dickens' tale, it is still one of the earliest. This edition, starring Reginald Owen as Ebenezer Scrooge, is not as well known as some others. But it is truly a delight. This version combines excellent acting with a strong retelling of the original story. While the 'special effects' of the day fall short when compared to today's computer generated graphics, they don't take away from the film. Despite the fact this is not my favorite retelling of the story, it's always included on my list of must-watch Christmas films. Although the DVD copy looks decent, the Blu-Ray version has superior picture quality and is highly recommended.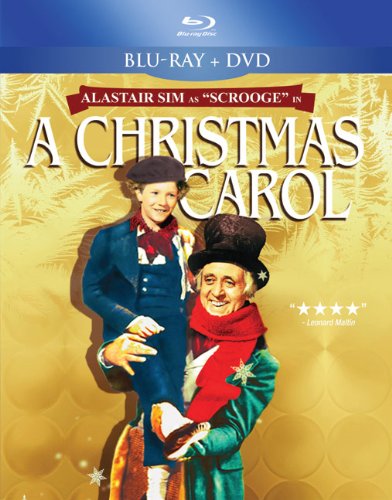 A Christmas Carol (1951) (Blu-Ray) - This version, starring Alastair Sim, is, without a doubt, the most famous and popular retelling of the Christmas classic. It's a wonderful film featuring superb acting. The Blu-Ray release of this film is absolutely stunning. For many viewers, this is the ultimate version of A Christmas Carol. While I agree that this film is excellent, it is not my personal favorite.
Scrooge (1970) (Blu-Ray) - This was probably the first movie I ever attended in a theater. My parents went to see this film at Radio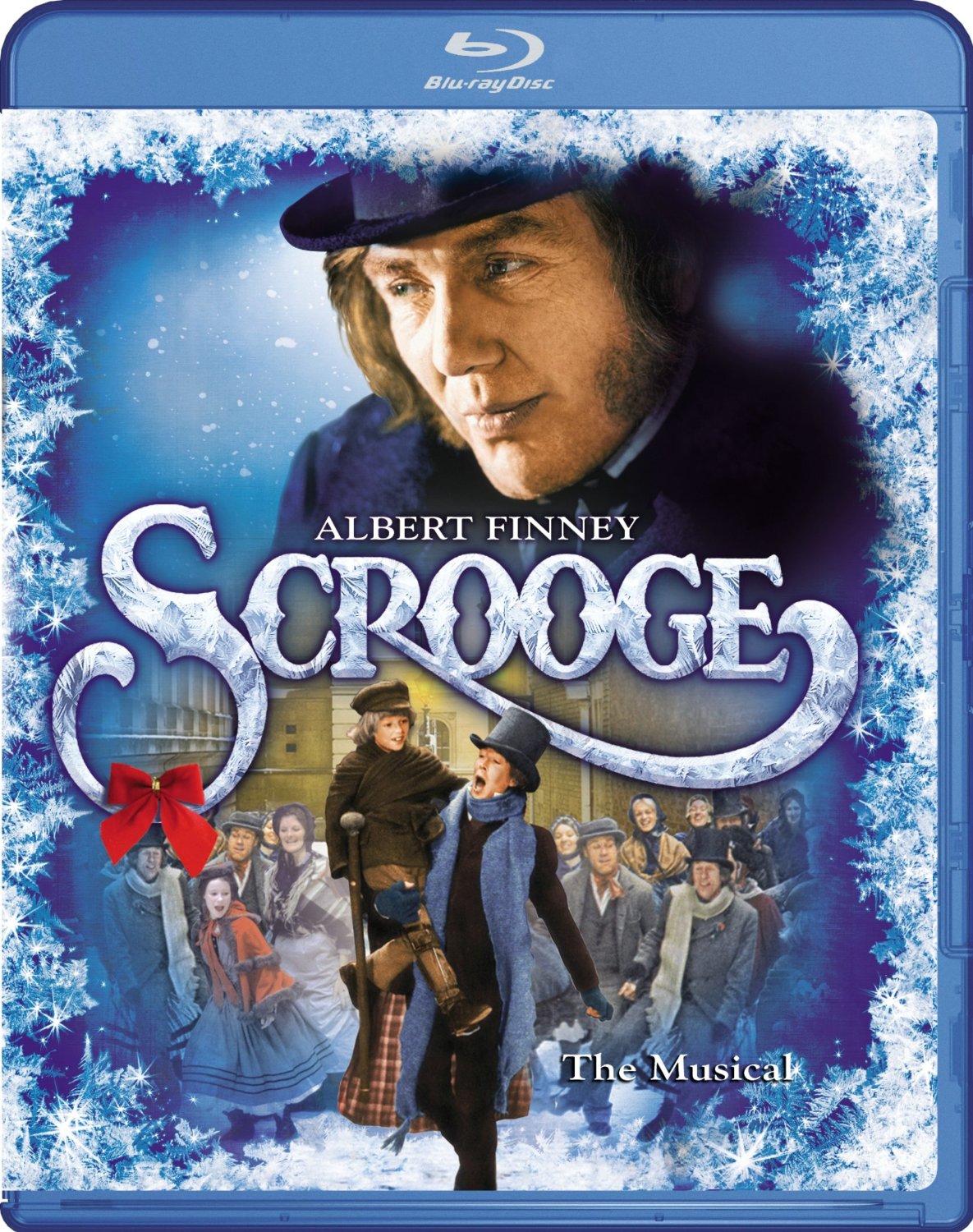 City Music Hall in New York City. Me? Well, I wasn't quite born yet. I would be born a few weeks later. But I'm sure that I was able to hear the songs and melodies that fill this musical version of the same story. I often wonder if that's the reason I enjoy this version so much. I love everything about this film - the music, the acting, everything. Albert Finney, who was only 34 years old at the time, is simply incredible in his depiction of old Scrooge. The Blu-Ray release of this film looks fantastic. I'll definitely be watching this one multiple times throughout the holiday season.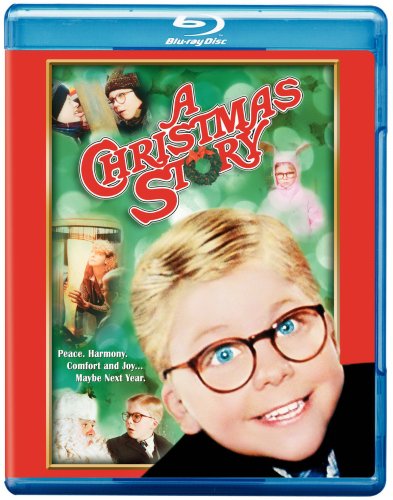 2. A Christmas Story (1983) (HD DVD) - Looking for a night of Christmas cheer with laughs all around? Look no further than this holiday classic. Set in the 1940s, A Christmas Story depicts the life of the Parker family during the holiday season. Nine-year-old Ralphie (Peter Billingsley) longs for a Red-Ryder BB gun for Christmas. He drops hints all over the house. But his parents (Darren McGavin and Melinda Dillon), as well as his teacher, Santa Claus and a firefighter, tell him the same thing: "You'll shoot your eye out!" What's a kid to do? As he plots his next step, the viewer enjoys the hilarious antics and situations that arise. If you've seen this film, you know exactly what I'm talking about. If you haven't, then I 'triple-dog-dare' you to watch it. You can thank me later.
3. Elf (2003) (Blu-Ray) - It seems most people either love Will Ferrell or can't stand him. I actually fall somewhere in the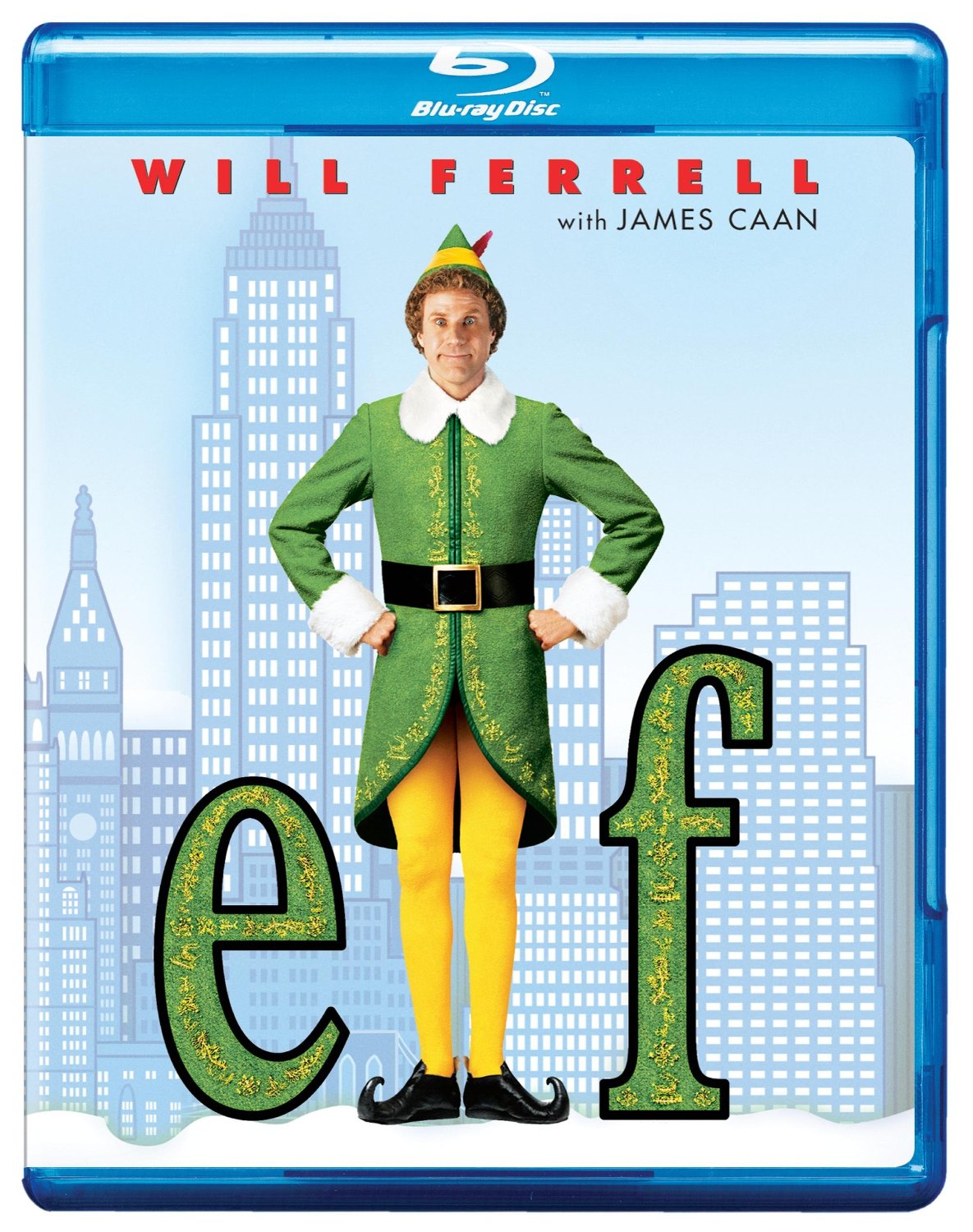 middle. I like some of his films, dislike others, and find the rest to be ordinary. One of Ferrell's greatest films, in my opinion, is Elf. Buddy (Will Ferrell) is a human being who ends up at the North Pole after Santa Claus (Edward Asner) visits the orphanage where Buddy lives, and Buddy hitches a ride. The Elves decide to adopt Buddy. But as Buddy grows to manhood, he no longer fits in. It is then that Buddy's adopted elf-father (Bob Newhart) reveals to Buddy his true identity, and Santa Claus informs Buddy that his real father, Walter (James Caan), is on the naughty list. Buddy decides that he needs to head to NYC and find his father. He finally finds his father, and then discovers that he also has a younger brother. Buddy, although the size of a man, thinks and acts very much like a child. Through his genuine kindness, Buddy helps to heal the problems in his father's family, kindles a romance, and saves Christmas. If you haven't seen this film, you should. If you have, then you need to watch it again.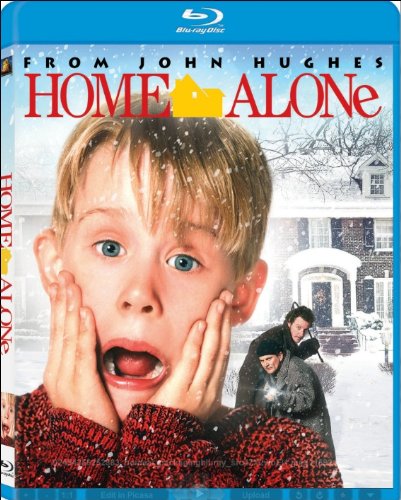 4. Home Alone Collection (Blu-Ray) - It's hard to believe it has been almost 25 years since the release of Home Alone (1990), the Christmas Comedy, starring Joe Pesci and Daniel Stern, that turned Macaulay Culkin into an overnight sensation. While Culkin's days of greatness have come and gone, Home Alone remains a popular seasonal favorite. With laughs galore, a fantastic storyline, and superb acting, Home Alone is one Christmas Comedy that is a must see. Home Alone 2: Lost in New York (1992), while not as good as the original, still supplies ample laughs and enough Christmas love and emotion to warrant a seasonal rewatch. I know my kids and I will be enjoying both of these films, probably more than once, before the Christmas Season ends.
5. Dr. Seuss' How the Grinch Stole Christmas (1966) (Blu-Ray) - has been an American Christmas tradition for almost 50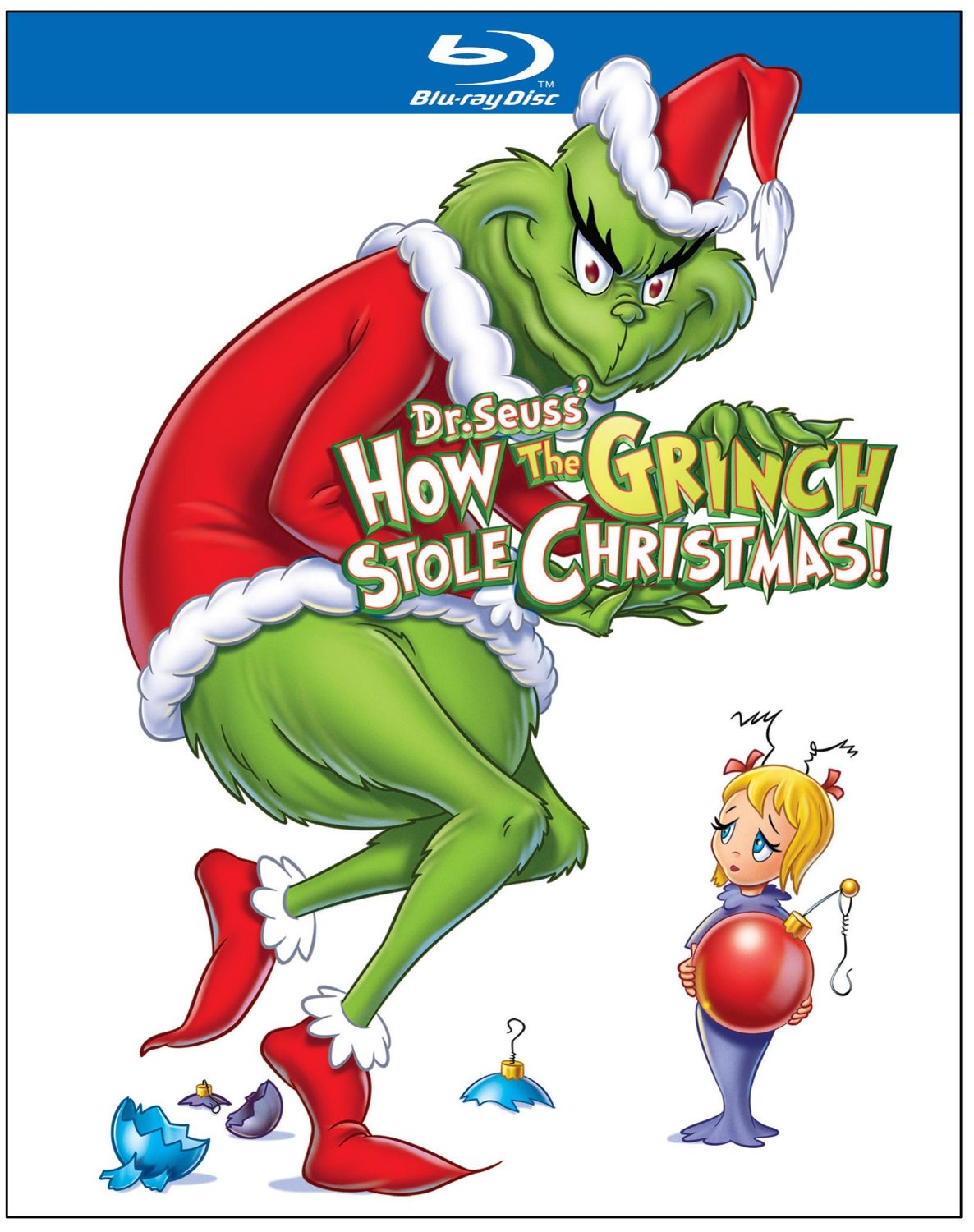 years. This production, narrated by Boris Karloff (of Frankenstein fame), was released on network television. The simple story tells of the fictional town of Whoville, whose citizens adore Christmas. Unfortunately, a lonely old Grinch despises Christmas and everything it stands for. In his attempt to stop Christmas from coming, the Grinch steals all of their presents, decorations and yuletide food. But when Christmas morning comes, the residents of Whoville are not saddened, and celebrate Christmas all the same. It is then that the Grinch realizes that Christmas is more than holiday goodies and presents. At a length of just 26 minutes, this is a very short, but heartwarming nonetheless, flick. While the Blu-Ray version looks very good, I doubt the high resolution release makes much difference over the standard DVD.
6. It's a Wonderful Life (1946) (Blu-Ray) - Is there a more inspiring film than this? It's a Wonderful Life tells the story of George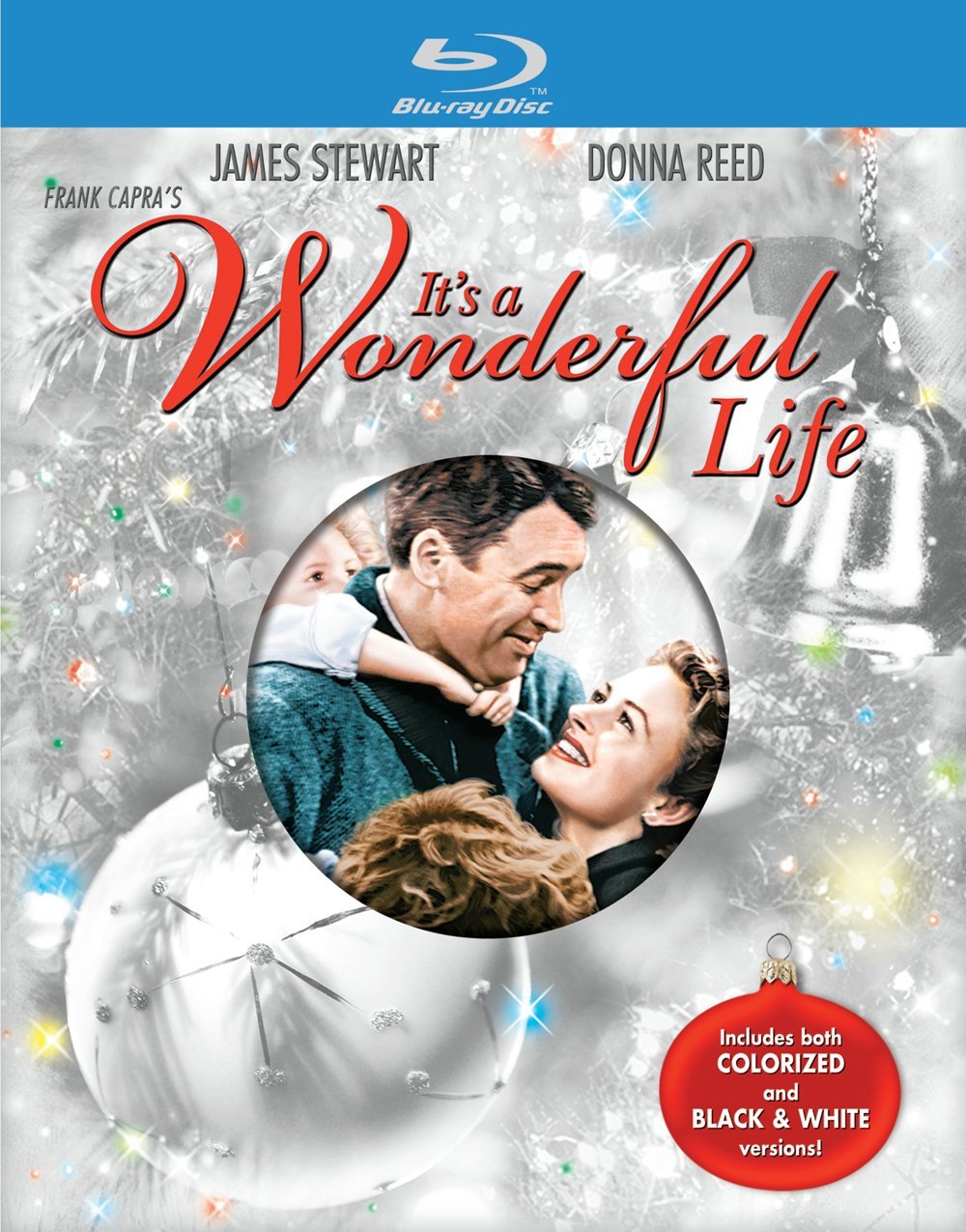 Bailey (James Stewart), who has big dreams, all of which involve leaving Bedford Falls, the small town in which he was born and raised. But circumstances never allow him to leave. He sees his life as a failure, and reaches the end of his rope when he is wrongfully accused of a crime. George considers suicide, thinking that he is worth more dead than alive. But heaven has other plans. A not so bright angel trying to earn his wings, named Clarence (Henry Travers), is sent as the answer to the prayers said by and for George. George receives a wonderful gift - the chance to see what the world would be like if he had never been born. He learns that each man's life touches so many other lives, and that when he isn't around he leaves an awful hole. With the help of George's wife, Mary (Donna Reed), and the entire town, George comes to realize that "no man is a failure who has friends". It doesn't get much better than this, folks. As for the best release, the hands down winner is the Blu-Ray B&W version, which looks marvelous. While colorized versions are also available, I personally find them to be quite awful.
7. March of the Wooden Soldiers (1934) (Blu-Ray) - This Laurel and Hardy classic is not so much a Christmas film, but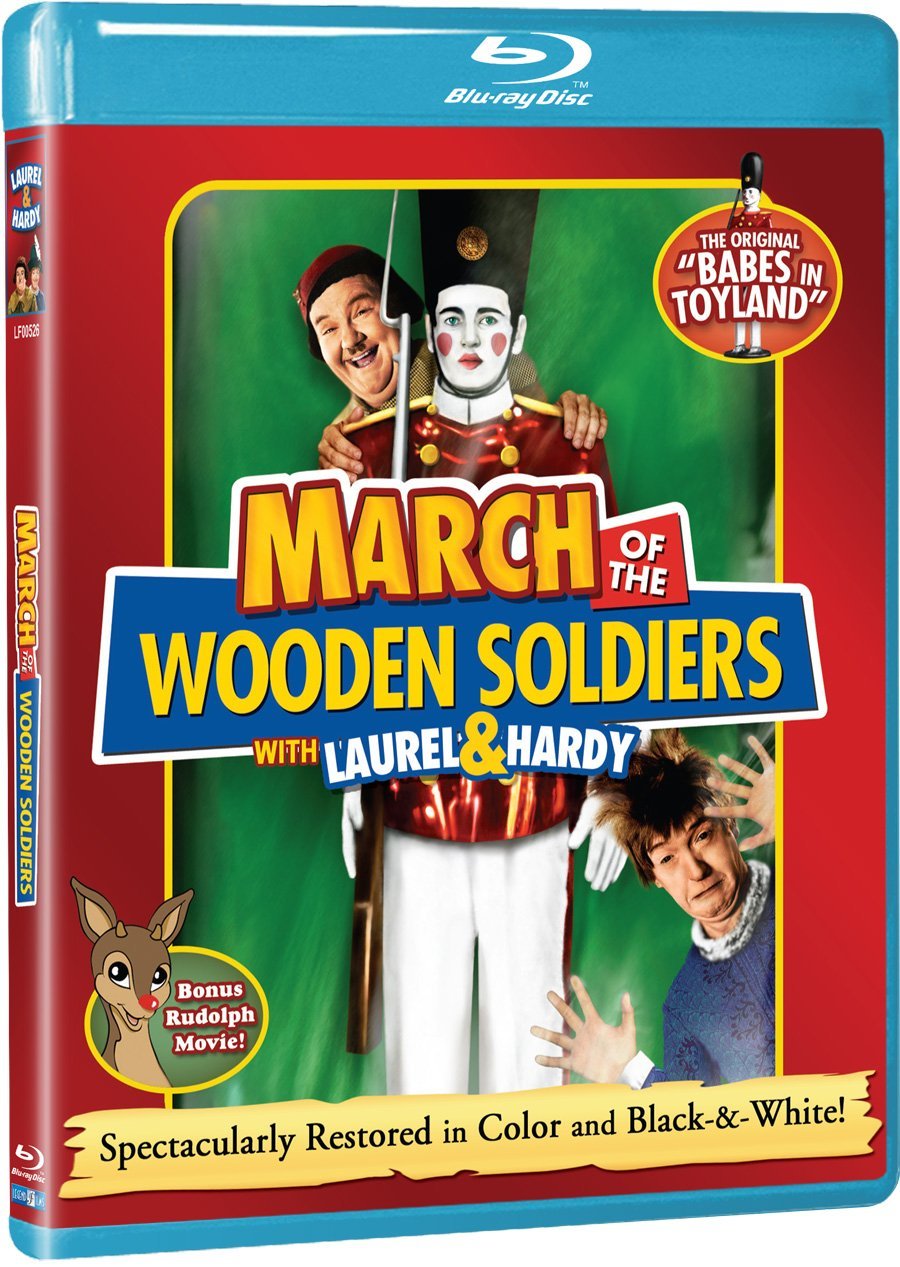 more of a story that takes place in a Christmas town. Nonetheless, I have always enjoyed watching this film every Christmas season. Stannie and Ollie (Stan Laurel and Oliver Hardy) live in Toyland, and are employed as Toy Makers. While they have good intentions, their dimwittedness has created difficulties with their employer. After the boys mistakenly screw up Santa's order and produce 100 soldiers at 6' high, rather than the desired 600 soldiers at 1' high, the boys are fired. At the same time, the town's villain, Silas Barnaby, is seeking to marry Little Bo-Peep, and Stannie and Ollie's attempts to prevent the marriage result in them being banished to Bogeyland, along with Little Bo-Peeps love interest, Tom-Tom Piper. They manage to escape. But Barnaby, apparently the leader of the Bogeymen, leads an army to destroy Toyland. All hope seems lost until Stannie and Ollie save the day by releasing the Wooden Solders, who then defeat the Bogeymen and drive them and Barnaby back to Bogeyland. This film provides a humorous, if simple, story that fits in perfect with the holiday season.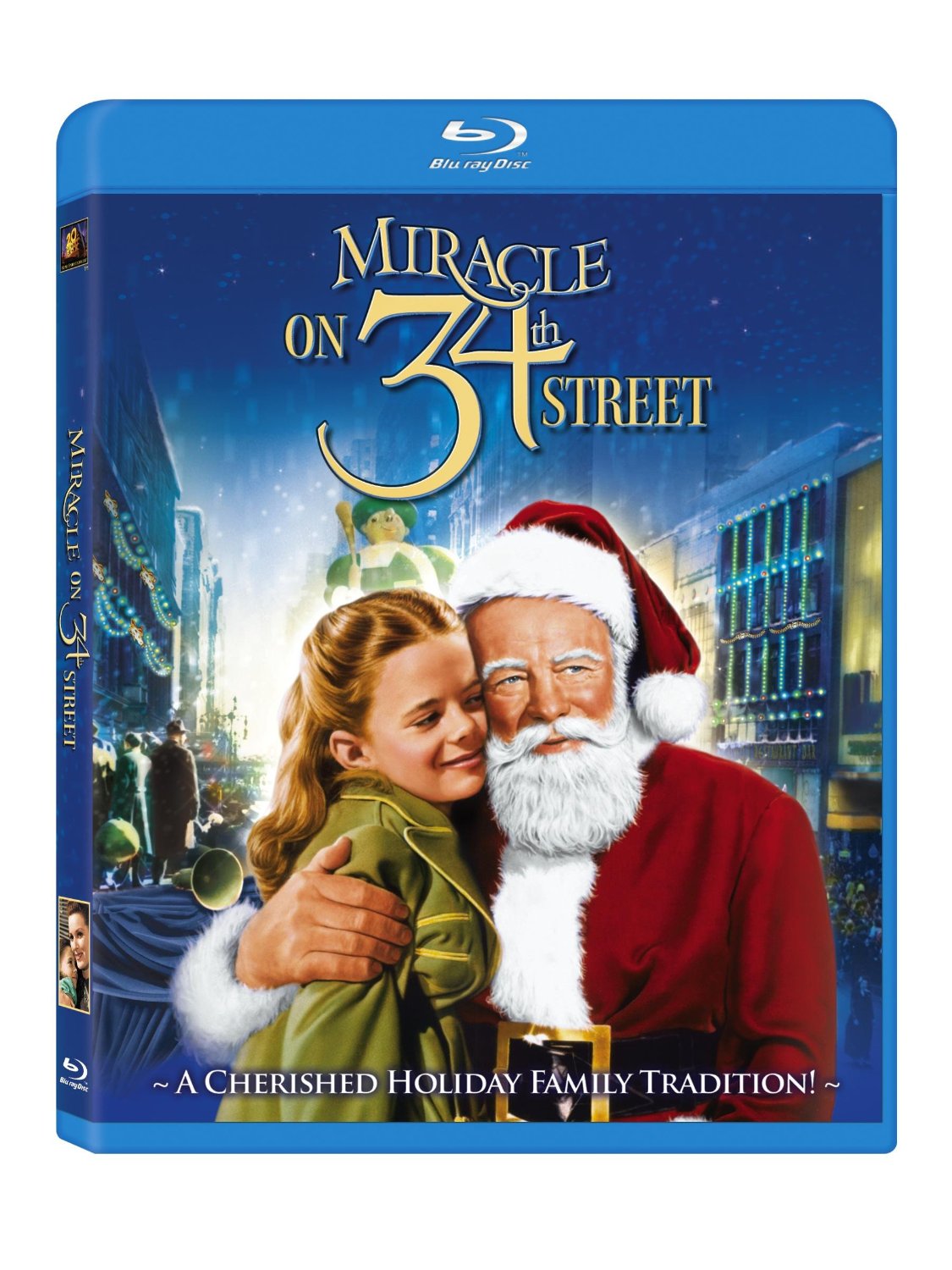 8. Miracle on 34th Street (1947) (Blu-Ray) - This is one of my favorite Christrmas films, and is the one I always use to start off the holiday season. I watch this movie every year on Thanksgiving Day. As the film's opening sequence takes place on Thanksgiving Day and the closing scene takes place on Christmas Day, this is a wonderful film with which to both start and finish the holiday season. Doris Walker (Maureen O'Hara) is the single mother of Susan (Natalie Wood). Miss Walker is also employed by Macy's, and is head of the toy department, where she is responsible for managing the famous Macy's Day Parade. Her life suddenly changes when she is forced to make a last minute Santa Claus substitution (Edmund Gwenn). While the new Santa Claus is wonderful, Miss Walker discovers a problem. The kind old man with whiskers, whose name is Kris Kringle, believes that he really is Santa Claus. Miss Walker, along with her new love interest, attorney Fred Gailey (John Payne), must try to satisfy competing goals while not giving up on their friend Kris. The film beautifully depicts the struggle of recognizing what's most important in life, and reminds us that the intangibles of life are really what matter most.
9. The Santa Clause (1994) (Blu-Ray) - Scott Calvin (Tim Allen) is a toy sales executive who finds himself in a difficult place in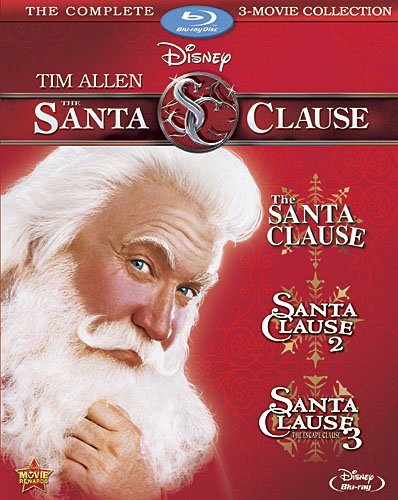 life. As a divorced father, he is struggling with his relationship with his young son, Charlie (Eric Lloyd). On Christmas Eve, Charlie, who is trying to decide whether Santa Claus is real, hears a noise on the roof. He wakes up his dad, who comes to believe that someone really is on the roof. As the two exit the house, they see a man in a red suit on the roof, and Scott calls to him. The man, Santa Claus, falls from the roof, hits the ground, and appears lifeless. Scott, looking for identification, discovers a card indicating that if anything happens to Santa Claus, the finder should put on the suit and the reindeer will know what to do. Trying to figure out what is happening, while Charlie begs his Dad to put on the suit, they both discover that there are eight reindeer and a sled on the roof of their house.
Once the suit is on and they board the sleigh, the reindeer indeed take over, and Charlie and SC (Scott Calvin or Santa Claus, depending on who you ask) spend the night delivering Santa's gifts. When they are finished, they are brought back to the North Pole, where SC finds out about the fine print on the card, or the 'Santa Clause', which states that by putting on the suit one agrees to become Santa Claus. Like it or not, SC is now Santa Claus.
But major problems lie ahead. Charlie remembers the events perfectly and believes in his Dad, but has a hard time dealing with this knowledge. SC, on the other hand, wants to believe it's all just a dream, even though he finds himself changing into Santa despite his wishes not to. Charlie's mother, Laura (Wendy Crewson), and his stepfather, Neal (Judge Reinhold), are concerned with Charlie's well being, and obtain a court order requiring SC to stay away from Charlie.
In the end, though, it all comes together. Scott and everyone else accept the fact that he is indeed Santa Claus. This is an extremely comical yet moving film. It has become one of my holiday favorites. As for the two sequels, Santa Clause 2 and Santa Clause 3, I will just say that they are not in the same league as the original, with the third film being far worse than the second.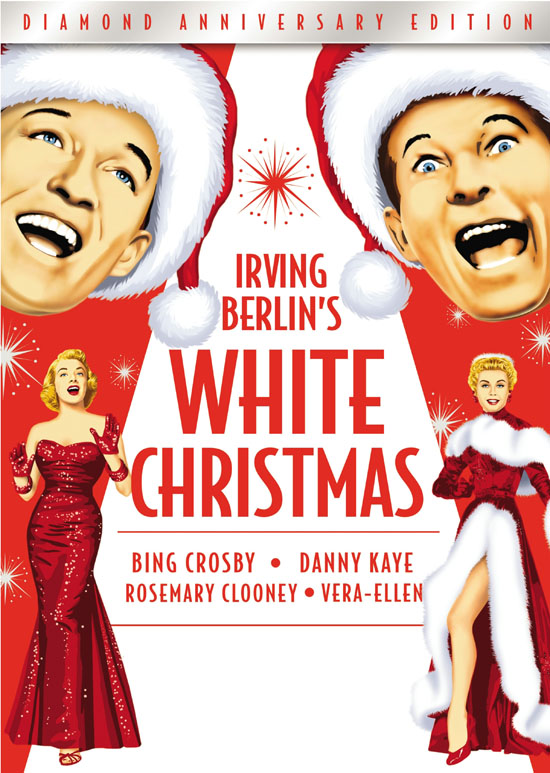 10. White Christmas (1954) - Irving Berlin's Christmas song of the same title is the most popular tune of all time. Bing Crosby's version alone has sold more than 50 million copies, with over 100 million total copies of the song having been sold when all other versions are included.
The film, starring Bing Crosby, Danny Kaye, Rosemary Clooney and Vera Ellen, is a holiday classic that is hard to beat. A musical of sorts, it tells the story of how Bob Wallace (Crosby) and Phil Davis (Kaye), old army buddies, join together and become a leading musical act. At the height of their success, they meet Betty and Judy Haynes (Clooney and Ellen), two sisters who are struggling performers. The boys are quickly taken in by these talented and attractive women, and decide to escort them to Vermont, where the sisters are booked for the holidays.
Upon reaching their destination, the boys discover that the owner of the hotel and ski lodge is Major General Thomas F. Waverly (Dean Jagger) from their Army days. Because of unseasonably warm weather and a lack of snow, the new business owner, who sank everything he had into his new venture, is on the verge of bankruptcy. The boys, along with the girls, team together to try and save the business by bringing Wallace's and Davis' entire show up to the lodge. They even go on national television to invite all of their old Army buddies for a surprise event for General Waverly.
Although a musical, this film is different in the sense that the songs are generally performances. The movie, along with its delightful songs, mixes humor and romance. It's the perfect Christmas film to watch at any time during the holiday season.
* Honorable Mention * - Die Hard (1988) - I know what you're thinking: "Die Hard? A Christmas movie? You've got to be kidding me?"
Die Hard, staring Bruce Willis, is certainly not your typical Christmas movie. In fact, the only reason it could possibly be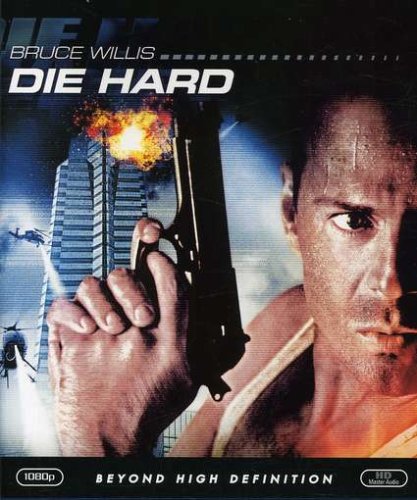 considered a Christmas film is that the story takes place on Christmas Eve. But believe it or not, there are those who consider this to be their favorite Christmas film. My wife is one of them. So, for whatever it's worth, I'll include it in this list.
MERRY CHRISTMAS!!!
__________________________________________________
Rob Geyer (Rob G) resides with his family (and hangs out in his Man Cave) in Syracuse, NY.