Cigars in Stuttgart
Stuttgart, Germany – August, 2015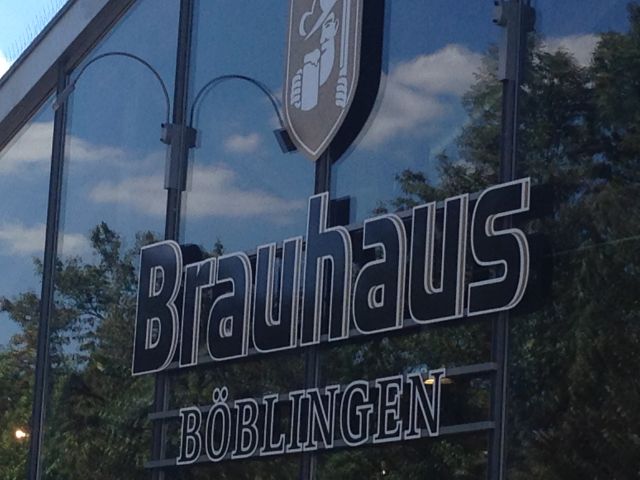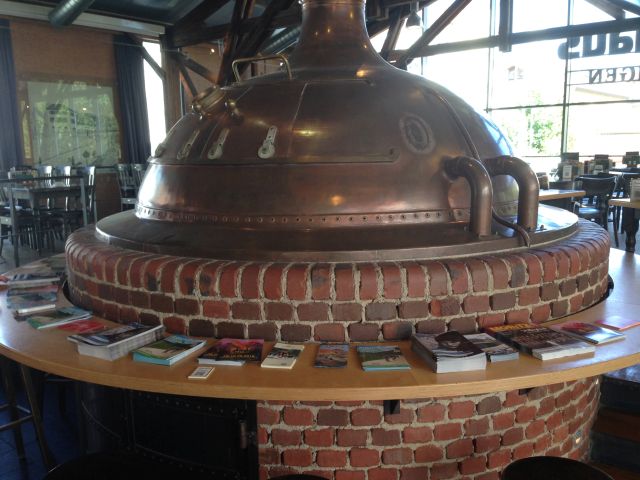 The last several times I had visited Germany on business, the US dollar to Euro exchange rate was painful - very painful. It wasn't quite two to one, though it wasn't far from it either. But once I'd found my way to the Brauhaus in Boblingen and tasted that glorious dark German lager, the pain of an exchange rate eased. Now, flash forward a number of years to the current day, and the exchange rate is almost one to one... almost. Thank you Greece!
On a lazy Saturday afternoon, I found myself sitting comfortably on a 747-8 jumbo jet - a behemoth of a plane, operated by Lufthansa - flying over the Atlantic. I was knee deep into Hangover II, having just finished the original Hangover and with Hangover III queued up. It was a mindless way to pass the time, and to periodically fall into uncontrollable laughter.
The attention and superb service travelers receive on Lufthansa Airlines is, without question, first-rate. My flight was smooth and uneventful, and I eventually landed in Frankfurt. There, my passport was stamped, and I boarded my short jumper to Stuttgart. I arrived in Stuttgart early Sunday morning.
Upon landing in Stuttgart, I was thirsty. So I stopped at one of the vendors on the way to baggage claim, and purchased a bottle of water. I took a big swig, and almost spewed a mouthful all over my coworker. I had forgotten that in Germany, you have to specify 'with gas' or 'without gas'" when ordering water. I'd swigged the with-gas stuff, and it was horrible - especially when I was expecting cold, thirst quenching, regular water. Water with gas is the same as carbonated water in the states.
I got to the hotel in Sindelfingen, a town just outside of Stuttgart, and unpacked. Stuttgart is a great city and a great place to visit. It is said that Stuttgart is the birthplace of the automobile and motorcycle. It is home to Mercedes, Porsche and a BMW museum - and, of course, the American military bases, Patch Barracks, Panzar Kaserne (pronounced "Concern") and Kelley Barracks. Stuttgart is filled with beer gardens, guest houses, countless variations of schnitzel and hundreds of mom-and-pop places to eat. The people are friendly, and the city has an eclectic mix of folks from all over the world.
As I often do, I did a recon of the hotel - not only for safety reasons, but also for finding the best place to enjoy a cigar. My choices for herfing were limited. Behind the hotel was an industrial business of some sort, and on the right side was an open field that was fenced off. On the opposite side was the road leading into the parking garage under the hotel. My only remaining option was the front of the hotel.
Fortunately, there were several benches out front. So I parked myself on one of them, and carefully clipped and toasted a Jaime Garcia Reserva Especial. It had been a long travel day, my having left the States Saturday and arrived in Stuttgart on Sunday. A cigar was what I needed, and this one didn't disappoint.
The view from my bench was quite enjoyable, with a lot of snazzy European cars passing by, countless locals riding by on bicycles and folks strolling by on the wide sidewalk. The weather was pleasant, with temps in the eighties as well as a comfortable morning breeze. I sat there for a long while unwinding and passing the time enjoying my cigar.
It wasn't long before a guy walked up and asked if he could join me. He said he noticed I was smoking a cigar, and that he himself was new to cigars. After he unpacked his story, I learned his son had recently given him a cigar for his blog, and that his short cigar journey had taken off from there.
He was from Georgia (US), and was a retired Army Special Forces guy. My new found friend was like a sponge, wanting to know as much about cigars as possible. We had an enjoyable conversation, talking cigars and covering some common ground of being in the service. He didn't have any cigars on hand, as he had just flown in. So I offered him one from my stash. I did, however, warn him that his palate may not be ready for a heavy stick. He accepted my offer anyway. We sat there taking in the sights of the eurobabes and euro cars, commenting as appropriate.
I don't clearly remember how I spent the rest of the day. But at some point, my body crashed and I slept hard. I awoke the next morning groggy but refreshed, and headed to the gym in the basement of the hotel. I jumped on an elliptical to knock out three to four miles. But once on the machine, I realized my head was almost touching the ceiling! If I stood up straight, it did touch. I made do, and got in a good workout.
Free breakfast and supper in the Executive Lounge on the top floor was included in my room rate. The lounge also offered free beer and snacks in the evenings, after supper. Given how groggy I felt living in a different time zone, I quickly zoomed in on a little metal machine sitting on the counter in the lounge. It had eight buttons, each dispensing a different kind of expresso or latte. That machine became a close friend throughout my stay.
I was also reminded what a treat a German breakfast can be. The offerings were generally various cuts of charcuterie, along with fantastic cheeses, salmon, mushrooms, delicious butter and homemade breads. For the last six months or so, I have been cutting back on breads and trying to make better eating choices. But in Germany, I put that silliness on hold. I looked forward to breakfast every morning. And with the expresso machine, it was a great start to each day.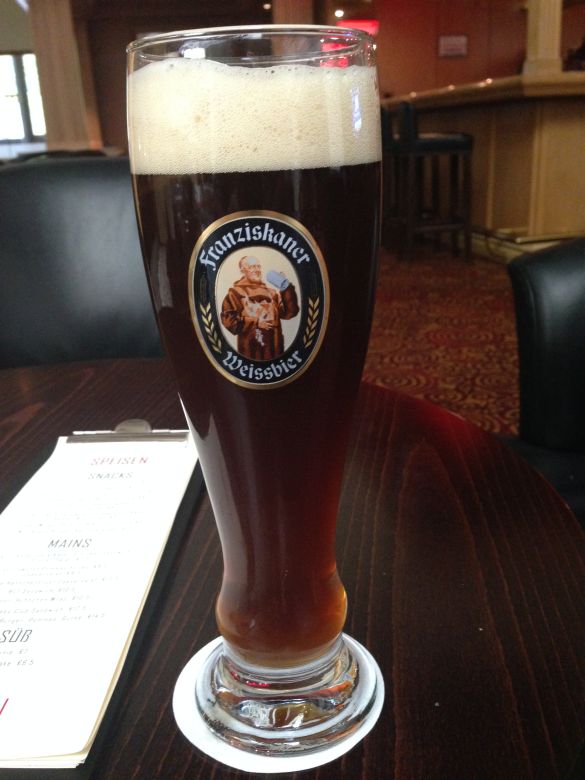 I went about my work routine each day. But it was the evenings I looked forward to the most - that was my time!
The hotel bar proved a comfortable place to sit and unwind. There were plenty of overstuffed chairs or bar stools to choose from, as well as a nice selection of booze and soft music in the background.
The bar was also useful for contemplating where exactly my evening adventure would take me each night. I'd order a Dunkel, and it would arrive in a traditional tall German glass filled to the rim with lip smacking dark lager. It didn't hurt that the bartender was a Romanian beauty in her late twenties with a truly noteworthy smile. She was a good conversationalist, and quite humorous to boot. By the time I finished one (or two) of the Dunkels, a plan would be set for the evening. I would run it by my bartender, and she would adjust my plan with her knowledge of the local area.
A few weeks earlier, a buddy back in the states had recommended a must-do restaurant in Stuttgart. I mentioned it to a couple of coworkers, and they joined me. We left the hotel bar and headed out to grab supper. My buddy said the chef was like the Emeril Lagasse of Germany, and that the kitchen and wait staff paid the chef to work there so they could sit under his tutelage.
Zum Reussenstein was an unassuming place on the outside. But once we stepped inside, it was well appointed. Seated, perusing the menu and noticing everything offered was local, I knew we were in for a treat.
Before we placed our orders, the waitress brought out what looked like a long slim paddle that had three small glasses fitted in the paddle, each filled with a liquid. She said these were compliments of the chef, "Enjoy," and that they were freshly made pumpkin soup. The glasses were about the size of four shot glasses combined. The soup was very flavorful, and it made me eager to see what else would come out of the kitchen.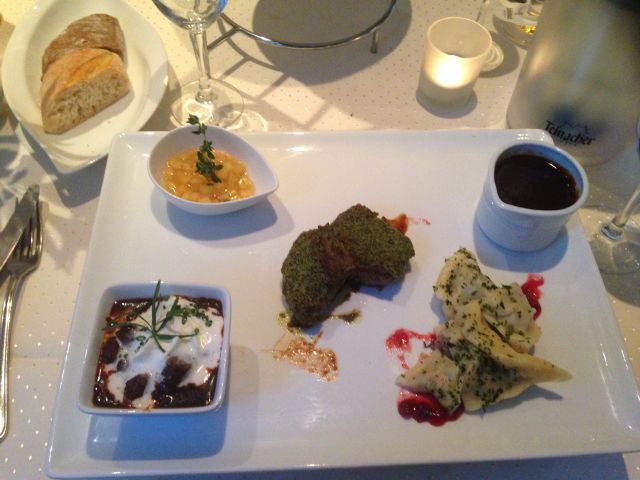 For an appetizer, I ordered the Black Forest smoked trout finely minced with herbs. Honestly, I could have eaten a pint of that stuff - it was so fresh and seasoned perfectly. My buddies got farm fresh chicken livers sautéed and served with a green salad with honey marmalade. I'm not a liver guy, but I tried one, and it was tasty - as tasty as a liver can be.
For the main course, I ordered the 'Trilogy of regional game with fruit compote and homemade spaetzli noodles'. The game meats were wild boar and two styles of venison. Each item was cooked perfectly and loaded with flavor. Everything blended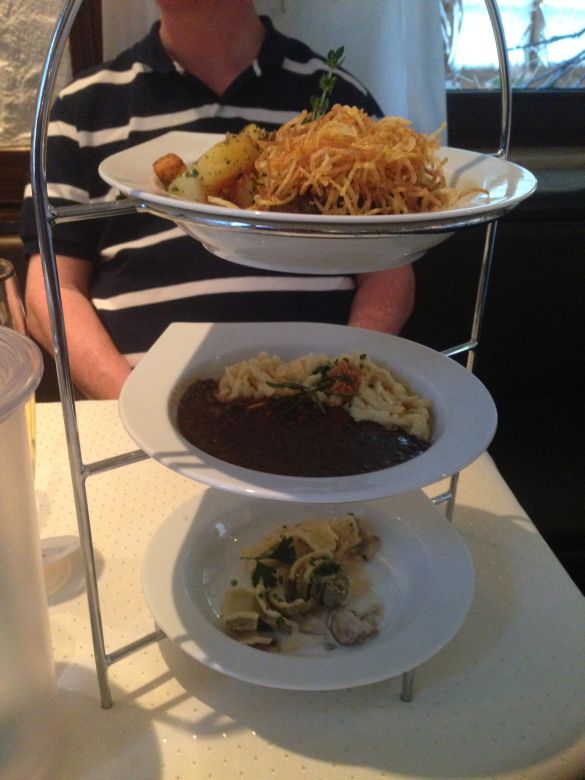 well together to make for a wonderful eating experience.
My coworkers ordered the same thing - the house special, which was a combination of three of their best dishes. There wasn't an English translation, so I'm not sure what they ate. But they loved it.
We finished the meal with homemade desserts. I got vanilla ice cream with homemade apple syrup. One coworker got chocolate mousse, and the other an apple pie of sorts. We were completely satiated and satisfied.
I got back to the hotel, grabbed a Dunkel from the bar, and headed out to my bench with an LFD cigar to watch the local nightlife wiz by. It was a good night.
Within the hotel, there was a steakhouse. The entrance was beside the hotel bar. Every evening, the steakhouse placed a large chalkboard near the bar with the special of the day. One day, I noticed smoked duck, and another day smoked brisket. In the bottom corner of the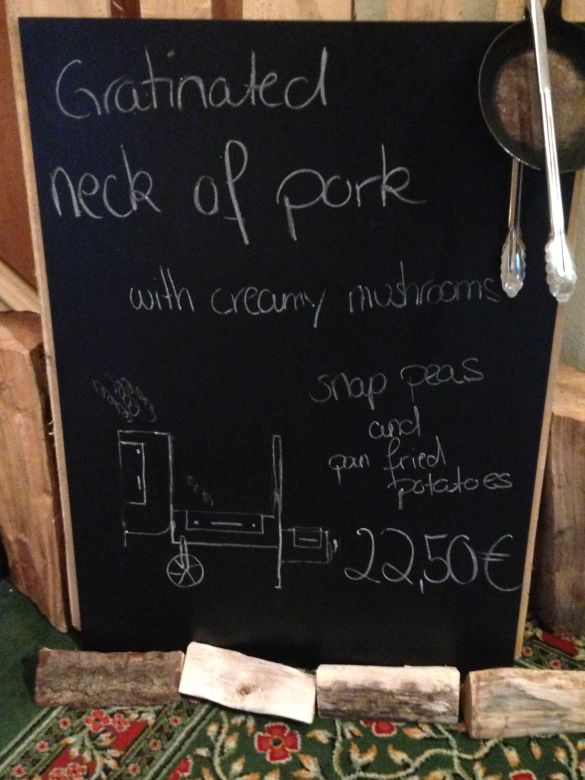 chalkboard (on these evenings) was a drawing of an off-set style smoker. I was pleased to think that the restaurant might actually be using a no-kidding smoker. A couple days later, while in the parking garage, I noticed a smoker off to one side in a corner that looked exactly like the one on the chalkboard. I went over, checked it out, and was happy to see it was well used. I didn't eat at the steakhouse. But knowing it uses a real smoker, I may just try it on a return trip.
On another evening, we headed out to one of our go-to mom-and-pop restaurants in Stuttgart. We call it Rommel's (after the Field Marshall), but its real name is Hotel Dachswald. We were told on a visit a number of years ago that someone in the Rommel family still owned and operated the place. Rommel was a well respected (even by his enemies) military desert tactician, and he is believed to have been killed for attempting to assassinate Hilter.
We have spent many an evening eating freshly made meals at Rommel's, bowling downstairs in the little all-wooden-balls-and-pins bowling alley, and eventually ending up out on the patio drinking Scotch and smoking cigars. The hotel was a hunting lodge back in the day, and there are paintings of Rommel and artifacts from long ago hunting trips on the walls. It is an inspiring place in which to sit and think of its history while puffing a cigar.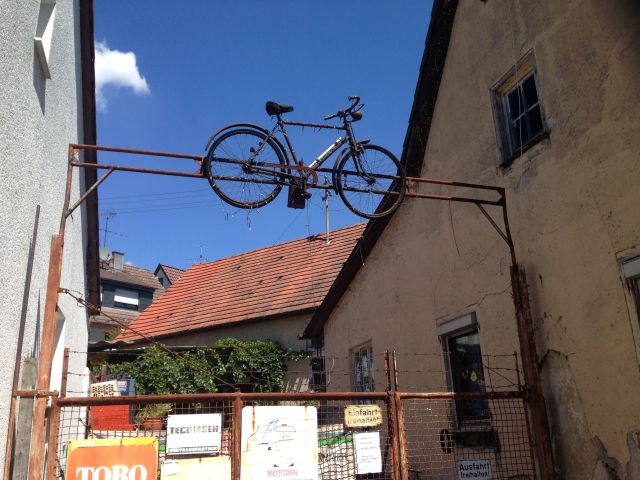 We pulled in, and were saddened to see that Rommel's was closed - as in closed for good. The yard was overgrown. I peered in through the front entrance, and it was empty inside. A buddy later learned that the owner has or had cancer. We are unsure if he is sick, retired, recovering or has died. What made things even sadder was that there was a large billboard along the driveway, with room schematics advertising new offices and apartments soon to be built. Some would call it progress. I call it a real shame.
As I was thinking about the loss of Rommel's, I was brought back to reality when I received a call that a Moroccan national, normally resident in Spain and a known sympathizer of the Islamic State (IS), was helping to recruit and radicalize other individuals, and was arrested by German authorities in Stuttgart. Chalk up one for the good guys.
We came back to the hotel. My coworkers went down the street to the Sindelfingen marketplace to grab chow, and I ended up at the hotel bar ordering a BLT with fries. I also ordered a Jack and coke made with Single Barrel Jack.
An hour or so later, I went out front to the bench, and was joined by the guy I had met the first day. He had found a local cigar shop nearby, and had a bag of four or five sticks. He offered me a Cohiba, which I accepted. We sat, passing the time burning through several sticks apiece. We talked hunting, SEC football, the bartender, politics, rifles, motorcycles and Bruce Jenner.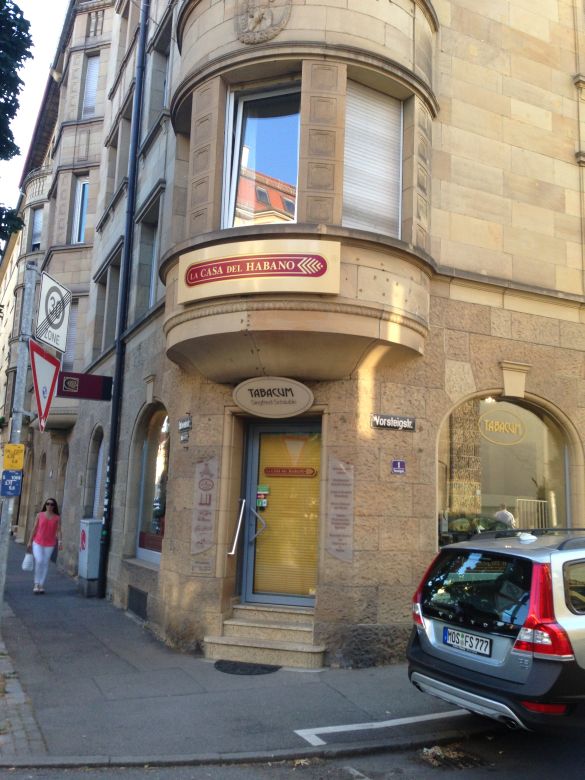 The following day after work, I was eager to get back to the hotel, change clothes and head out to La Casa Del Habano. La Casa is a cigar shop a friend had told me about. It was his go-to cigar shop while he was stationed in Stuttgart. The shop was on the other side of town from the hotel - about a twenty minute drive. But I didn't care.
Approaching the shop, I liked it immediately. It just looked comfortable and inviting. La Casa was in a stone building that looked to be over a century old and, to me, had a classic European feel.
I walked in. The first room housed the cash register, magazines, cigars and cigarettes, and had walls lined with booze for sale. I entered another room, and there was a table and corner shelving unit filled with open bottles of every kind of spirit imaginable.
As I was taking it all in, a pleasant lady welcomed me and asked if she could show me around. I said, "Absolutely." She led me into the 'Cuban' room, which was filled wall to wall and floor to ceiling with sticks. She then pointed to another room, saying it was the non-Cuban room - also filled.
We chatted for five or ten minutes about cigars, Stuttgart and the US. I mentioned I planned to sit and enjoy a couple of sticks. I pulled a Bolivar Royal Corona off the shelf, whereupon she walked me back to the room filled with open bottles of hootch and chose several rums that she said would pair well with the Bolivar. She poured me a sample of each rum. I picked one, and headed to the lounge.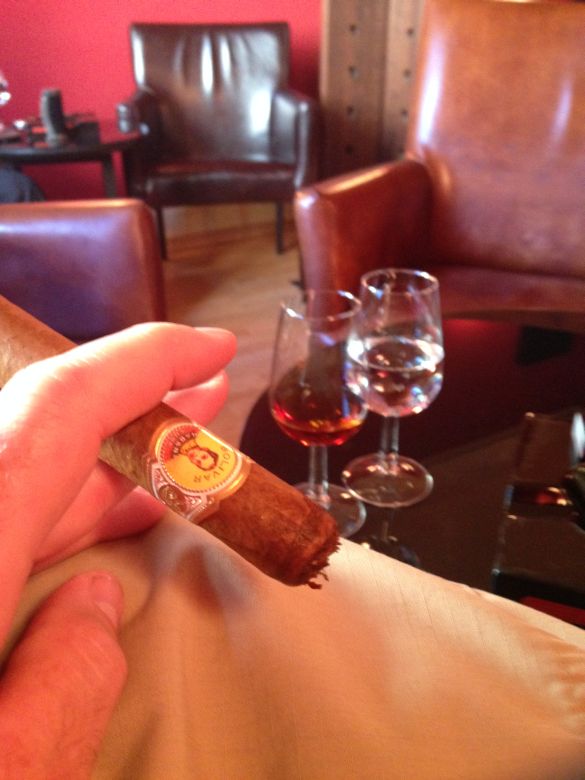 There were several other folks in the lounge, busy in their own conversations. But when I entered, they all stopped and greeted me in German. I gave it my best "guten tag", and they knowingly smiled and said, "Hello."
The lounge had several small sitting areas. I chose a chair in the corner, sat,down and reached in my pocket for my cutter. There was a small round wooden table in front of me, surrounded by three or four empty chairs. I fired up the Bolivar, and considered how thankful I was for the opportunity to be sitting there and enjoying my surroundings.
A few minutes later, a guy walked in and joined me. He was an affable guy with many interests, and his English was good. We were off and running in no time, learning the basics about one another, which springboarded the conversation into countless other topics.
Klaus was a writer for a German television show, which is likened to the 'Friends' show in America. We talked nonstop for thirty or forty minutes, and were then joined by several of his friends. Even better, the staff lady had been spot-on with her rum pairing suggestion.
His friends were coming from the local golf course. Once they sat, Klaus introduced them. They fired up their sticks, and the conversation flowed abundantly and effortlessly except for the occasional word or phrase Klaus would need to translate. At one point, I remembered the feeling of complete and utter joy. Here I was with four or five locals, drinking a rum I'd never tasted and smoking a stick I'd never tried, laughing and chatting as if I were back home with my brothers of the leaf. And all this brought about simply by a shared love of the cigar. Cigars make great ambassadors!
Everyone in the group agreed that La Casa was by far the best cigar shop in the Stuttgart and surrounding area, and that the owner had the best selection and kept the sticks perfectly humidified. They said there was another cigar shop nearby that stayed open longer (as La Casa closed at 7 PM), but that hands down this was the best.
As the evening passed, several of the guys had to depart, saying they needed to get on the road before their wives got suspicious of their unplanned stopover at the cigar shop. "A universal issue," I said. I wished them well and thanked them for the delightful conversation.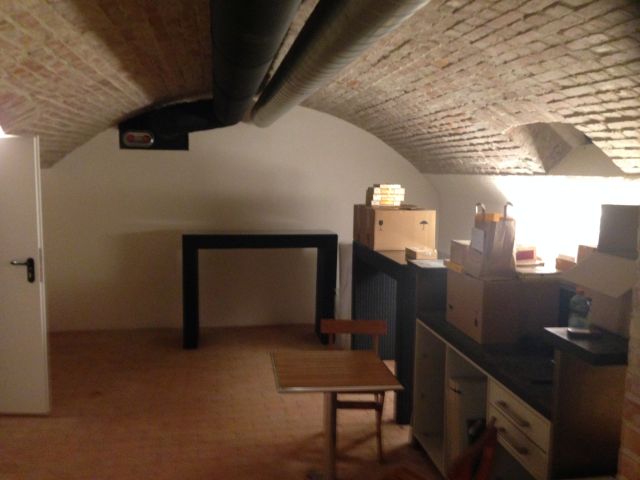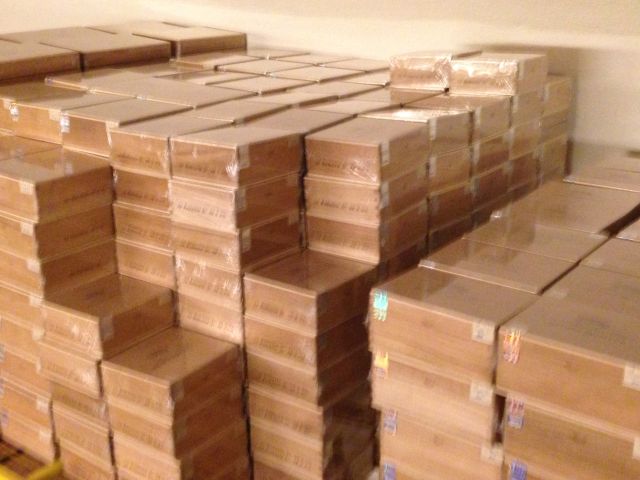 At some point, Sigi, the owner of the shop, joined what remained of our group. As I fired up a Cohiba Maduro, the discussion turned to Cuba. Sigi mentioned he had taken (and does take) a trip every other year or so to Cuba, taking whomever from the shop wanted to join him. The trips were for cigar shop owners and those in the Cuban cigar industry. He regaled me with stories - in both German and broken English - of the cigar factories, the people, the tobacco fields, the music, the hotels and the huge parties and festivities the host provided. He then brought out his cell phone, and showed me pictures from his previous visits as well as playing a few videos he'd taken.
After several hours, most of the folks had left except for Sigi, another guy and me. Sigi locked the door, closed the shop for the night, and turned and said, "Follow me. I want to show you something."
He took us down four or five flights of stairs, stopping and unlocking a few doors and gates along the way. We finally hit the bottom and stepped into an old, rather long brick room with a curved brick ceiling. Sigi told me this room was a bunker during World War II. He pointed to the far wall, and said there used to be an opening there (so, if needed, one could escape to the next house), but it had long been sealed over. Sigi continued, telling me the bunker was now his humidor, and that it had been wired and fitted perfectly for his cigars.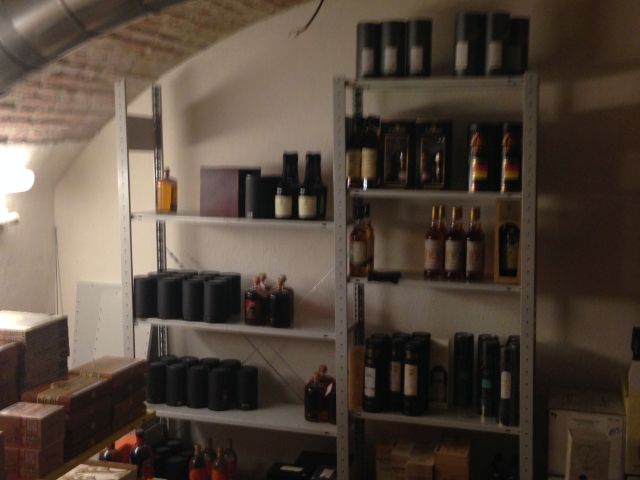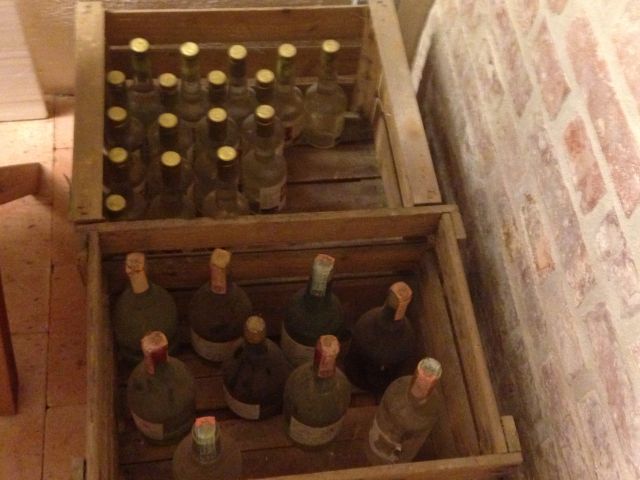 We walked toward the other end of the humidor, and I stopped in my tracks. I couldn't believe my eyes. There were literally thousands of boxes of Cuban cigars sitting on shelves, tables and everywhere in between. There were also countless dust-covered bottles of wine, whisky and rum - you name it. I soaked it all in, telling Sigi he could go home and just leave me there. He laughed.
I walked amongst the shelving in wonderment while Sigi provided a running commentary about the rarity of some of the sticks or their flavor profiles. I swear I heard angels singing in the background. I've heard teens these days use the word 'epic'. This was truly epic - of biblical proportions. The other guy with us asked Sigi how much Euro was sitting in his bunker turned humidor. I don't remember the exact number Sigi gave. But I do remember it was staggering.
I felt honored that Sigi had shared his private humidor with me. It is a memory I will cherish for a very long time. Another overused word today that has lost all meaning is 'awesome'. In every sense of the word, my visit to La Casa Del Habano was awesome. The people, the selection of sticks, the hosts, the hootch, the lounge, the humidor - it was a real treat.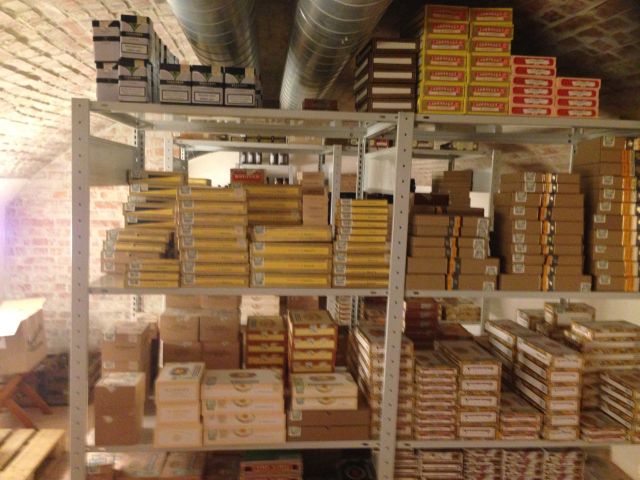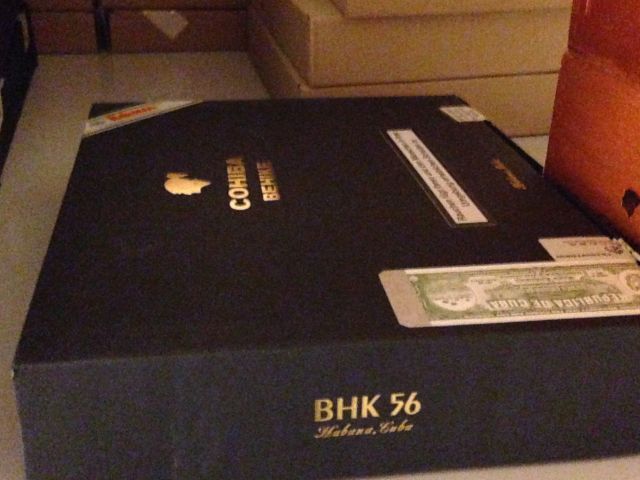 We went back upstairs. I couldn't thank Sigi enough. He was such a gracious and enjoyable fellow. We said our goodbyes, and I checked out and walked out the door. Wow!
The rest of the week, I could be found sitting in the hotel bar enjoying Dunkel, knowing I would be leaving soon. I would also sit out front. My new cigar buddy had flown back to the States, but I met another guy who also liked cigars and was staying in the hotel. So he joined me, and we herfed and watched Sindelfingen unwind as the sun set.
It was good to arrive home and see the family after a four-week absence. It was also good to sit with my BOTL and catch up on the latest while telling lies, solving world problems and laughing.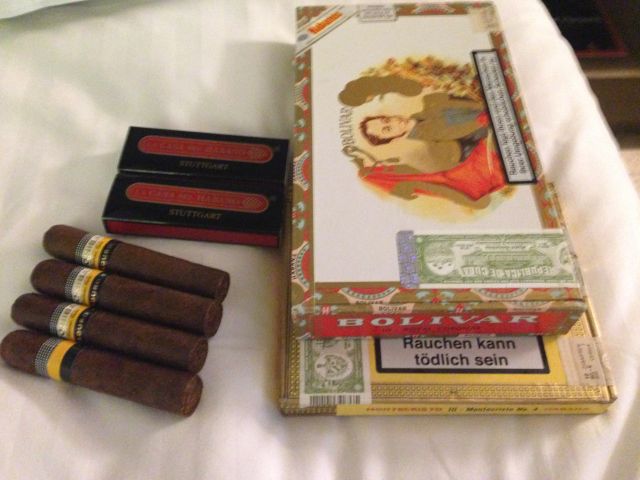 Herf on……
Dan
__________________________________________________
Dan Wright (jeepdad) enjoys good conversation, hunting, outdoor cooking and, of course, cigars. Dan resides with his family in Stafford, Virginia.