Accessories by VSBLondon
I love reviewing cigar accessories, gear, gadgets, and all that. And then I don't. I mean, a lighter has to light,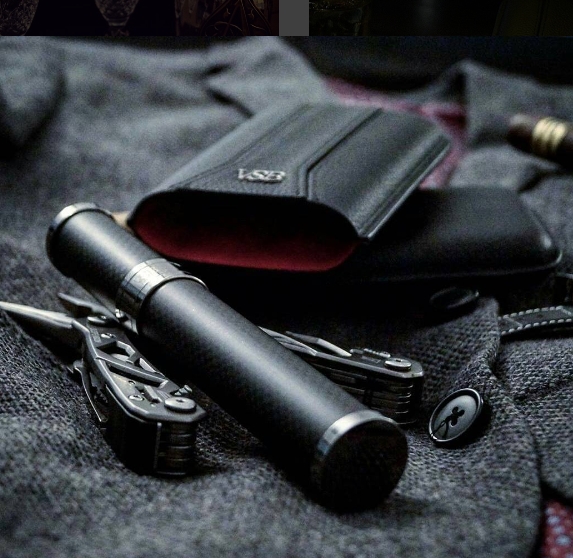 right? And if it does so in a way that leaves your eyebrows intact, even in the wind, well, yea! And that 5 count cigar case, wow, it holds 5 cigars!
So you see my dilemma. I love reviewing them, but when I'm done checking them out, the words don't come so easily. But I'm a sucker for gadgets, and so here we go - and this time, the words are coming pretty easily.
I was initially contacted by the folks at VSB London about running an advertisement on our website and forums pages. Always eager to help the little guy out, our discussions turned to doing a review - and a give away - of their product. I reviewed their website, and they sent along a couple of samples.
First, a bit about VSB London:
A family run company specialising in designer luxury cigar cases and modern gentleman accessories. VSB London uses years of honourable design knowledge, premium quality materials and experienced hands to make only the best quality products for the blog around the world. Each product is hand checked, tested and personally packaged with only those which are flawless passed on to our customers.
VSB London are dedicated to:
- Producing the finest quality products
- Providing first-class service
- Creating stylish designs for users all around the world
Now, that's a great mission statement, sort of setting the bar pretty high right out of the gate. Do they measure up? Let's get on with the review, shall we?
Leather Cigar Pouch by VSB London
From the VSB London literature: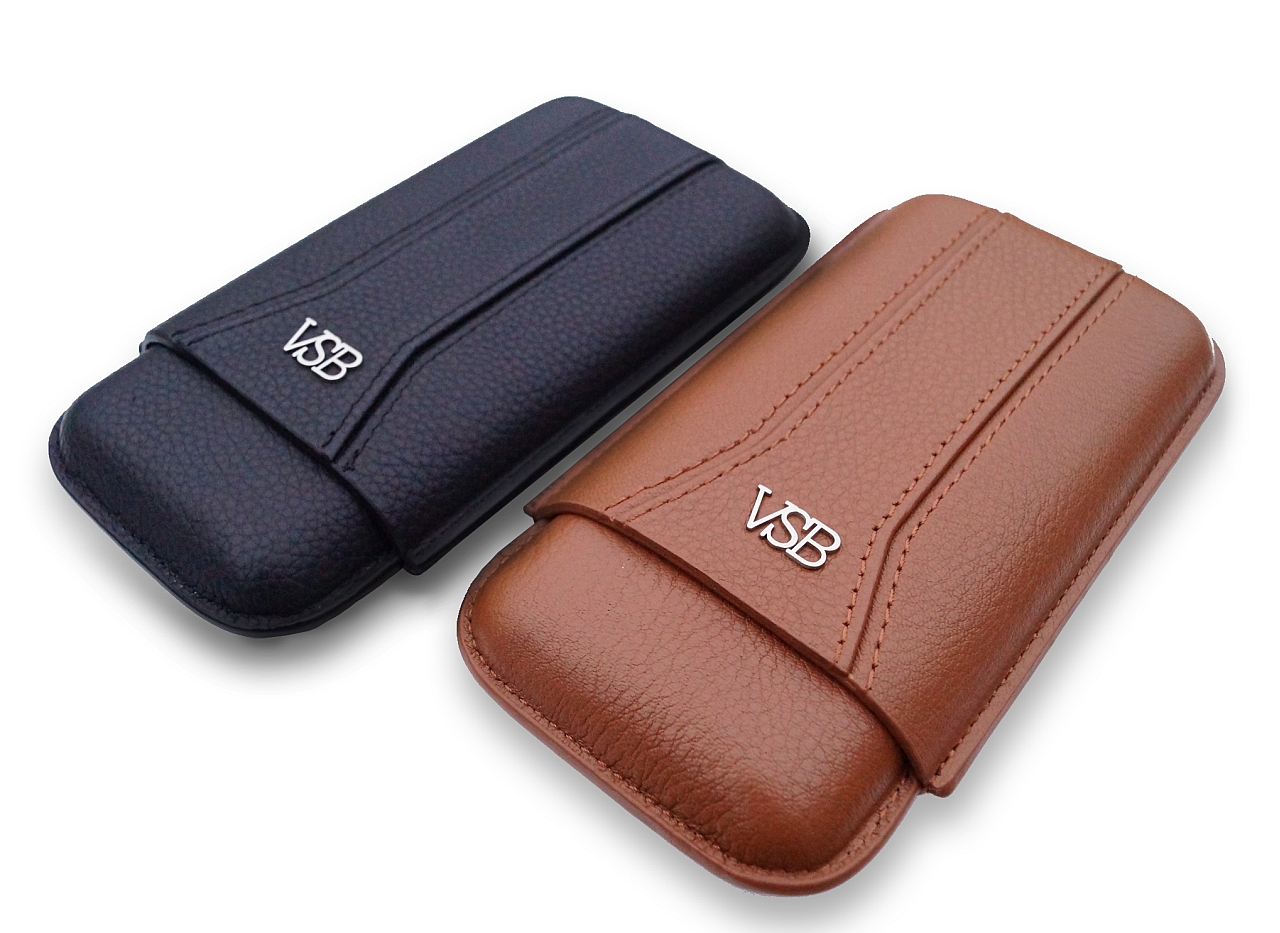 Luxury 3 finger telescopic cigar case
Crafted using the finest calf leather

Contains a protective and highly wear resistant red velvet lining to protect your timeless smokes.

Designed and crafted in Great Britain.

Comes beautifully packaged in a stylish gift box

Uses a mirror polished stainless steel logo

Edges of the case have been stitched and finished to provide an elegant and sharp look

Overall dimensions of the case: Width:85mm Height Closed:175mm

Can hold up to 56 Gauge cigars. (Larger cigars can be used but optimum design between 52-56 Gauge)

Comes in 3 colours, black, brown, blue
The case sent for review was the classic black, and the quality is amazing. The external leather is textured and supple calf leather, not smooth and rigid like some cases, and the velvet inside is quite luxurious. I examined the case thoroughly and there is not a flaw to be seen, including in how the velvet is bound to the leather. The sealing agent used is black, and creates a flexible and very natural seam that appears to be durable, and as flexible as the leather itself.
As stated, the cigar case is perfect for cigars about 56 ring, but can flex to hold box-press, belicoso, and other cigars that may exceed that dimension - though I'd not try to put 3 60 ring cigars in there at once.
Given that a large portion of our audience is United States, the case is 3.35" by just under 7" when closed, and expands - the 'overlap' area is over 5", and could easily accommodate 7-8" long cigars!
If you're in the market for a high quality, luxurious cigar case - this luxury item checks in at £84.95 GBP (~115.00 US / 146.00 CAD). While that seems a lot, this is a very high quality item, and worthy of our recommendation.
Carbon Fiber Cigar Tube by VSB London
From the VSB London literature: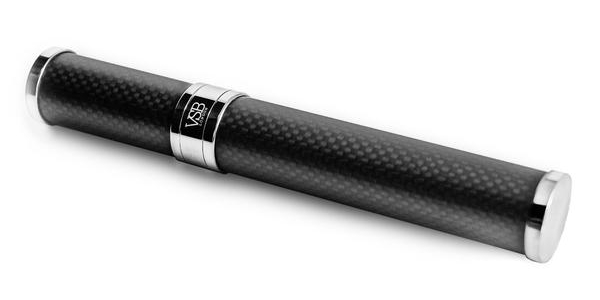 Sleek and sophisticated design

Created from 3K plain weave carbon fib

re (gloss or matte)

Uses surgical grade, mirror polished stainless steel

All parts have been machined both internally and externally giving a beautiful finish both inside and outside of the tube (attention to quality!)

Designed and crafted in Great Britain.

Comes beautifully packaged in a stylish gift box with a protective velvet pouch.

Tube Dimensions: Diameter Max: 27mm Height Closed: 185mm Internal Diameter: Can hold up to 52 Gauge Cigars.

Comes in 3 styles: Gloss Carbon Fibre & Stainless Steel, Matt Carbon Fibre & Stainless Steel, Matt Carbon Fibre with Dark Chrome
The Tube provided for this review was the Gloss carbon fiber and stainless steel tube, and again the construction is quite amazing. At 7.2" long, the internal dimensions will easily hold a churchill or toro quite easily. And looking at it, I have to say I love it. I really do love it. The carbon fiber weave under the gloss finish is really quite eye catching
BUT. You can tell it comes from Great Britain. They have a TON of access to Cuban Cigars there... and since most Cuban cigars will measure in under the 52ring maximum size, it's ideal for a person who smokes a lot of churchill and toro, double corona style cigars. If this describes you, this is a perfect accessory. A must have, even. The tube seals securely and the inside is polished stainless. I did not test it but I expect that it's just this side of water-tight too. Everything fits so cleanly together.
The one drawback for our American audience (USA!) is that there are many so called "domestic" cigars that just won't fit. Grabbing a handful of smokes to check it out, I fit a GTO Pain Killer Robusto, and a GOT Don Emilio in it, both in cello. Alec Bradley Black Market Vandal Toro fit - minus the band and the cello. Same for the Padilla Limitado 2006 edition especial. But the Partigas 1845 and the CAO Brazilia GOL were non-starters. And one other drawback - I would wish for perhaps some compressible foam on the bottom, and maybe on the top too, should I put a 50 or a 48 ring, or shorter than 5" cigar in the tube, lest the cigar become damaged in transit.
In any case, there are a huge number of cigars that will fit in this tube, and it's an amazing looking accessory. Highly recommended for the Churchill smoker in your life. Checking in at £74.95 GBP (about $100.00 USD / 130.00 CAD), it's a superb choice of accessory to spoil your churchill smoking self with.
Both of these items are of a quality that cigar connoisseurs everywhere will love these cases, and, cigarweekly readers followers and members get a discount (for a limited time) using code VSBCW01
See more about VSB London accessories on their website - VSBLONDON.COM, and their social media sites:
Www.Facebook.com/vsblondon
Www.instagram.com/vsblondon
Www.twitter.com/vsblondon